Derek Jeter, Bryce Harper Lead Increasingly Memorable 2012 MLB Season
May 6, 2012

Nick Laham/Getty Images
This 2012 baseball season has been extraordinarily special thus far.
In Little Havana, the Marlins have opened their super-cool ballpark to an ecstatic fanbase. Meanwhile, the Orioles celebrated the 20th anniversary of the grand opening of their beautiful brick-and-mortar yard.
Steven Strasburg started Opening Day in his return from Tommy John surgery, while Prince Fielder followed in his father's footsteps, bringing back glorious memories of Cecil for older Tiger fans.
What's more intriguing, this season has brought with it a new breed of young players and prospects that have rocketed baseball to greater heights. Bryce Harper has taken baseball by storm. He has the opportunity to be this year's version of Buster Posey from 2010.
On the west coast, the Angels' top prospect Mike Trout has been a bit more incognito. But perhaps his 2-for-4 performance Saturday night with one home run and two RBI will be a sign of great things to come.
Royals youngster Mike Moustakas is hitting the ball well so far this year, as is Cardinals outfielder Jon Jay, the Cubs' Bryan LaHair and the Houston Astros' little engine that rips—Jose Altuve. This is all while Red Sox phenom Jose Iglesias is waiting in the wings to take the reins at shortstop once and for all for Boston's nine.
As a sidebar, does anyone realize Cubs shortstop Starlin Castro just turned 22 and he is already nearing 400 hits?
On the west coast, Angels ace Jered Weaver has already tossed this season's second no-hitter. The first being a perfect game tossed by White Sox pitcher Phil Humber.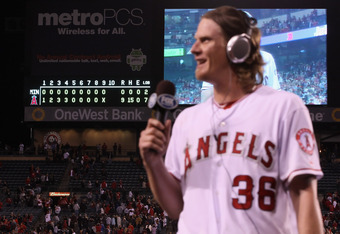 Jeff Gross/Getty Images
Tampa Bay Rays hurlers David Price and James Shields are off to scorching starts, as is Reds ace Johnny Cueto, Giants hurler Madison Bumgarner and the Cardinals' potential breakout star, Lance Lynn. Rangers phenom Yu Darvish has continued to transcend the high expectations levied upon him.
As for the veterans, Yankees icon Derek Jeter and Atlanta Braves MVP Chipper Jones have both found the Fountain of Youth. As has Mariners right fielder Ichiro Suzuki, who is thriving in Seattle's three spot.
The Rockies' Michael Cuddyer is hitting the cover off the baseball in Colorado, while Cuddyer's 49-year-old teammate Jamie Moyer continues to climb the all-time MLB ranks for victories.
White Sox slugger Adam Dunn has recovered from his 2011 tail spin. Hopefully he can provide some sound advice to Albert Pujols, who is having uncharacteristic struggles of his own. Pujols has been tough to watch—almost as tough as watching Yankees' future Hall of Fame closer Mariano Rivera fall to a season-ending knee injury.  
Back to the positives: Divisionally speaking, who would have thought at this point in the season that at 18-9, the Baltimore Orioles, Washington Nationals and Los Angeles Dodgers would all be just one game behind the Tampa Bay Rays for the best record in the major leagues?
Meanwhile, Yankee, Red Sox and Rangers fans are all saying, "Calm down folks, it's still early."
These fans may be right. And this is quite alright with me. As a baseball fan, I am convinced that with this healthy mix of youth, veterans and unpredictable pennant races, we are in the opening stages what will become one of the most memorable seasons of baseball history.