Bryce Harper Has Opportunity to Be This Year's Version of Buster Posey
May 3, 2012

Greg Fiume/Getty Images
Last night, I was glued to the television watching Bryce Harper and the Washington Nationals.
Since Harper made his debut in Los Angeles, it is indisputable there has been a buzz in baseball that has not been seen since Stephen Strasburg made his big league debut in 2010.
Last night, Harper brought both performance and energy unseen in years. He not only went 3-for-4 with two doubles and an RBI, but he also rallied the Nationals to a much needed 5-4 win. While Ian Desmond deserves credit for hitting an exhilarating game winning home run, it was Harper's positive energy that sparked his team to victory.
Harper has speed. He has power. But most importantly, Harper has a confident spark that excites teammates and fans.
Watching Harper, he actually reminds me of a combination of Pete Rose and Kirk Gibson.
Eeek! That is a scary combination.
As I watch Harper, I cannot help but think he has potential to become the 2012 version of Buster Posey from 2010.
Never will I forget how Posey electrified the Giants, not only in spirit but in offense in 2010. After his call up in May of that year, Posey whacked .305 with 18 home runs and 67 RBI in just 108 games. Nor will I forget Posey's poised play during the playoffs. Watching him was like watching a seasoned veteran who had played in multiple pressure-packed playoff games.
Giving Tim Lincecum utmost credit, I have to beg the following question.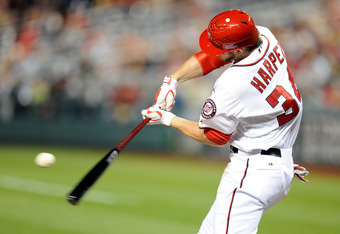 Greg Fiume/Getty Images
Would the Giants have won the World Series that year without Posey?
Not sure.
Back to Harper, the Nationals critically need him at a point they cannot afford to falter for any given length in a competitive National League East. At 15-9, the Nationals are in first place. But one can rest assured the teams in this division will be nipping at that Nationals' heels for the entire summer.
Should Harper continue to excel, he will eventually give the Nationals much-needed potency and speed near the top of the lineup. This gives the Nationals the ability to combine bunting and scrappy power-hitting. It also puts speed on base for the middle of the Nationals lineup to feast on.
This will not only create nightmares for opposing pitchers, but it will also take pressure off other guys in the lineup. But more importantly, Harper possesses the distinct ability to lift this beautiful game called baseball to even greater heights.