Bryce Harper Recalled: The Washington Nationals Are the 'Natinals' No More!
April 27, 2012

To quote Terrell Owens, "Getcha popcorn ready."
The most hyped prospect the baseball world has seen in decades has been summoned to the show.
His name is Bryce Harper.
To many Washington Nationals fans, Harper is the second coming—second only to Stephen Strasburg.
To baseball card collectors, Harper is responsible for the drool dripping to the floor, as investors line up with open wallets to snatch this young man's rookie cards.
The fact this 19-year-old phenom is hitting a measly .250 with one home run and three RBI through 20 games for Triple-A Syracuse means nothing.
To Harper's supporters, it is simply one Herculean man working out April's cobwebs.
To Harper's haters, his early struggles point to a man failing to adjust to Triple-A pitching.
Fan or not, Harper represents a pivotal shift from the lowly 'Natinals' to a new generation of winning baseball in Washington D.C.

Honestly, who can truly argue Harper's debut for this first place ball club will not be tons of fun to watch?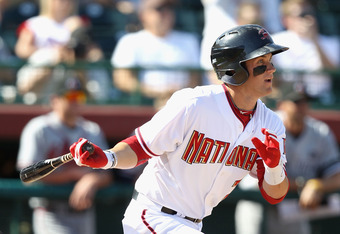 Christian Petersen/Getty Images
As a devout baseball fan, I know I will be glued to my television (with popcorn in hand).
I will hope that as Harper takes to the field Saturday, he does not blink in the euphoric face of media mayhem and flashing cameras that will engulf his being.
I also hope Harper sticks to the style of baseball that got him to the show.  
I know I will root for Harper, as he digs in for his first pitches against a tough hurler in Chad Billingsley.
And I will surely cheer alongside Nats fans should Harper whack a homer into the warm California sunshine.
But if Harper were smart, he would take a humble trot around to home. He should cherish his feat but must not gloat.
For if Harper does, he may find himself plucking a fast ball at his ear the next time he steps up to the plate.  
And I will hurl my popcorn at the television screen.
James is a huge baseball fan who loves to write and make new friends. James is such a big baseball fan he started a super cool baseball social network called Basebook: http://www.basebook.mobi. You can follow James on Twitter by clicking HITHA!