Liverpool: Remembering the 2011-12 EPL Season (Game 16/38)
June 3, 2012

Jamie McDonald/Getty Images
Coming off a win against Queens Park Rangers, Liverpool tried to find a run of form that would help them edge their way into the top four. 
A decisive 2-0 victory against Aston Villa away helped the Reds on their way.
Manager Kenny Dalglish started Jonjo Shelvey and Craig Bellamy this game and it proved to be a good decision, as the latter netted a goal in the 11th minute.
Former Villan Stewart Downing was treated like a villain among the Aston Villa faithful. However, the Englishman delivered a precise corner to Shelvey, who flicked it goalwards. Luis Suarez attempted to latch on to the ball, but it was Craig Bellamy who found it first and tucked it into the net.
The second goal came from yet another set-piece, which was capitalized upon by defender Martin Skrtel. The Slovakian headed it home to send Liverpool to an early and dominant lead that Villa could not recover from.
Of course, the game was littered with squandered chances—especially hitting the woodwork—as No. 17 thundered off the post. 
Once again, Liverpool goalkeeper Reina watched the game from a distance as the battle waged on far in the Villa half.
The match finished 2-0—happy times for a festive season.
December 18: Aston Villa (A)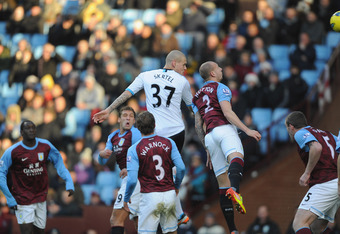 Michael Regan/Getty Images
Liverpool Lineup:
Goalkeeper: Reina
Defense: G. Johnson, Skrtel (goal 15'), Agger, Enrique
Midfield: Downing, Henderson, Shelvey (off 83'), Adam (yellow 28')
Attack: Bellamy (goal 11', yellow 30', off 89'), Suarez (off 74')
Substitutes: Kelly, Kuyt (on 89'), Coates, Doni, Rodriguez, Carragher (on 83'), Carroll (on 74')
Aston Villa Lineup:
Goalkeeper: Guzan
Defense: Hutton, Collins, Dunne, Warnock
Midfield: Albrighton, Petrov, Delph (off 80'), N'Zogbia (yellow 13')
Attack: Heskey (off 57'), Delfouneso
Substitutes: Cuéllar, Burke, D. Johnson, Weimann (on 80'), Bannan (on 57'), Marshall, Clarke
You can read the full match report here.
Match Stats: (Home | Away)
Total shots: 16 | 17
Shots on target: 4 | 7
Shot accuracy: 40% | 50%
Possession: 47.9% | 52.1%
Offsides: 1 | 7
Corners: 4 | 10
Total passes: 472 | 514
Passing accuracy: 81.1% | 83.1%
Total crosses: 17 | 19
Successful crosses: 23.5% | 21.1%
Tackles: 21 | 19
Tackles won: 71.4% | 84.2%
Fouls conceded: 5 | 15
Yellow cards: 1 | 2
Red cards: 0 | 0
Liverpool Stats for the Season:
Goals: 20
Conceded: 13
Shots: 282
Shots on target: 88
Offsides: 60
Corners: 142
Passes: 7603
Crosses: 430
Tackles: 308
Fouls conceded: 172
Yellow cards: 24
Red cards: 3
Liverpool Form: W, D, L (H) / w, d, l (A)
D-w-d-l-W-w
Stay tuned for tomorrow's game recap: Liverpool: Remembering the 2011-12 EPL Season (Game 17/38)
Liverpool: Remembering the 2011-12 EPL Season (Game 11/38)
Liverpool: Remembering the 2011-12 EPL Season (Game 12/38)  
Liverpool: Remembering the 2011-12 EPL Season (Game 13/38)Liverpool: Remembering the 2011-12 EPL Season (Game 14/38)Liverpool: Remembering the 2011-12 EPL Season (Game 15/38)