Liverpool: Remembering the 2011-12 EPL Season (Game 11/38)
May 27, 2012

Clive Mason/Getty Images
Liverpool played in front of 45,013 spectators at Anfield against newly-promoted Swansea City. 
Already slated to have a poor season, Swansea came to Merseyside to prove to everyone that they were Premier League material. 
The home side got off to a confident and bright start after coming from a 2-0 victory over West Bromwich. Andy Carroll had a great chance to put the Reds up a goal, but his shot ended up bouncing off the crossbar (anyone counting?). 
The visitors created some chances and fielded dangerous passes through the Liverpool back four, but the defenders stood vigilant and helped Pepe Reina rein in the Swansea attack. 
However, the Swans surprised the hosts as Danny Graham unleashed a fierce shot, which Reina saved mid-air. 
The Swans proved to be a tough match as they produced quick counters over and over again which almost resulted in a goal by Nathan Dyer.
Dirk Kuyt was called offsides after he had scored for the Reds and the match ended in a drab 0-0 draw against a side that, at least on paper, should have been easy to dominate.
At least Liverpool recorded a clean sheet.
November 5: Swansea City (H)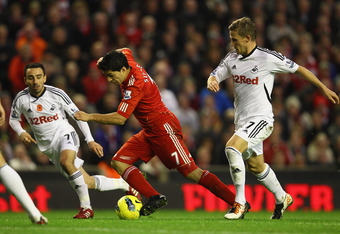 Clive Mason/Getty Images
Liverpool Lineup
 Goalkeeper: Reina
Defense: Johnson, Skrtel, Agger (yellow 67'), Enrique
Midfield: Henderson (off 45'), Lucas, Adam (yellow 13'), Downing
Attack: Suarez, Carroll (off 75')
Substitutes: Coates, Kelly, Doni, Rodriguez, Kuyt (on 45'), Spearing, Bellamy (75)
Swansea City Lineup
 Goalkeeper: Vorm
Defense: Rangel, Monk, Williams (yellow 81'), Taylor (yellow 56')
Midfield: Gower (off 90+3'), Britton, Dyer, Allen, Routledge (off 75')
Attack: Graham
Substitutes: Moore, Agustien (on 90+3'), Tremmel, Sinclair (on 75'), Lita, Moras, Richards
You can read the full match report here.
Match Stats: (Home | Away)
 Total shots: 25 | 12
Shots on target: 5 | 3
Shot accuracy: 29.4% | 33.3%
Possession: 52.3% | 47.7%
Offsides: 2 | 4
Corners: 11 | 4
Total passes: 512 | 471
Passing accuracy: 83% | 85.8%
Total crosses: 36 | 17
Successful crosses: 33.3% | 23.8% 
Tackles: 13 | 19
Tackles won: 69.2% | 73.7%
Fouls conceded: 15 | 5
Yellow cards: 2 | 2
Red cards: 0 | 0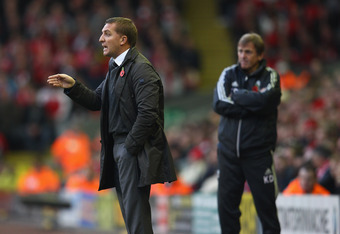 Clive Mason/Getty Images
Liverpool Stats for the Season
 Goals: 14
Conceded: 10
Shots: 194
Shots on target: 58
Offsides: 43
Corners: 92
Passes: 5144
Crosses: 305
Tackles: 213
Fouls conceded: 110
Yellow cards: 16
Red cards: 2
Liverpool Form: W, D, L (H) / w, d, l (A)
 W-w-D-D-w-D
Stay tuned for tomorrow's game recap: Liverpool: Remembering the 2011-12 EPL Season (Game 12/38).
Liverpool: Remembering the 2011-12 EPL Season (Game 1/38)
Liverpool: Remembering the 2011-12 EPL Season (Game 2/38)
Liverpool: Remembering the 2011-12 EPL Season (Game 3/38)
Liverpool: Remembering the 2011-12 EPL Season (Game 4/38)
Liverpool: Remembering the 2011-12 EPL Season (Game 5/38)
Liverpool: Remembering the 2011-12 EPL Season (Game 6/38)
Liverpool: Remembering the 2011-12 EPL Season (Game 7/38)
Liverpool: Remembering the 2011-12 EPL Season (Game 8/38)
Liverpool: Remembering the 2011-12 EPL Season (Game 9/38)
Liverpool: Remembering the 2011-12 EPL Season (Game 10/38)