Liverpool FC: Remembering the 2011-12 EPL Season (Game 9/38)
May 25, 2012

Richard Heathcote/Getty Images
Liverpool played against newly-promoted Norwich City on home turf. Anfield was packed, with 44,931 in attendance to watch two mismatched—at least on paper—teams. 
This was to be another game where finishing let the Reds down. The home side managed to hit the woodwork an astounding three times in this encounter. 
Liverpool took the lead through Craig Bellamy's goal, which he easily placed in the back of the net from a deflection. 
The Anfield crowd held up a JFT96 mosaic as the Norwich supporters chanted "Justice," in remembrance of the Hillsborough disaster. 
Lucas Leiva had previously picked up his fifth yellow card of the season and was forced to watch the game from the stands. Liverpool missed his presence, as Grant Holt scored just three minutes after coming on as a substitute to level the game.
Luis Suarez hit the post after a dizzying, mazy run through the Canaries' defense. The Uruguayan deserved a goal for his performance, but the Reds' finishing never seemed likely to break through for a second time.
Liverpool recorded twice as many shots on goal than the Canaries, but the visitors held up well with 25 tackles and 39 clearances to secure a draw.
October 22: Norwich City (H)
Liverpool Lineup:
Goalkeeper: Reina
Defense: Johnson, Carragher, Skrtel, Enrique
Midfield: Downing (off 80'), Adam, Gerrard, Bellamy (goal 45+1', off 69')
Attack: Suarez, Kuyt (off 90+1')
Substitutes: Henderson (on 69'), Carroll (on 80'), Agger (on 90+1'), Spearing, Flanagan, Doni, Rodriguez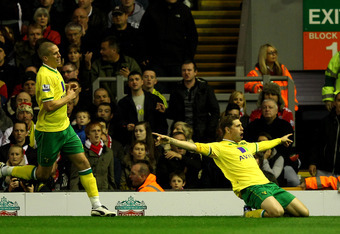 Richard Heathcote/Getty Images
Norwich City Lineup:
Goalkeeper: Ruddy
Defense: Naughton, Barnett, Martin, Tierney (yellow 34')
Midfield: Bennett (off 57'), Fox, Hoolahan, Johnson
Attack: Pilkington (off 93'), Morison
Substitutes: Rudd, Crofts (on 93'), Jackson, Wilbraham, de Laet, Holt (on 57', goal 60'), Surman)
You can read the full match report here.
Match Stats: (Home | Away)
Total shots: 29 | 12
Shots on target: 9 | 7
Shot accuracy: 42.9% | 87.5%
Possession: 55% | 45%
Offsides: 9 | 0
Corners: 10 | 3
Total passes: 497 | 406
Passing accuracy: 81% | 74%
Total crosses: 37 | 17
Successful crosses: 32.4% | 29.4%
Tackles: 19 | 25
Tackes won: 73.7% | 68%
Fouls conceded: 6 | 8
Yellow cards: 0 | 1
Red cards: 0 | 0
Liverpool Stats for the Season:
Goals: 12
Conceded: 10
Shots: 151
Shots on target: 49
Offsides: 33
Corners: 71
Passes: 4119
Crosses: 242
Tackles: 181
Fouls conceded: 95
Yellow cards: 14
Red cards: 2
Liverpool Form: W, D, L (H) / w, d, l (A)
l-l-W-w-D-D
Stay tuned for tomorrow's game recap: Liverpool: Remembering the 2011-12 EPL Season (Game 10/38)
Liverpool: Remembering the 2011-12 EPL Season (Game 1/38)
Liverpool: Remembering the 2011-12 EPL Season (Game 2/38)
Liverpool: Remembering the 2011-12 EPL Season (Game 3/38)
Liverpool: Remembering the 2011-12 EPL Season (Game 4/38)
Liverpool: Remembering the 2011-12 EPL Season (Game 5/38)
Liverpool: Remembering the 2011-12 EPL Season (Game 6/38)
Liverpool: Remembering the 2011-12 EPL Season (Game 7/38)
Liverpool: Remembering the 2011-12 EPL Season (Game 8/38)