Liverpool: Remembering the 2011-12 EPL Season (Game 7/38)
May 23, 2012

Clive Brunskill/Getty Images
Liverpool recorded their first of two wins in the league against fierce rivals Everton. By no means a fiery affair, the Blues saw themselves a man down after a controversial red card against midfielder Jack Rodwell in the 23rd minute.
Taking advantage of the additional man, the Reds found themselves ahead in the second half before finishing the game off just eleven minutes later. Kenny Dalglish's inspired substitutions injected pace into the game (Steven Gerrard and Craig Bellamy for Charlie Adam and Stewart Downing) which led to Andy Carroll scoring in the 71st minute.
Liverpool should have taken the lead right before the half, but Dirk Kuyt missed from the penalty spot—the first of many for this season. 
October 1: Everton (A)
Liverpool Lineup:
Goalkeeper: Reina
Defense: Kelly, Carragher, Skrtel, Enrique
Midfield: Kuyt, Lucas (yellow 50', off 88'), Adam (off 67'), Downing (off 67')
Attack: Carroll (goal 71'), Suarez (goal 82')
Substitutes: Doni, Coates, Gerrard (on 67'), Bellamy (on 67'), Henderson (on 88'), Flanagan, Spearing
Everton Lineup:
Goalkeeper: Howard
Defense: Hibbert (off 79'), Jagielka, Distin, Baines
Midfield: Coleman (off 59'), Fellaini, Rodwell (red card 23'), Osman (off 69')
Attack: Cahill (yellow 27'), Saha
Substitutes: Neville (on 69'), Bilyaletdinov, Stracqualursi, Mucha, Barkley, Vellios (on 79'), Drenthe (on 59')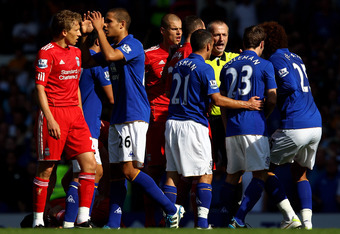 Clive Brunskill/Getty Images
You can read the full match report here.
Match Stats: (Home | Away)
Total shots: 12 | 16
Shots on target: 3 | 7
Shot accuracy: 33.3% | 53.8%
Possession: 36% | 64%
Offsides: 2 | 1 
Corners: 5 | 9
Total passes: 268 | 494
Passing accuracy: 76.9% | 84.4%
Total crosses: 19 | 32
Successful crosses: 10.5% | 15.6%
Tackles: 14 | 19
Tackes won: 85.7% | 57.9%
Fouls conceded: 15 | 10
Yellow cards: 1 | 1
Red cards: 1 | 0
Liverpool Stats for the Season:
Goals: 10
Conceded: 8
Shots: 107
Shots on target: 35
Offsides: 21
Corners: 52
Passes: 3202
Crosses: 172
Tackles: 145
Fouls conceded: 79
Yellow cards: 13
Red cards: 2
Liverpool Form: W, D, L (H) / w, d, l (A)
w-W-l-l-W-w
Stay tuned for tomorrow's game recap: Liverpool: Remembering the 2011-12 EPL Season (Game 8/38)
Liverpool: Remembering the 2011-12 EPL Season (Game 1/38)
Liverpool: Remembering the 2011-12 EPL Season (Game 2/38)
Liverpool: Remembering the 2011-12 EPL Season (Game 3/38)
Liverpool: Remembering the 2011-12 EPL Season (Game 4/38)
Liverpool: Remembering the 2011-12 EPL Season (Game 5/38)
Liverpool: Remembering the 2011-12 EPL Season (Game 6/38)