Liverpool: Remembering the 2011-12 EPL Season (Game 6/38)
May 22, 2012

Clive Brunskill/Getty Images
Liverpool played at Anfield for Week 6 against Wolverhampton Wanderers. The 44,922-strong crowd witnessed a narrow 2-1 win against the visiting side. An own goal by Roger Johnson helped lift the Reds to a victory after the thrashing they received at White Hart Lane just six days previously.
The midweek Carling Cup game against Brighton helped boost the team's morale, a game which Liverpool won 2-1 at the Championship side's AMEX Stadium.
Wolves responded well to going behind, but it was Liverpool's Luis Suarez who found the second goal. Steven Fletcher was called off the bench and scored for the away side to bring the game within reach for Wolves. The Reds had chances to make it 3-1, but could not find the finish to do so.
September 24: Wolverhampton (H)
Liverpool Lineup:
Goalkeeper: Reina
Defense: Kelly (yellow 67'), Carragher, Skrtel, Enrique
Midfield: Henderson (off 72'), Lucas (yellow 34'), Adam, Downing
Attack: Suarez (goal 38', off 82'), Carroll (yellow 57')
Substitutes: Coates, Kuyt (on 72'), Gerrard (on 82'), Spearing, Bellamy, Doni, Flanagan
Wolverhampton Lineup:
Goalkeeper: Hennessey
Defense: Stearman (off 45'), Johnson (own goal 11'), Berra, Ward (yellow 39')
Midfield: Hunt (yellow 43', off 81'), Henry (yellow 33'), O'Hara (yellow 4'), Edwards (off 45')
Attack: Jarvis, Doyle
Substitutes: de Vries, Doherty (on 45'), Guédioura (on 81'), Milijas, Fletcher (on 45', goal 49'), Hammill, Elokobi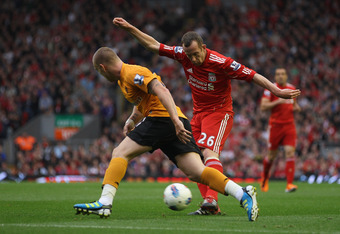 Clive Brunskill/Getty Images
You can read the full match report here.
Match Stats: (Home | Away)
Total shots: 16 | 17
Shots on target: 5 | 2
Shot accuracy: 38.5% | 22.2%
Possession: 48% | 52%
Offsides: 5 | 2
Corners: 7 | 2
Total passes: 352 | 397
Passing accuracy: 73% | 77.6%
Total crosses: 27 | 25
Successful crosses: 29.6% | 20%
Tackles: 15 | 14
Tackes won: 100% | 78.6%
Fouls conceded: 16 | 9
Yellow cards: 3 | 4
Red cards: 0 | 0
Liverpool Stats for the Season:
Goals: 8
Conceded: 8
Shots: 91
Shots on target: 28
Offsides: 20
Corners: 43
Passes: 2708
Crosses: 145
Tackles: 126
Fouls conceded: 69
Yellow cards: 12
Red cards: 2
Liverpool Form: W, D, L (H) / w, d, l (A)
D-w-W-l-l-W
Liverpool: Remembering the 2011-12 EPL Season (Game 1/38)
Liverpool: Remembering the 2011-12 EPL Season (Game 2/38)
Liverpool: Remembering the 2011-12 EPL Season (Game 3/38)
Liverpool: Remembering the 2011-12 EPL Season (Game 4/38)
Liverpool: Remembering the 2011-12 EPL Season (Game 5/38)