Liverpool FC: Remembering the 2011-12 EPL Season (Game 4/38)
May 20, 2012

Scott Heavey/Getty Images
Liverpool traveled away to Brtiannia Stadium to play against Stoke City looking for their third consecutive win.
It was, however, not to be, as Jonathan Walters scored from the spot after Jamie Carragher pulled him down in the penalty box in the 21st minute. It was the only goal of the match, but it was enough for the Potters to chalk up a win against the Reds.
Although Liverpool pressured the home side frequently, they were unable to find the goal, ultimately recording their first loss of the season.
September 10: Stoke City (A)
Liverpool Lineup
 Goalkeeper: Reina
Defense: Skrtel (off 81'), Carragher, Agger, Enrique
Midfield: Henderson (off 67'), Lucas, Adam, Downing
Attack: Kuyt (off 67'), Suarez (yellow 90+1')
Substitutes: Maxi, Coates, Spearing, Doni, Bellamy (on 67'), Johnson (on 81'), Carroll (on 67')
Stoke City Lineup
 Goalkeeper: Begovic
Defense: Huth (off 65'), Shawcross, Upson, Wilson
Midfield: Pennant, Delap (off 71'), Whitehead, Etherington (off 68')
Attack: Walters (penalty goal 21'), Crouch
Substitutes: Sørensen, Jerome, Whelan, Palacios (on 71'), Jones (on 68'), Shotton, Wilkinson (on 65')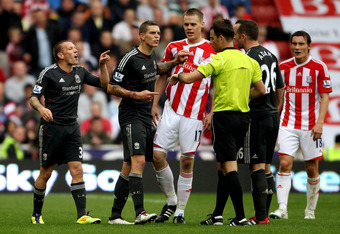 Scott Heavey/Getty Images
You can read the full match report here.
Match Stats: (Home | Away)
 Total shots: 3 | 24
Shots on target: 1 | 7
Shot accuracy: 50% | 42.8%
Possession: 27% | 73%
Offsides: 5 | 1
Corners: 2 | 12
Total passes: 195 | 545
Passing accuracy: 63.6% | 78%
Total crosses: 12 | 34
Successful crosses: 16.7% | 23.5%
Tackles: 19 | 17
Tackes won: 94.7% | 88.2%
Fouls conceded: 13 | 14
Yellow cards: 0 | 1
Red cards: 0 | 0
Liverpool Stats for the Season

Goals: 6
Conceded: 3
Shots: 72
Shots on target: 22
Offsides: 11
Corners: 35
Passes: 1987
Crosses: 109
Tackles: 91
Fouls conceded: 44
Yellow cards: 7
Red cards: 0
Liverpool Form: W, D, L (H) / w, d, l (A)
D-w-W-l-x-x 
Stay tuned for tomorrow's game recap: Liverpool: Remembering the 2011-12 EPL Season (Game 5/38)
Liverpool: Remembering the 2011-12 EPL Season (Game 1/38)
Liverpool: Remembering the 2011-12 EPL Season (Game 2/38)
Liverpool: Remembering the 2011-12 EPL Season (Game 3/38)