Liverpool: Remembering the 2011-12 EPL Season (Game 3/38)
May 19, 2012

Clive Brunskill/Getty Images
The Reds found themselves coming from a 2-0 win away against Arsenal and looked to build on it, and they did so with a resounding 3-1 victory against Bolton Wanderers at home.
Jordan Henderson, Charlie Adam and Martin Skrtel recorded goals as hapless Bolton managed to grab a consolation goal in the closing minutes through Ivan Klasnic. It was Henderson and Adam's first-ever goals as Liverpool players.
August 27: Bolton (H)
Liverpool Lineup:
Goalkeeper: Reina
Defense: Kelly (off 30'), Carragher, Agger, Enrique
Midfield: Henderson (goal 15', off 77'), Lucas, Adam (goal 53'), Downing
Attack: Kuyt, Suarez (off 77')
Substitutes: Robinson, Doni, Carroll (on 77'), Spearing, Skrtel (on 30', goal 52'), Maxi (77'), Shelvey
Bolton Lineup:
Goalkeeper: Jääskeläinen
Defense: Steinsson (yellow 43'), Cahill, Knight, Robinson
Midfield: Eagles (off 57'), Reo-Coker, Muamba (off 26'), Petrov
Attack: Davies (off 71'), Klasnic (yellow 49', goal 90+2')
Substitutes: Bogdan, Wheater, Riley, M Davies (on 26'), Pratley (on 71'), Tuncay (on 57'), Blake
You can read the full match report here.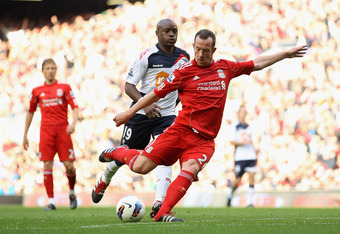 Clive Brunskill/Getty Images
Match Stats: (Home | Away)
Total shots: 20 | 10
Shots on target: 6 | 3
Shot accuracy: 42.9% | 42.9%
Possession: 59% | 41%
Offsides: 3 | 0
Corners: 12 | 6
Total passes: 492 | 335
Passing accuracy: 81.9% | 76.7%
Total crosses: 29 | 20
Successful crosses: 20.7% | 25%
Tackles: 25 | 18
Tackles won: 76% | 72.2%
Fouls conceded: 5 | 8
Yellow cards: 0 | 2
Red cards: 0 | 0 
Liverpool Stats for the Season:
Goals: 6
Conceded: 2
Shots: 48
Shots on target: 15
Offsides: 10
Corners: 23
Passes: 1442
Crosses: 75
Tackles: 74
Fouls conceded: 30
Yellow cards: 6
Red cards: 0
Liverpool Form: W, D, L (H) / w, d, l (A)
D-w-W-x-x-x 
Stay tuned for tomorrow's game recap: Liverpool: Remembering the 2011-12 EPL Season (Game 4/38)
Liverpool: Remembering the 2011-12 EPL Season (Game 1/38)
Liverpool: Remembering the 2011-12 EPL Season (Game 2/38)