Liverpool: Remembering the 2011-12 EPL Season (Game 8/38)
May 24, 2012

Clive Brunskill/Getty Images
Liverpool faced off against fierce rivals Manchester United in a game that would be tainted by accusations of racial abuse by Liverpool's Luis Suarez against United's Patrice Evra. 
The Reds opened the scoring in the second half after Steven Gerrard—his first start of the season—scored from a fantastic free kick that stunned the United goalkeeper David De Gea. The Kop's celebration was short, however, as United substitute Javier Hernandez scored from a corner to bring the scores level. 
With Gerrard's strike, Liverpool had reached 1,200 goals in the Barclays Premier League. 
Although the home side came close to scoring three times in the final 10 minutes of the match, De Gea stood firm, parrying shots and holding Liverpool to a draw.
October 15: Manchester United (H)
Liverpool Lineup:
Goalkeeper: Reina
Defense: Kelly, Carragher, Skrtel, Enrique
Midfield: Gerrard (goal 68'), Lucas (yellow 28', off 57'), Adam, Kuyt, Downing
Attack: Suarez
Substitutes: Bellamy, Doni, Spearing, Henderson (on 57'), Carroll, Agger, Robinson
Manchester United Lineup:
Goalkeeper: De Gea
Defense: Smalling, Ferdinand (yellow 54'), Evans, Evra (yellow 65')
Midfield: Park (off 69'), Fletcher, Jones (off 76'), Giggs, Young (yellow 43', off 69')
Attack: Welbeck
Substitutes: Rooney (on 69'), Anderson Hernandez (on 76', goal 81'), Lindegaard, Valencia, Carrick, Nani (on 69')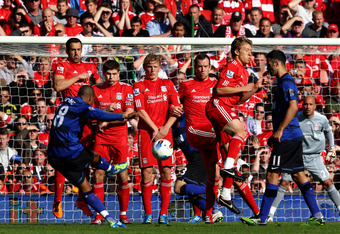 Clive Brunskill/Getty Images
You can read the full match report here.
Match Stats: (Home | Away)
Total shots: 15 | 11
Shots on target: 5 | 2
Shot accuracy: 45.5% | 22.2%
Possession: 55.8% | 44.2%
Offsides:  3 | 1
Corners: 8 | 3
Total passes: 420 | 342
Passing accuracy: 78.1% | 72.8%
Total crosses: 33 | 11
Successful crosses: 12.1% | 54.5%
Tackles: 27 | 23
Tackes won: 63% | 87%
Fouls conceded: 10 | 11
Yellow cards: 1 | 3
Red cards: 0 | 0
Liverpool Stats for the Season: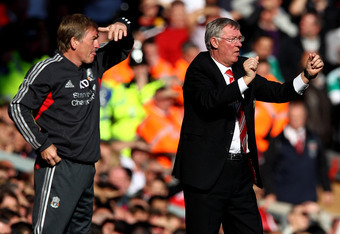 Clive Brunskill/Getty Images
Goals: 11
Conceded: 9
Shots: 122
Shots on target: 40
Offsides: 24
Corners: 61
Passes: 3622
Crosses: 205
Tackles: 172
Fouls conceded: 89
Yellow cards: 14
Red cards: 2
Liverpool Form: W, D, L (H) / w, d, l (A)
W-l-l-W-w-D
Stay tuned for tomorrow's game recap: Liverpool: Remembering the 2011-12 EPL Season (Game 9/38)
Liverpool: Remembering the 2011-12 EPL Season (Game 1/38)
Liverpool: Remembering the 2011-12 EPL Season (Game 2/38)
Liverpool: Remembering the 2011-12 EPL Season (Game 3/38)
Liverpool: Remembering the 2011-12 EPL Season (Game 4/38)
Liverpool: Remembering the 2011-12 EPL Season (Game 5/38)
Liverpool: Remembering the 2011-12 EPL Season (Game 6/38)
Liverpool: Remembering the 2011-12 EPL Season (Game 7/38)