Liverpool: Remembering the 2011-12 EPL Season (Game 12/38)
May 28, 2012

Mike Hewitt/Getty Images
Two goals were enough for Liverpool to win against Chelsea at Stamford Bridge on November 20. 
Coming from a scoreless match at home against Swansea City, the Reds faced a tough match against Chelsea. However, Liverpool manager Kenny Dalglish was able to rally the troops to record their third consecutive victory on the road.
Maxi Rodriguez put the Reds up after a fantastic goal but Chelsea's Daniel Sturridge provided the equalizer just after the half. However, former Chelsea player Glen Johnson scored the winner after a fantastic left-footed strike just out of reach for Petr Cech.
It was a great win against former Liverpool favorite Fernando Torres and against the London-based club. Liverpool and Chelsea are becoming fierce rivals after having faced each other in domestic cup and European matches. 
The match ended with a thrilling 2-1 win for Liverpool.

November 20: Chelsea (A)
Liverpool Lineup:
Goalkeeper: Reina
Defense: Johnson (goal 87'), Skrtel, Agger, Enrique
Midfield: Kuyt (yellow 64'), Lucas (yellow 29'), Adam, Rodriguez (goal 33', off 78')
Attack: Bellamy (off 67'), Suarez (off 90')
Substitutes: Carragher, Doni, Spearing, Kelly, Downing (on 78'), Carroll (on 90'), Henderson (on 67')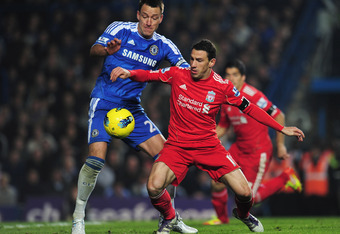 Shaun Botterill/Getty Images
Chelsea Lineup:
Goalkeeper: Cech
Defense: Ivanovich (yellow 79'), Luiz (yellow 42'), Terry, Cole
Midfield: Ramires (yellow 62', off 84'), Mikel (off 45'), Lampard, Mata, Malouda
Attack: Drogba (off 84')
Substitutes: Sturridge (on 45', goal 55'), Meireles (on 45'), Anelka, Turnbull, Bosingwa, Torres (on 84'), Romeu
You can read the full match report here.
Match Stats: (Home | Away)
Total shots: 19 | 9
Shots on target: 3 | 3
Shot accuracy: 17.6% | 33.3%
Possession: 57.5% | 42.5%
Offsides: 1 | 2
Corners: 6 | 5
Total passes: 535 | 394
Passing accuracy: 86.9% | 77.9%
Total crosses: 27 | 13
Successful crosses: 29.6% | 15.4%
Tackles: 23 | 31
Tackes won: 69.6% | 58.1%
Fouls conceded: 13 | 12
Yellow cards: 3 | 2
Red cards: 0 | 0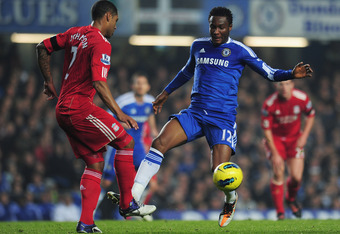 Shaun Botterill/Getty Images
Liverpool Stats for the Season:
Goals: 16
Conceded: 11
Shots: 203
Shots on target: 61
Offsides: 45
Corners: 97
Passes: 5538
Crosses: 318
Tackles: 244
Fouls conceded: 122
Yellow cards: 18
Red cards: 2
Liverpool Form: W, D, L (H) / w, d, l (A)
w-D-D-w-D-w
Stay tuned for tomorrow's game recap: Liverpool: Remembering the 2011-12 EPL Season (Game 13/38)

Liverpool: Remembering the 2011-12 EPL Season (Game 8/38)
Liverpool: Remembering the 2011-12 EPL Season (Game 9/38)
Liverpool: Remembering the 2011-12 EPL Season (Game 10/38)
Liverpool: Remembering the 2011-12 EPL Season (Game 11/38)