Philadelphia Eagles: A Game-by-Game Breakdown and Predictions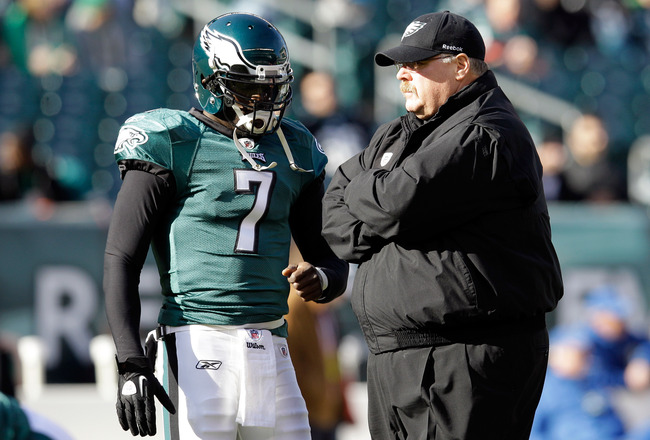 Andy Reid and Michael Vick hope to lead the Eagles to a great season
Rob Carr/Getty Images
Philadelphia Eagles fans know it's never too early to get excited about football season. The Sixers are still the talk of the town, the Phillies continue their streak of sellouts, but Philadelphians still have their eye on the Eagles year-round.
I am going to do a "way-too-early" OTA breakdown of the Eagles' season. I will go through every week and discuss the Eagles and their opponents and make a prediction on the outcome of the game. I will be as logical and unbiased as possible, but I have to admit that I bleed Eagle green.
Well, here goes my attempt. Please feel free to comment with any vehement objections or even just to leave a good ol' "E-A-G-L-E-S EAGLES!"
Let's do this!
Week 1: At Cleveland Browns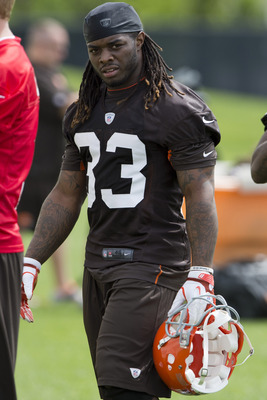 The Browns drafted themselves a new toy
Jason Miller/Getty Images
It would be safe to say that the Browns are in "rebuild mode."
Cleveland had two first round draft picks and used the first on stud running back Trent Richardson. Shockingly, they chose 28-year-old Brandon Weeden with the No. 22 overall pick.
What does that mean for Colt McCoy? Well, he has essentially been asked to come to camp and compete. Translation: this is Weeden's job to lose.
Who will be under center come their home opener against the Birds? For now, we'll pencil in Weeden. But really, it doesn't matter.
The Eagles are going to look to make a statement in their first game of the year. After a very disappointing and underachieving 2011, the Eagles ought to be out to show the NFL that they are for real.
This could be a blowout, but I think it's safe to say that the Eagles will get off to a good start.
Prediction: Win
Week 2: Vs. Baltimore Ravens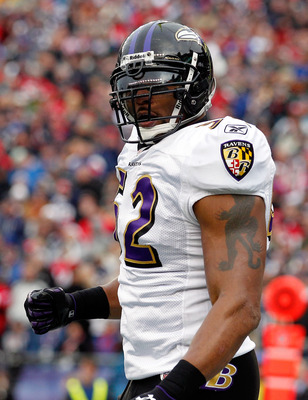 Ray Lewis is unquestionably the leader of this team
Rob Carr/Getty Images
There has been a lot of talk about how many games the Eagles play against opponents who are coming off byes. Fortunately, they get to play the Ravens coming off of a Monday night game against the Cincinnati Bengals at home.
You know the Ravens will be juiced up for this opening division game, and it's going to be a physical one. That bodes will for the Eagles.
Another very important note is that Baltimore will be without 2011 Defensive Player of the Year Terrell Suggs. The linebacker from Arizona State (my alma mater) tore his Achilles and will likely be out for the entire 2012 season. There's no way to replace a player like that, and it will definitely affect the Ravens' stout defense.
The Ravens are also dealing with holdouts from some key names, most notably Ray Rice, their prized running back. I will assume he will be on the field against the Birds, but will a lack of full preparation affect his game this early in the season?
I expect the Eagles to come out on all cylinders in their home opener.
Prediction: Win
Week 3: At Arizona Cardinals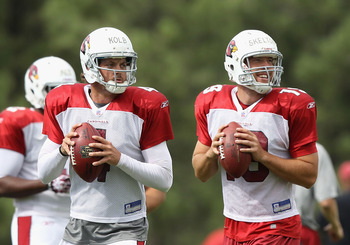 Will Kolb play against the team that traded him?
Christian Petersen/Getty Images
The Arizona Cardinals are another team with a quarterback controversy heading into camp.
Living in the Phoenix area, I get to hear what's being said on the radio on a daily basis. Some takeaways: Cardinals fans don't think much of Kevin Kolb after a rough first year, and many want John Skelton to start.
In my opinion, he's definitely the inferior quarterback, but he threw for 315 yards and 3 touchdowns in their win against the Eagles last year.
It's too early to tell who is going to be under center come Week 3, but I'll give the nod to the better quarterback in Kolb.
This would be his first start against his former team, and I'm not quite sure how he'd respond. Would the Cardinals pass more than normal because of this? They already have Larry Fitzgerald, who burned the Birds last year. Now they have a solid No. 2 option in first round draft pick Michael Floyd.
This will be an interesting matchup for the Eagles new secondary, especially for the guy the Eagles got in return, Dominique Rodgers-Cromartie.
It will be interesting, but the Eagles are the better team.
Prediction: Win
Week 4: Vs. New York Giants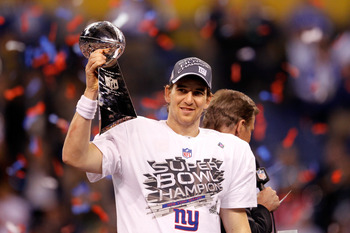 A first crack at the defending champions
Rob Carr/Getty Images
This is the game most of us marked when the schedule came out for the 2012 season.
Philadelphians are already sick of hearing about the Giants and their rings, and they'll want to batter the Giants to show them that this is a new season.
Luckily for Eagles fans, the Giants are not the same team that won the Super Bowl, and some "experts" are picking the Giants to miss the playoffs.
This is the first of those games where the Eagles' opponent has a long layoff before playing. The Giants play a Thursday night game against the Panthers in Week 3.
Look out for the first meeting between LeSean McCoy and Osi Umenyiora. In case you missed it, their personal feud was rekindled this offseason by a tweet from the Giants' defensive lineman.
I expect McCoy to have another big game against New York. He combined for 241 yards against the G-Men last season, and he always has an extra reason to run all over them.
This could be a close game, and it's always hard to pick rivalry games. But I do think the Eagles are the better team with a lot to prove in their first divisional matchup.
Prediction: Win
Week 5: At Pittsburgh Steelers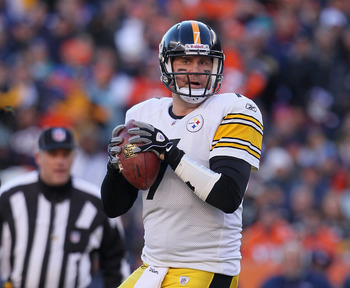 Ben Roethlisberger has developed into one of the better QBs in the NFL
Jeff Gross/Getty Images
The Pittsburgh Steelers are typically one of the tougher teams in the league. On a different level, the Steelers also had a disappointing season last year, losing to the Denver Broncos and Tim Tebow in the first round of the playoffs.
They have made changes in their offense, bringing in former Chiefs head coach Todd Haley to be the offensive coordinator. Big Ben and company will have to learn a new offense, but with three games under their belt and a bye week before this game, I expect them to be fairly comfortable in their new system.
The Steelers are also coming off a bye, and they're playing at home. The Eagles don't have the best history against Pittsburgh. This will be a hotly contested game, but the odds are against Philadelphia.
Prediction: Loss
Week 6: Vs. Detroit Lions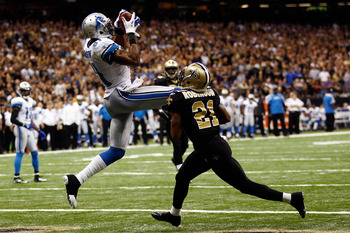 Calvin Johnson is arguably the best receiver in football
Chris Graythen/Getty Images
Back-to-back games against opponents coming off of their bye weeks.
Save the San Francisco 49ers, the Detroit Lions play some weaker competition to start the season and should be at least 3-1 heading into this matchup at The Linc.
After what will be a tough game in Pittsburgh the week before, it doesn't bode well for the Eagles that the Lions have an extra week of rest and preparation.
This offense is scary without those benefits, featuring Matthew Stafford and Calvin "Megatron" Johnson. It could be a shootout if both of these offenses are on.
The Birds may be the better team overall, but I'm not sure that playing at home will make up for all of the other factors going against them. In a vacuum, I'd take the Eagles, and perhaps I'll change my mind as we approach this game. But for now:
Prediction: Loss
Week 7: Bye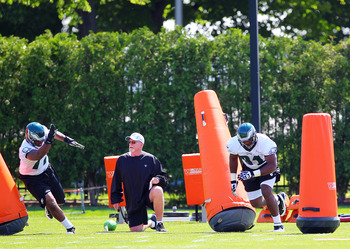 We talkin' 'bout practice
Rich Schultz/Getty Images
At this point, I have the Eagles going on two streaks, landing at 4-2 heading into the bye week. I wouldn't be shocked if they're 5-1, and the super optimist in me sees a way that they are 6-0.
But 4-2 is a solid start and far better than the 2-4 start they had last season.
Hopefully, the team is relatively healthy at this point, but here they have an opportunity to rest and fine tune their game for the rest of the season.
Week 8: Vs. Atlanta Falcons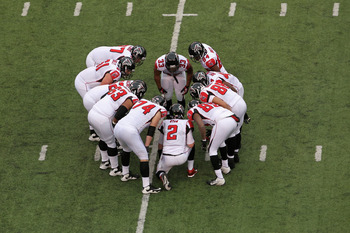 What direction is this team going in?
Nick Laham/Getty Images
The Eagles finally get to play a game of their own coming off of a bye. Unfortunately, so too are the Falcons.
Atlanta is coming off a season where they had a solid record of 10-6, but they were shellacked by the future Super Bowl champs and weren't able to muster an offensive point in that playoff game.
Matt Ryan has always been overrated in my mind, and questions are starting to be asked about this offense, despite having a number of weapons. Last season, the Falcons tended to forget about their biggest weapon: Michael Turner. One could only hope they do the same against the Birds.
I'll almost always take an Andy Reid coached team in a game coming off of a bye. It also helps that this game is at home and not in the Georgia Dome.
Prediction: Win
Week 9: At New Orleans Saints
Will Brees be able to carry his team in this trying season?
Ezra Shaw/Getty Images
Could there be any more questions surrounding the New Orleans Saints right now?
They're without their head coach, without their defensive captain, and right now, their Pro Bowl quarterback is poised to hold out for the proper contract.
By Week 9, we should know a lot more about this Saints team. But right now, you couldn't have much confidence that this team will be the threat that they normally are.
This is a Monday Night game at the Superdome, and normally, it would be an epic matchup. Right now though, we can't quite say that.
I fully expect the Eagles to take advantage of the Saints' "misfortunes."
Prediction: Win
Week 10: Vs. Dallas Cowboys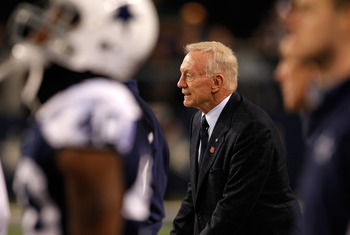 What does Jerry Jones think of his chances to compete in the NFC East this year?
Tom Pennington/Getty Images
Dallas Cowboys versus the Philadelphia Eagles; need I explain?
The first meeting of the season between these NFC East rivals is hosted by the Birds at Lincoln Financial Field.
This will be the Cowboy's third tough matchup in a row. They play the Giants and Falcons in the two weeks leading up to this game, and it will also be their fourth road game in five weeks.
Philadelphia may actually have a scheduling advantage in this game!
Beyond that, the Eagles are just a better team. It is a rivalry, but I don't see the Eagles screwing this one up at home.
Prediction: Win
Week 11: At Washington Redskins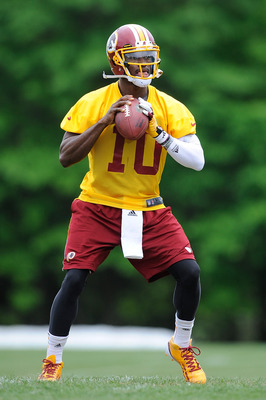 RG3 will be one of the biggest stories in the NFL
Patrick McDermott/Getty Images
The Eagles get their first look at second overall pick Robert Griffin III.
And guess what? The Redskins are coming off of a bye!
There is no doubt that the Eagles are the superior team, but I have a bad, bad feeling about this game. Philly always seems to lose at least one game to the Redskins despite Washington's futility over the last several years.
I'll assume that the game the Birds would drop would be the one in D.C. and in which the heralded rookie gets more time to prepare.
This will be an exciting and intriguing game. I'm leaning towards this being that let-down game that the Eagles have every year.
Prediction: Loss
Week 12: Vs. Carolina Panthers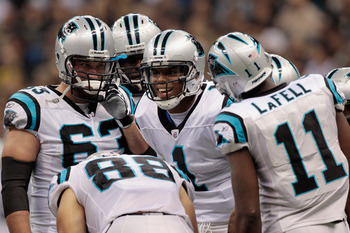 Cam Newton in the huddle
Chris Graythen/Getty Images
The Eagles play a Monday Night game against a guy who loves the spotlight.
Will Cam Newton have a sophomore slump or will he continue his growth towards stardom?
By Week 12 we would have a pretty good idea as to what the answer to that question is. Either way, the Panthers are over-matched, and the Eagles should take advantage.
The Panthers were a surprisingly better team than their 6-10 record would suggest last season, but they aren't in the same class as the Birds.
Prediction: Win
Week 13: At Dallas Cowboys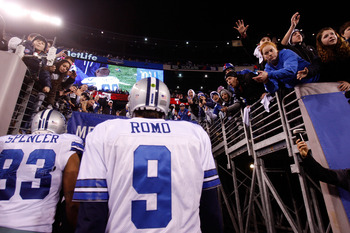 Tony Romo: I have nothing to say...
Rich Schultz/Getty Images
The Eagles have a short week; the Cowboys have a long week. Surprise, surprise.
This Sunday Night game could be big for playoff implications. Good thing for Eagles fans, it's December! We all know that means good things under Andy Reid.
Their second game in four weeks is at Jerry Jones' billion dollar "playhouse," and you know "America's fans" will be nice and rowdy with the Eagles in town.
I struggled with this pick because of the conflicting factors, but most importantly, because picking the Birds twice over the 'Boys could be construed as bias.
But I know this pick is based on logic (I think).
Prediction: Win
Week 14: At Tampa Bay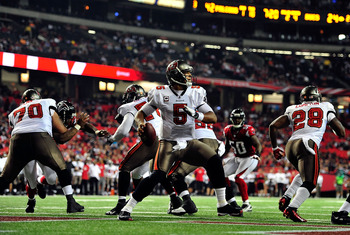 Which Josh Freeman will we get this year?
Grant Halverson/Getty Images
The Bucs may be out of playoff contention at this point if things go the way they did last season.
After a strong season two years ago, this team has become a bit of an enigma. They're starting over with a new coach in Greg Schiano, and I don't have very high expectations for this team.
It may be away, but I don't think that means much in this matchup.
Pretty simple to me.
Prediction: Win
Week 15: Vs. Cincinnati Bengals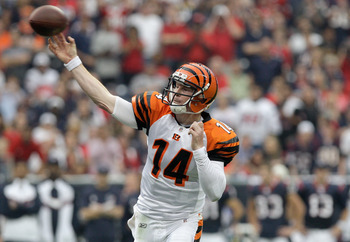 Another QB who had a solid rookie season
Thomas B. Shea/Getty Images
This is the type of game I hate: Thursday Night. The game that was created due to money and not to common sense.
Even worse, it's at the end of the year when you'd prefer to have more predictability in your routine.
This is a really tough team for me to judge, and it's a tough game for me to pick. They play the Steelers the week after, so could they possibly overlook the Birds? Cincinnati's schedule isn't too tough beyond their division games, so they could have a solid record coming into this game.
The Eagles are the better team, but all of the elements just confuse me more than anything.
I'm sure I will waver on this one all season leading up to the game, and it may be the type of game that I'd be more confident about if I knew the Birds were on a roll coming into it.
I'm just too uneasy, so for now:
Prediction: Loss
Week 16: Vs. Washington Redskins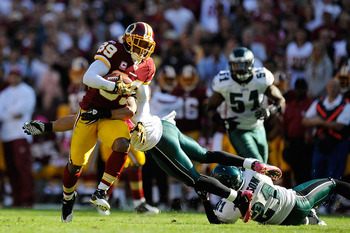 Santana Moss will be RG3's most dangerous weapon
Patrick McDermott/Getty Images
Alright, I have the Eagles hiccuping in their first meeting of the season. There's no excuse for doing it twice against an inferior team.
RG3 will be at the end of his first full season in the NFL, and in all likelihood, he will be worn out from the rigors of pro football. Who knows if the 'Skins will even be in the hunt at this point. Probably not.
The Eagles will take care of business on their home field.
Prediction: Win
Week 17: At New York Giants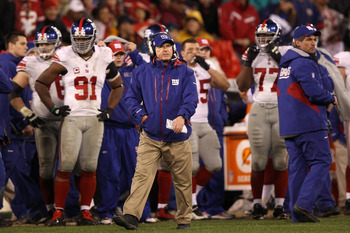 Tom Coughlin patrolling the sidelines
Ezra Shaw/Getty Images
Based on my predictions to this point, the Eagles may not have much to play for in this game.
We may not see a number of regulars in this game.
Who knows where the Giants will be at this point as well. As I mentioned in the Week 4 slide, this team is not as strong as the team that won the Super Bowl, and that team was 9-7.
The game is away, and it's hard to predict what will be going on in the last week of the season.
But I have to take a stab.
Prediction: Loss
After the tally, I have the Eagles at 11-5.
I think this is a pretty good expectation for this team. Please let me know what you think!
Keep Reading

Philadelphia Eagles: Like this team?