Philadelphia Eagles 2012 Season Predictions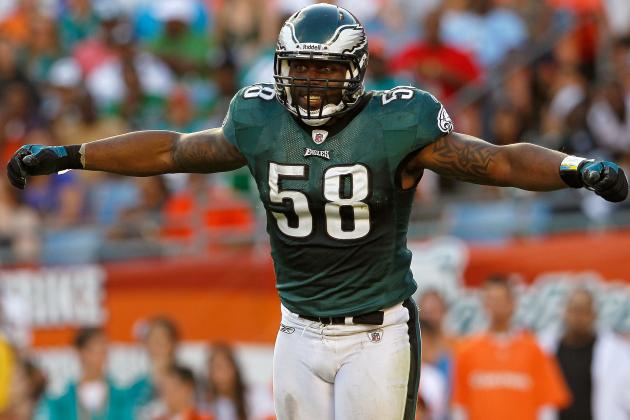 Mike Ehrmann/Getty Images
Trent Cole
The 2012-2013 season is an extremely important one for the Philadelphia Eagles. It's imperative that this team makes a deep run into the postseason, or Andy Reid, Michael Vick and Howie Roseman could all be saying goodbye to the Philly faithful.
This Eagles offseason was very different than the last. Rather than making a lot of noise in free agency and claiming to be a "dream team," they kept quiet.
They took care of their own, which is important in building a championship team. They extended Todd Herremans, DeSean Jackson, Evan Mathis, Trent Cole and LeSean McCoy. It's important for a young team to know that if they perform well, the organization will take care of them.
The team also got rid of Asante Samuel, who had become a distraction and had a cap number too large to keep for a No. 3 defensive back. He also no longer fit the Eagles system on defense.
The team did a really good job bringing in a vocal leader for the defense in DeMeco Ryans.
He should instantly make the Eagles defense a lot better.
On paper, the Eagles had one of the best drafts in the NFL.
They got three players who should contribute on defense right away.
This offseason has the makings for big things leading into the next season.
Follow @JosephBisaccia on Twitter

Begin Slideshow

»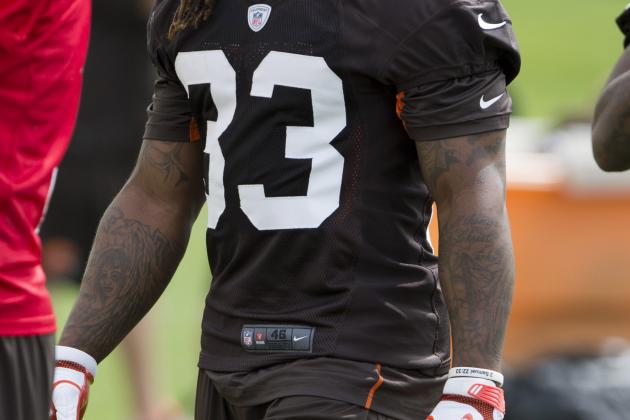 Jason Miller/Getty Images
Trent Richardson
Week 1: at Cleveland Browns
In Week 1 the Eagles will play against the Cleveland Browns. This is a team that is still not very good. Trent Richardson will help make this offense more explosive, but the Browns are still lacking enough playmakers to be considered a good football team.
Whether their starting quarterback is Brandon Weeden or Colt McCoy, I would expect either to struggle quite often. They do not have any good wideouts to throw the ball to.
The Browns will also be missing their big defensive tackle Phil Taylor for a while due to a torn bicep. This will open the running lanes for LeSean McCoy.
I expect the Eagles to win this game rather easily by dominating on both offense and defense
Eagles 24 Browns 10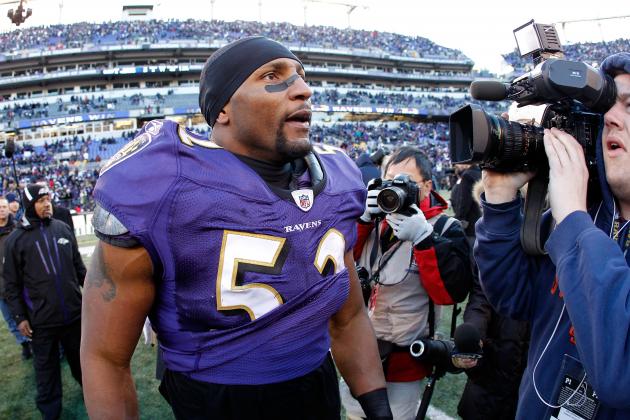 Rob Carr/Getty Images
Ray Lewis
Week 2: Home vs. Baltimore Ravens
The Ravens are a talented football team; there is no question about it. That being said, this is going to be a very different looking team in 2012.
There is a strong possibility that they will be without Terrell Suggs all season after tearing his Achilles tendon in the offseason. Ed Reed is also unsure whether or not he will continue his NFL career.
This will be a tough football game, but one the Eagles should win. They were absolutely terrible at home last year, and it's important they get a home-field advantage early in the season. It will also create excitement among the fanbase.
Joe Flacco and his teammates on offense are going to have to make up for a defense that is not going to be as great as it once was. I don't think that they will get it going in Week 2, though.
Eagles 23 Ravens 17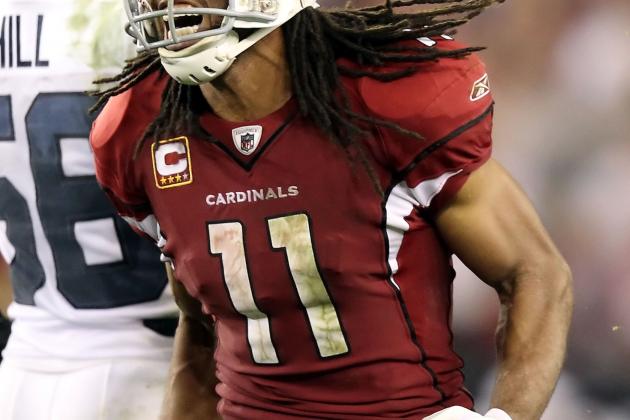 Christian Petersen/Getty Images
Larry Fitzgerald
Week 3: at Arizona Cardinals
In Week 3 the Eagles travel to Glendale to take on the Arizona Cardinals. This is a team that is much better than people think and could compete in the NFC West if the 49ers take a step back.
The Cardinals finished last season with an 8-8 record, the same as the Eagles. They did so with pretty horrendous quarterback play for most of the season.
The addition of Michael Floyd to match up opposite to Larry Fitzgerald could potentially become a lethal duo and help John Skelton or Kevin Kolb.
That being said, the Cardinals offensive line is too weak against the Eagles' tremendous defensive line. I expect to see plenty of sacks and several turnovers in this game.
Eagles 21 Cardinals 10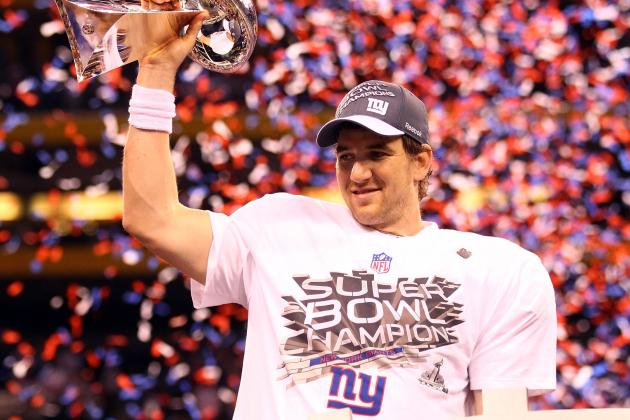 Al Bello/Getty Images
Eli Manning
Week 4: Home vs. New York Giants
The Eagles return to Philadelphia in Week 4 to play their biggest rivals, the New York Giants.
I expect this game to be very competitive and fun to watch. Jason Pierre-Paul and Justin Tuck could make it a long night for Michael Vick and the Eagles.
Fortunately enough, the Eagles are home for this game and play well at home against the Giants. I see LeSean McCoy and DeSean Jackson having big games—they always step up against the Giants.
Eagles 24 Giants 21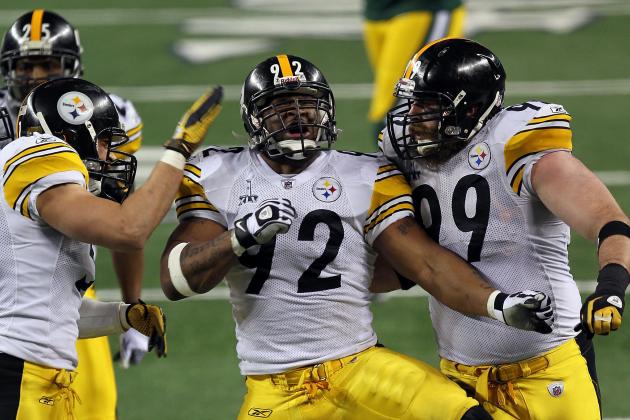 Mike Ehrmann/Getty Images
James Harrison
Week 5: at Pittsburgh Steelers
The Eagles always struggle against their cross-state rivals. I expect that to continue at Heinz Field on October 7.
The Eagles will be 4-0 going into this game and could get complacent. I see the Steelers defense and Ben Roethlisberger having a big day.
The Eagles lose this one and start the season 4-1.
Steelers 24 Eagles 17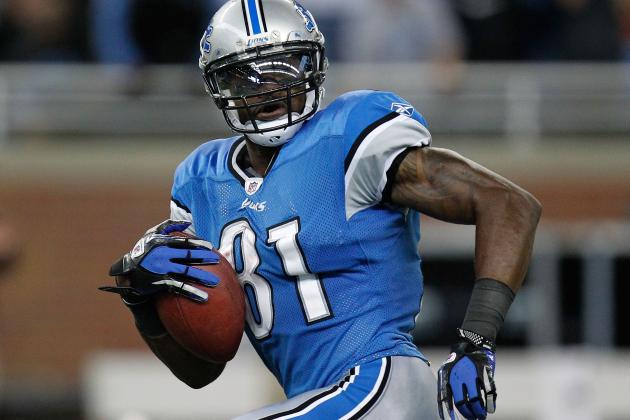 Gregory Shamus/Getty Images
Calvin Johnson Jr.
Week 6: Home vs. Detroit Lions
The Eagles will return home following their loss to the Steelers to play the Detroit Lions. This is a young, talented team that is on the rise.
Nnamdi Asomugha will have a very difficult assignment in covering Calvin Johnson, Jr. man-to-man. This is where we will find out if he was worth all of that money.
I expect that Brent Celek could have a big day across the middle. This is a close game and is a shootout, but I think the Eagles pull it off.
Eagles 31 Lions 27
Patrick McDermott/Getty Images

Week 7: Bye
The Eagles head into their Week 7 bye with a record of 5-1. This is a great start for the Eagles and gives them a nice chance to catch their breath and heal their injuries. Coach Andy Reid always has his team ready to play following the bye week.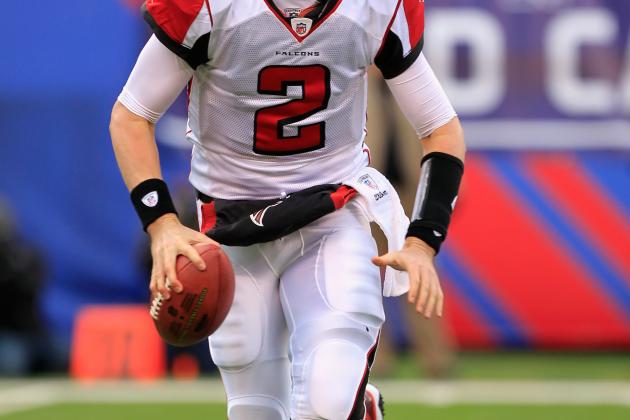 Chris Trotman/Getty Images
Matt Ryan
Week 8: Home vs. Atlanta Falcons
The Eagles host the Falcons in Week 8. I expect them to come out focused and ready to dominate. Andy Reid is one of the best coaches in the league at getting his team ready to play following the bye.
I expect Michael Vick to have a huge game against his former team. This year, the Eagles don't blow a fourth-quarter lead to the Falcons.
Eagles 27 Falcons 14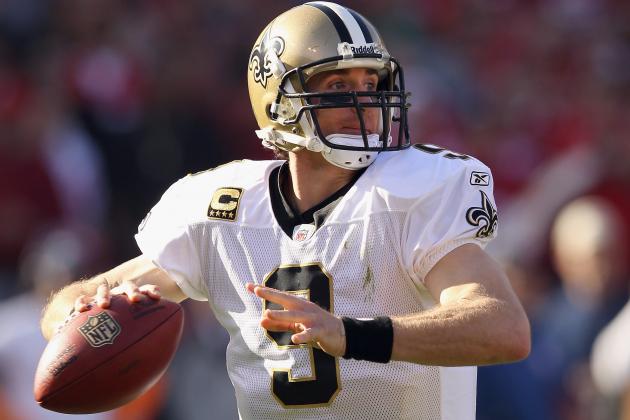 Ezra Shaw/Getty Images
Drew Brees
Week 9: at New Orleans Saints
The Saints are going to struggle at times this season, there is no question. They will be without their head coach Sean Payton, who is serving a season-long suspension.
They will eventually get Drew Brees the contract he deserves, and he will be with the team by the start of training camp.
The Eagles have struggled against the Saints since the beginning on their run of success. I think that could continue this week, as Drew Brees torches the Eagles' average unit of safeties.
Saints 35 Eagles 21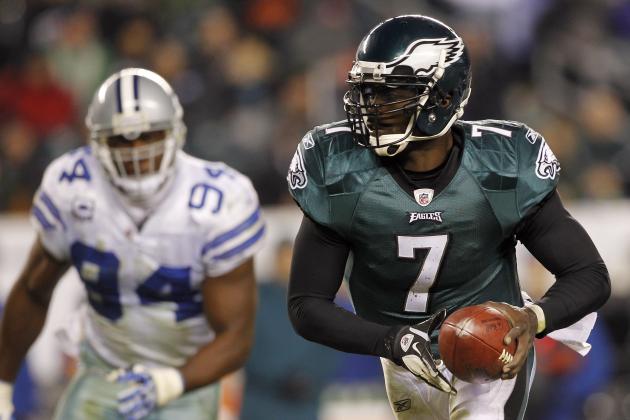 Rich Schultz/Getty Images
Demarcus Ware
Week 10: Home vs. Dallas Cowboys
The Eagles and Cowboys don't like each other; we know that. Eagles fans however, hate Dallas more than life itself.
Many analysts believe that Dallas has greatly improved its team. I like the addition of Morris Claiborne in the draft. But Brandon Carr is an above-average starter—nothing more, nothing less.
Every season Dallas is a prohibitive Super Bowl favorite, but I just don't see it. It isn't Romo's fault that this team gives games away every season.
Eagles 24 Cowboys 21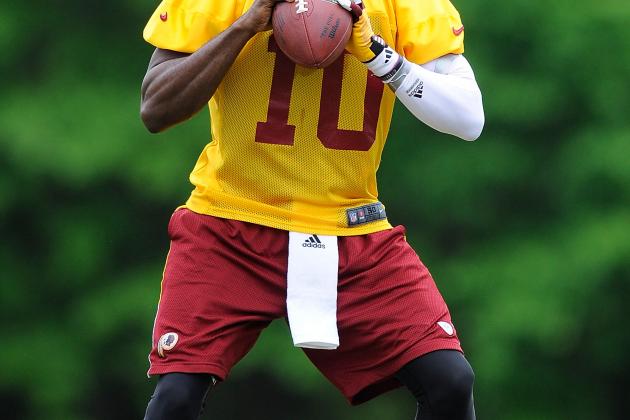 Patrick McDermott/Getty Images
Robert Griffin III
Week 11: at Washington Redskins
The Redskins finally got their franchise quarterback when they drafted Robert Griffin III in the draft. He is going to be a superstar, but this team is still lacking a lot of pieces.
They have no offensive line and little to no running game. The Pierre Garcon move is questionable as well. He has never had 1,000 yards receiving in a single season and is notorious for having bad hands.
Mike Shanahan and his son Kyle Shanahan need to find a way to help Griffin III have success from day one. Unfortunately, I don't think either of them are going to get that going against the Eagles this season.
Eagles 31 Redskins 17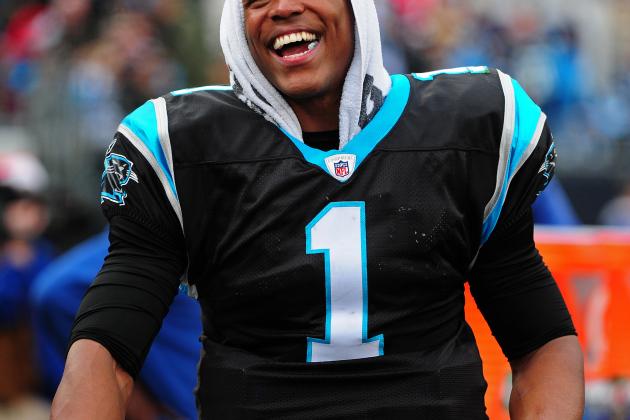 Scott Cunningham/Getty Images
Cam Newton
Week 12: Home vs. Carolina Panthers
The Eagles return home to play the Carolina Panthers in Week 12. This game just feels like a trap game to me.
The Eagles are 8-2 and coming off a huge win against the Redskins; I see them laying an egg against the Panthers.
Cam Newton is a star, and this is going to be a much better team in 2012. They were 6-10 last season, but they were in almost every single game.
Panthers 31 Eagles 24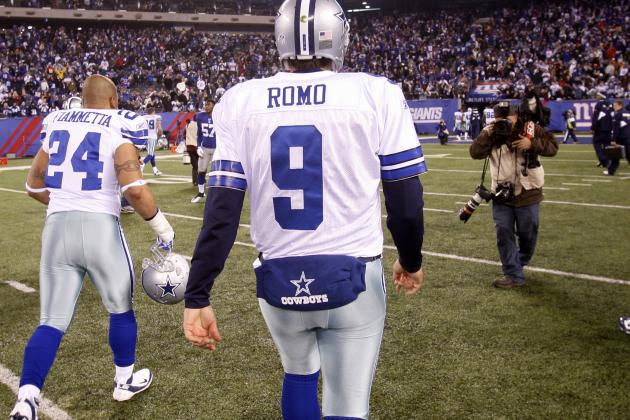 Rich Schultz/Getty Images
Tony Romo
Week 13: at Dallas Cowboys
I just think the Eagles are the better team. I don't see that changing the second time the Eagles and Cowboys play, even though this game is in Dallas.
I think DeSean Jackson makes one big play that changes the outcome in the Eagles' favor. This is close, but the Eagles find a way.
Eagles 27 Cowboys 24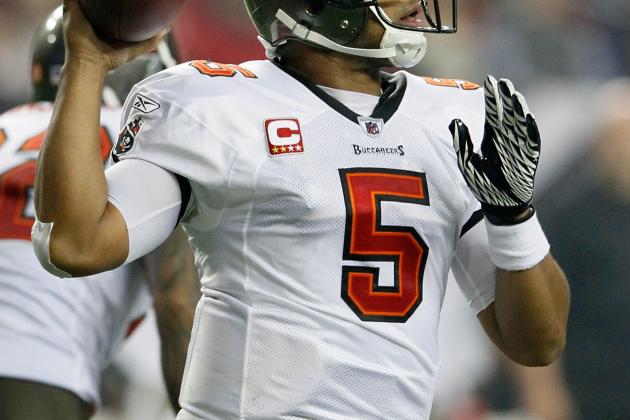 Kevin C. Cox/Getty Images
Josh Freeman
Week 14: at Tampa Bay Buccaneers
The Tampa Bay Buccaneers had a lot of turnover to their roster this offseason. They added a lot of talent in free agency and had a solid draft.
First-year head coach Greg Schiano has a lot of work ahead of him if he's going to take this team and make it a contender. He will need his quarterback, Josh Freeman, to play like a Pro Bowler every single week.
This team will be much improved, but it is still a year away from making any real noise.
Eagles 33 Buccaneers 21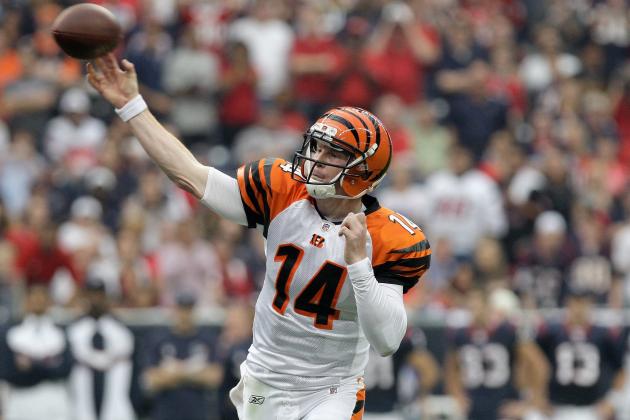 Thomas B. Shea/Getty Images
Andy Dalton
Week 15: Home vs. Cincinnati Bengals
The Bengals are a great young team. Marvin Lewis has done an incredible job changing the culture of that organization.
I expect Andy Dalton and A.J. Green to make big leaps in year two of their NFL careers. I think they even find a way to steal a game in Philly late in the season and sneak back into the postseason.
Bengals 27 Eagles 21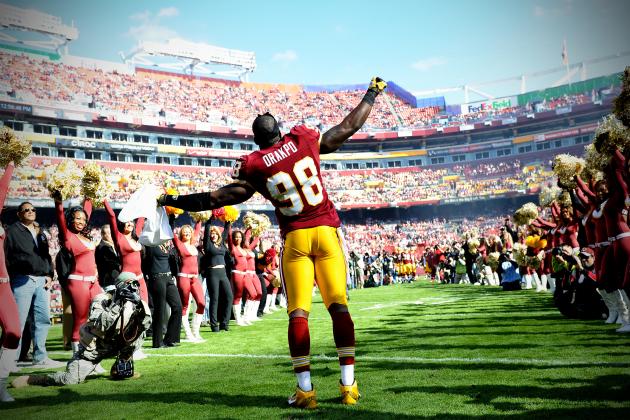 Patrick Smith/Getty Images
Brian Orakpo
Week 16: Home vs. Washington Redskins
The Eagles play their last home game of the regular season against the Washington Redskins. I expect them to win this game.
The Eagles will be gearing up for a postseason run, and the Redskins won't have very much to play for. Mike Shanahan and Kyle Shanahan once again show that they are clueless in running an NFL franchise.
Eagles 35 Redskins 10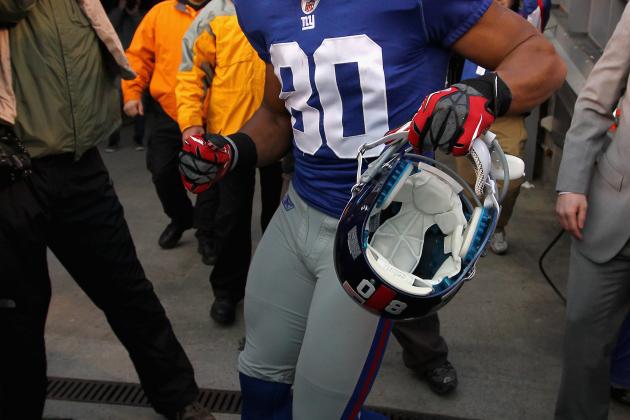 Al Bello/Getty Images
Victor Cruz
Week 17: at New York Giants
The Eagles will being playing for a first-round bye against the Giants in Week 17. The Giants will be fighting for a Wild Card spot.
I expect the Eagles will come out and dominate this game. There would be nothing more satisfying than getting a bye in the playoffs and knocking their bitter rivals out at the same time.
Eagles 27 Giants 10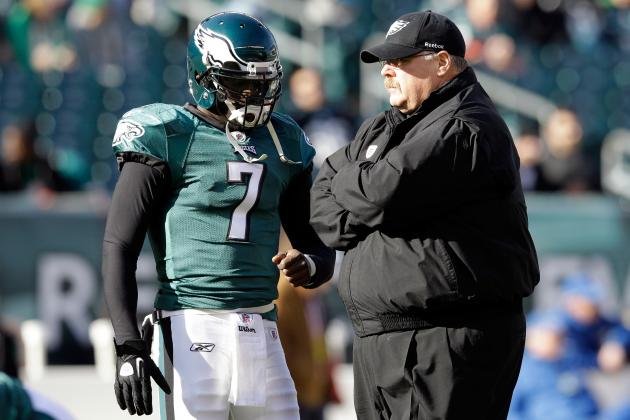 Rob Carr/Getty Images
Michael Vick; Andy Reid
Recap
I see the Eagles with a 12-4 record in the 2012-2013 regular season. Obviously, this is all speculative and dependent on Michael Vick and whether or not he can hold up through an entire season.
If he does, they will have a big season. I like this team and can see it making a deep run. The Eagles will end up being the No. 2 seed in the NFC and have an excellent opportunity to make noise in the playoffs. Feel free to start the debate!