San Francisco 49ers: An Open Letter to a Doubtful Fan
May 17, 2012

Ezra Shaw/Getty Images
As a sports fan, debates can happen at any moment—at any place. This is an open letter to a fellow San Francisco 49ers fan I encountered one memorable evening.    
Dear Mr. Full of Doubts,
It's been almost two years since our conversation inside a bar in downtown Campbell. I was sober and you were gripping a pint—"the first of the evening" you said, raising it up to my invisible glass. Cheers. We were 49ers fans, so we talked football—specifically Alex Smith. 
The conversation, though temporary, has been a permanent tattoo inked in my memory to this day. Another playoff-less season was coming to a close, Smith was improving (8:1 touchdown to interception ratio in last eight starts), but you were understandably malcontent, and we both found little comfort in a future with Mike Singletary as head coach.
How about that Jim Harbaugh, though?   
On the topic of Smith, you were most passionate—as was I—and our opinions were polar opposites. You and a few friends had attended the team's most recent home game, a Week 14 win over the Seattle Seahawks. Smith posted a 130.9 rating while throwing for 255 yards, three touchdowns and zero interceptions. Yet all you were happy about was the chance to "boo him at every incompletion, at every chance." Ah, if only he were like the other quarterbacks who complete 100-percent of their passes. I shrugged it off and understood the frustration of a fanbase accustomed to Joe Montana, Steve Young and, to a lesser extent, Jeff Garcia.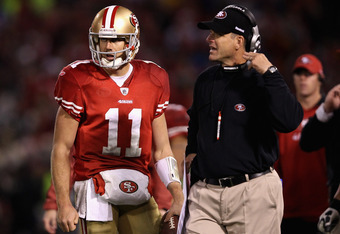 Ezra Shaw/Getty Images
The night aged, the bar music worsened and the conversation continued. "Alex Smith is a bust" was the overall theme from your corner of the ring. Again, understandable—he had yet to meet the lofty expectations of a No. 1 overall pick. In six seasons as a pro, Smith struggled with consistency, injuries and never reached the postseason. So I was only slightly surprised when you uttered, nay proclaimed the most unforgettable 13-word sentence of that night:
"The 49ers will never make the playoffs with Alex Smith as their quarterback."
Emphasis on never. 
As if the entire bar and radio turned to mute, the word "never" bounced around the room, crashed into the walls and ceiling before settling in my ears. I disagreed with your assertion. Smith was improving, slowly but surely, and his well-documented situation in San Francisco had been less than ideal since 2005—his rookie year. A carousel of offensive coordinators, open doors for offensive linemen, not so lethal weapons around him and all the usual "excuses." You've heard them all before.  
My argument was met with expected resistance, and the sentence was again repeated verbatim. "The 49ers will never make the playoffs with Alex Smith as their quarterback." That was that, and you were sticking to it.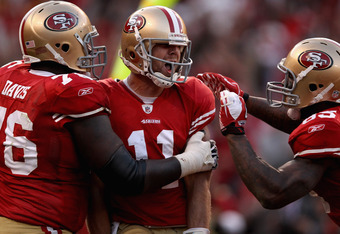 Ezra Shaw/Getty Images
I am not writing to collect on a bet, because none was made. Or say I told you so, because I've been wrong a million times before. It was merely an exchange of opinions, and I appreciated every syllable. 
As you know, the 49ers, with Smith under center, reached the NFC Championship in January—only to lose in heartbreaking fashion. Now they turn their attention to the upcoming season with hopes of advancing to and winning the big game. 
Hope your doubts have subsided, or maybe that's the secret ingredient to Smith's rejuvenated career. It's like I always say, "doubt motivates." Either way, I look forward to future debates.
Sincerely,
Me