NBA Rumors: 15 Free Agents Who Will Want to Join the L.A. Clippers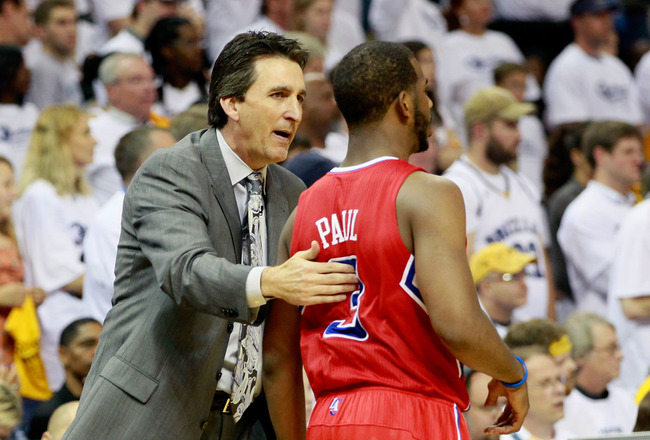 Kevin C. Cox/Getty Images
You may have read this headline and missed the most important word. It's not "15" or "free agents" or even "Clippers." It's "want." Think about it for a moment. Players who "want" to join the Los Angeles Clippers—the perennial joke of a franchise since it's inception?
Yet, it's true. Th Los Angeles Clippers will be one of the preferred destinations in the NBA. They have three things that players are looking for, money, star power and market size.
While they're technically over the cap, they'll only be over by a couple of million which means that they can easily afford a mid-level exception or work a sign-and-trade deal. They may be a second-tier team in Los Angeles, but they are in Los Angeles and winning a title, or having the potential to, could make a big difference.
Even this year, making it to the second round of the playoffs has closed the still considerable gap between them and the Lakers. They may never eclipse the Lakers, but they don't need to in order for players to land lucrative endorsement deals as Chris Paul and Blake Griffin have already shown.
That brings up the third point. They have considerable star power in Griffin and Paul, and that duo is enough of a foundation to win a title. From there, it's about how much Griffin can grow as a player and what kind of talent they can put around the pair.
Because they have that particular trio of incentives, expect the City of Angels to have a second-preferred destination for free agents this year.
Here are 15 players who should be expected to have the Clippers high up on their list of choices.
Steve Nash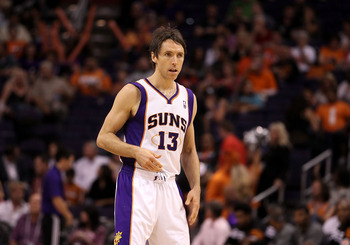 Christian Petersen/Getty Images
At this juncture in his career, Steve Nash is in a very small conversation of greatest active players who have never won an NBA title. There is maybe one name, LeBron James, ahead of him on the list.
Even there, because of the length of his career, Nash could have the edge. Apart from that, it's possible that James will no longer be in that conversation at the conclusion of this postseason.
Either way, it's possible that at the conclusion of this season, it would be accurate to say that Nash is the greatest active player to not be wearing a ring. Playing for the Clippers would give him a chance at a ring, and it would give him a chance to come off the bench and be an amazing one-two punch.
With both Paul and Nash being outstanding shooters who can penetrate and break down defenses, they would be a formidable pair. They would make defenses cry as there would be no rest for the weary when Paul went to the bench.
They could be an interesting pair on the court at the same time too.
It's an unlikely pairing, but with Nash looking for a shot at a ring, the Clippers would at least have to be on his radar.
Ivan Johnson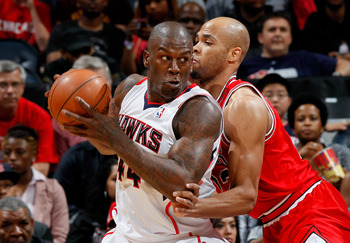 Kevin C. Cox/Getty Images
Widely regarded as one of the floppiest teams in the NBA, the Clippers could use a player like Ivan Johnson, who allegedly once scared Chuck Norris into turning off his TV by just looking at the camera.
The Clippers need an enforcer who isn't just dirty like Reggie Evans. They need one that's scary. They need a player who can be their spine. Johnson would be a great addition for that.
The appeal of playing for a contender and the freedom to offer a bigger offer than the Hawks would be willing to spend could give Johnson the incentive to play.
In addition, the return of Al Horford will see his role reduce in Atlanta so Johnson should be looking elsewhere where he can get more playing time.
Steve Novak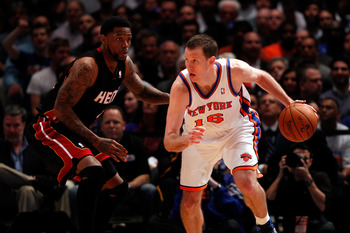 Jeff Zelevansky/Getty Images
When you're a great shooter, there are few things as appealing as a great point guard who knows how to create shots for his teammates and find them when they're open. There's no one in the NBA better at that right now than Chris Paul.
Pairing Novak with Paul would be borderline criminal. Novak showed a glimpse of what he could do with a competent point guard feeding him the ball when Jeremy Lin was starting for the Knicks. Imagine what he could do with Chris Paul running his team.
Don't believe for a moment that Novak hasn't imagined it. When you're a player like he is, and your skill set depends on others giving you the opportunities to succeed, you consider who's feeding you the ball.
Matt Barnes
Jeff Gross/Getty Images
The Los Angeles Clippers are one of the best offensive teams in the NBA with Paul and Griffin leading the way. They were the fourth-best offense in terms of offensive rating. They had the seventh-best effective field goal percentage at .502 this season.
The Clippers may very well be concerned more with adding a defensive presence, particularly if their mediocre defense is exposed against the San Antonio Spurs in the coming series.
Matt Barnes is one of the better, and tougher, wing defenders in the NBA. He wouldn't have to move to play for his current crosstown rival which only gives him another incentive to come play for the Clippers.
While he's offered disdain for the team in the past for its flopping ways, don't be surprised if he includes the Clippers a potential destination once his offseason begins. It's funny how some views change once the offseason begins.
Jordan Hill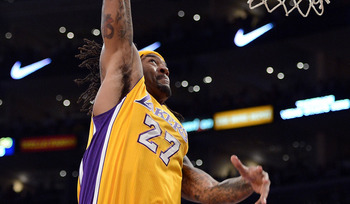 Harry How/Getty Images
Jordan Hill has shown flashes lately of how good he can be, given an opportunity. He's been averaging 13 rebounds and nine points per 36 minutes for the Lakers this postseason.
His strength is as a finisher, whether around the rim or with a respectable jumper. A backup who has the same type of game as Griffin, even if it's not on the same level can be advantageous.
It means that the Clippers wouldn't have to change their offense when Griffin goes to the bench as they often do now, and that shows. The Clippers score 16 fewer points per 100 possessions while Griffin is on the bench than while he's on the court. Just in case you are, that's a beastly number.
For Hill, the chance to be a consistent, featured member of the offense, even if it's off the bench, should be a big incentive to come play for the Clippers. The fact he wouldn't have to move is just icing on the cake.
Grant Hill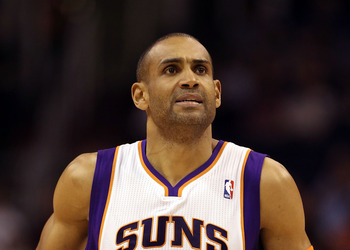 Christian Petersen/Getty Images
Grant Hill is another player in that "greats who never won a ring" conversation. He would be a phenomenal addition to the team for a few reasons.
First, he's still a respectable scorer when he's needed to be. Second, he's become one of the better defensive small forwards in the game. Third, he would provide a mature, veteran presence that the Clippers could use and could use even more if Chauncey Billups isn't on the team next year.
For Hill, the chance to win a ring and play with Chris Paul are big incentives to come play for the Clippers. If he doesn't retire, look for him to have the Clippers on his short list.
Jamal Crawford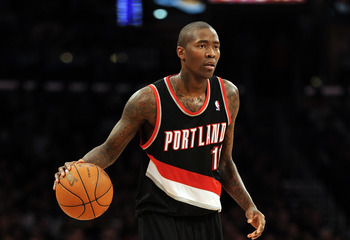 Harry How/Getty Images
Jamal Crawford could in many ways be the best complement to the existing Clippers team. He's an outstanding shooter, which is what the Clippers need in a shooting guard.
It's not that the Clippers struggle to hit the three, they were fourth in the league this year in makes from behind the arc. Having Crawford, though, gives them a true starting-caliber shooting guard.
What they had most of the season are either backups playing the shooting guard, or starting-caliber point guards playing the position. They've made it work, but how much better could things work if Crawford were there? They improved when they got Nick Young, but he's an unrestricted free agent too. What happens if he goes elsewhere?
For Crawford, the fit is the best possible fit for him. It's hard to imagine them not being at the top of his list if it's not very high on it. There may not be another team which suits him better for both personal and team success.
Kenyon Martin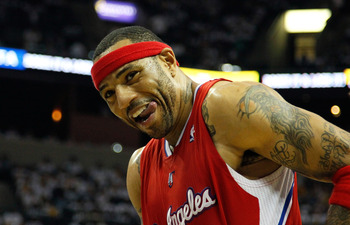 Kevin C. Cox/Getty Images
Kenyon Martin really beefed up the defense of the team when he signed with the Clippers after coming me home from China. He's been sort of the opposite of Griffin. While the Clippers are 14 points per 100 possessions better offensively while Griffin is on the court, they're five points better when Martin is on the court.
Martin has a defensive mindset that greatly complements the team.
It's easy to see Martin wanting to return because he already chose them once. It's not impossible to envision seeing him do it again.
O.J. Mayo
Stephen Dunn/Getty Images
O.J. Mayo is exactly the type of player whom Chris Paul turns into stars. He's not an All-Star in his own right, but just add Paul and *boom* you have an All-Star. Paul would assure Mayo of getting the ball in space, which is all he needs to succeed.
A backcourt of Mayo and Paul would be a formidable one indeed.
While Mayo has already stated he'd like to return to Memphis, that's no guarantee that they want him to come back. If he had to choose somewhere else, the Clippers are as good a shot as any and a return to LA for the former USC star, even if you consider the scandal.
Courtney Lee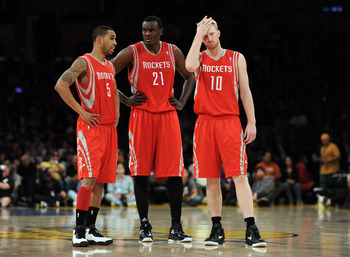 Harry How/Getty Images
Courtney Lee is gradually developing into a quality NBA player and established that he has what's needed to be a starter when Kevin Martin missed time this year for the Rockets.
Lee averaged 14 points, shot .400 from deep and played outstanding defense in the 26 games he started.
Lee might not be the best first option in the league, but he's more than acceptable as a third or fourth option, and he would bring a complementary defense to Chris Paul's in the backcourt, something which has been lacking since Billups went down.
Ersan Ilyasova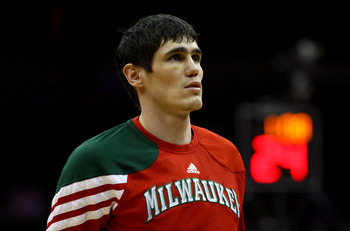 Chris Chambers/Getty Images
Ersan Ilyasova, apart from being my favorite name to rap to myself (Ersan Ilyasova, he's in—and you know it's ove') had a truly impressive second-half breakout and has the kind of offense that would either work in replacement of Blake Griffin or in tandem with Griffin replacing Caron Butler as a small forward.
Ilyasova has a fantastic jump shot and is one of the better catch-and-shoot players in the game right now. He has a .535 effective field goal percentage and scores an impressive 1.03 points per play, which is 29th in the NBA.
If Paul is feeding him the ball, he could have a real breakout year. That could be a big incentive for Ilyaosova. If he had the exact same year for the Clippers this year that he did for the Bucks, he would be 10 times as famous.
Michael Beasley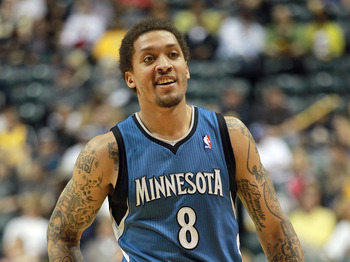 Andy Lyons/Getty Images
Michael Beasley would give the Clippers a complete offensive picture. Essentially, if you have a perimeter player, a post player and a wing penetrator who can score, you have an offense that is extremely difficult to defend.
While Chris Paul penetrates, he doesn't penetrate all the way to the rim. He tends to pull up and punish teams with his lethal jumper. Beasley would give the Clippers a man who can play either forward spot and who can put the ball on the floor and get to the rim. Last year, nearly one third of his makes came at the rim, and half of those were unassisted.
Beasley would be interested in the Clippers because he would be the first man off the bench and would be an immediate frontrunner for Sixth Man of the Year award.
Antawn Jamison
Chris Chambers/Getty Images
Antawn Jamison might be getting old, but he still has game. He averaged 17 points and six rebounds per game this year. He's another player that can play either forward spot and bring offense off the bench.
The last couple of seasons to say his defense was lackluster would be to give him entirely too much credit though. It never came up to that level.
But that also illustrates why he would want to come to LA. He's been on one loser after another, and the one time he got to play for a contender in Cleveland, LeBron James left a half-season after he got there.
Jamison would love to come play for a contender, and that's reason enough to get him to LA.
Nick Young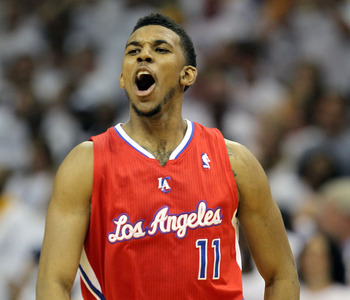 Andy Lyons/Getty Images
Nick Young was one of the reasons the Clippers were able to turn things on and finish the season strong to land the fifth spot. He's also had some huge minutes in the postseason so far.
Certainly, he's had some ups and downs, and he's still "young," but he has a lot of talent and room for growth.
He's given the Clippers enough of a taste that it's reasonable that they'll want him back. After playing with the hopeless Wizards for the first part of his career, having a chance to play for a perennial contender has got to be exciting for Young.
It's hard to imagine him not wanting to return where he can have the best of so many worlds. The fact that he gets to play in his hometown is only icing on the cake.
J.R. Smith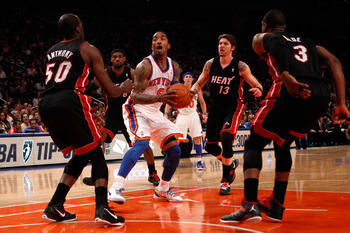 Jeff Zelevansky/Getty Images
J.R. Smith reportedly only chose the Knicks over the Clippers because of money and the fact that he's almost broke. So what happens if they can both offer the exact same contract? Or even more, what if the Clippers offer him more money than the Knicks can offer?
With Jeremy Lin expecting to be courted by a myriad of teams, it's likely the Knicks are going to need to use their full mid-level exception on him.
If the Clippers go after Smith, he would likely bite. With his combination of shooting skills and the ability to put the ball on the floor, he would be a nice addition as well. He can be one of the more explosive scorers on the game when he has space to work with and I reiterate, Paul is brilliant at being able to create space for his teammates and feed them the ball.
Keep Reading

Los Angeles Clippers: Like this team?