Detroit Red Wings: Offseason Moves Ken Holland Can Make to Right the Ship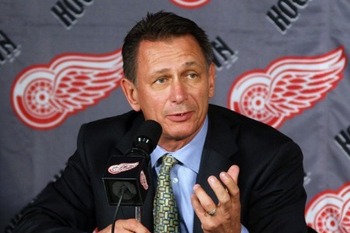 http://images.forbes.com/media/2010/11/24/1124_nhl-gm-ken-holland_485x340.jpg
The Detroit Red Wings have had three straight early exits from the Stanley Cup playoffs. This has made for much restlessness among the Red Wing faithful. This offseason promises to be a very important one for GM Ken Holland.
The core of this team is very talented. With a few tweaks they should be able to re-establish themselves at the top of the NHL heap. While injuries derailed them towards the end of the season, there were some issues with the lineup that needed to be addressed even as they lead the league in February.
Here are several moves Ken Holland can make to get the team heading back in the right direction. .
Sign Nick Cheap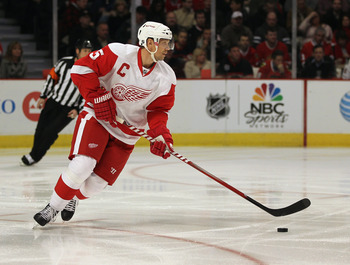 Jonathan Daniel/Getty Images
The first move of the off season will be if Nick Lidstrom decides to return or not. The rest of the moves that Holland and the team will make will revolve around Lidstrom. If he decides to retire then the team will have a major hole of defense that they will have to address.
The bigger issue facing Holland is what to sign Lidstrom for if he decides to return. He has made $6.2 million in each of the past two years. He is still one of the nest defenders in the league, but committing that much money to a 42-year-old is a huge risk. At that age, when the decline happens, it is usually fast and ugly. Lidstrom has shown no signs of slowing down, but his recent slow return from injury could be worrisome.
With the talented free-agent crop that is available this year the team needs to free up cap space in order to pursue them. Ideally, Lidstrom decides to return for one more season at a much reduced rate. If not, then Holland may be faced with the choice of having Lidstrom for one more year or signing several free agents that will help the team for several years.
He will need to make the tough choice of looking at the long term health of the team. That means either signing Lidstrom to a low-cost deal or letting him retire.
Free Agents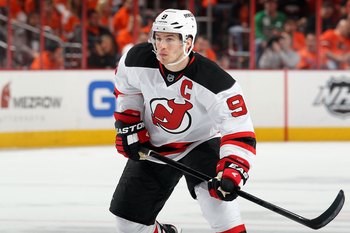 Jim McIsaac/Getty Images
The rumors are out there regarding Ryan Suter, Zach Parise and their desire to play together. Parise has made his admiration of Pavel Datsyuk and the Red Wings organization well known.
Holland needs to be able to seal the deal and get both of these players in Detroit. As with all free-agent deals, money will be a major factor. Neither player will be cheap, but the team will have room for both provided Lidstrom comes back at a discount.
It would be a shock if at least one of these players did not end up in Detroit. Still, Holland can not take anything for granted. He will still need to close the deal and have a backup plan, just in case.
Shoring Up the Defense
Gregory Shamus/Getty Images
The defense is in need of some changes. Lidstrom's decision will obviously have a huge effect on the roster. Beyond that, the team will have other issues to face.
Brad Stuart has been a valuable asset during his years in Detroit. He will be a free agent this summer and is likely gone. While the team is interested in keeping him, his family has remained out west and his desire to be closer to them is well known. Assuming Stuart is gone, Holland will need to find a replacement for him.
On the back end of the defense the team has Jakub Kindl and Kyle Quincey. Neither of them played all that well down the stretch. Quincey will be a restricted free agent, so the team will need to make a decision on him. Kindl was expected to play a bigger role this year but he was not able to grab onto the roll the team hoped for.
Of course, if the team is able to sign Ryan Suter that will help immensely. The other big addition will be moving Brendon Smith up from Grand Rapids. He was able to play 14 games for the team this season as an injury replacement. In truth, he outplayed Kindl and Quincey and should have finished the season with the team. Instead, he was sent back to Grand Rapids once enough injured players returned.
Smith will be a given to join Ian White, Niklas Kronwall and Jonathan Ericsson next season. If Suter does not sign and Lidstrom decides to retire, then Holland will need to focus on the defense in the offseason.
If he is not able to land Suter, then Holland may want turn his focus toward Matt Carle, Dennis Wideman, Jason Garrison or Bryan Allen to help the defense.
Tougher Offense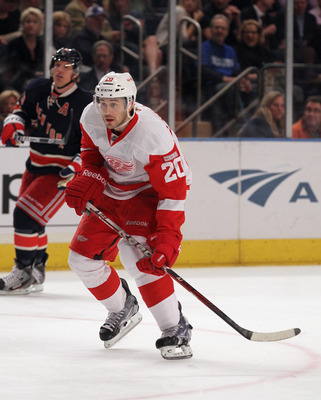 Bruce Bennett/Getty Images
The Red Wings have some of the most skilled players in the game; unfortunately, they tend to get out muscled come playoff time. The team needs to add some physical players in the offseason.
This is why they will need to let Jiri Hudler walk away this summer. He is a free agent and will be looking for a large pay increase after his career best year. While he had his best season, his small stature is a big disadvantage. Also the money he is likely to want will not fit into the salary cap.
They really need a Shane Doan-type of player. While Doan is a free agent, it is difficult seeing him leave Phoenix at this point. Another option would be Chris Kelly. He is a physical player who scored 20 goals this season while "only" making $2.12 million last year. He could find a home in Detroit with his play.
Beyond bringing in a bigger, more physical scorer, the team also needs to figure out how to get Drew Miller more ice time. He seems to find ways to score despite playing limited minutes He tallied 14 goals this season, the same as Todd Bertuzzi and more than Dan Cleary, both of whom play at least three minutes more per game and on more prominent lines.
Miller is a breakout player ready to happen. Next to Parise, moving Miller to a top line might be the biggest offensive move the team could make.
PJ Sapienza is a featured columnist covering the Detroit Red Wings as well as many other sports. You can follow him on Twitter.
To read his most recent articles, see:
Best Stanley Cup Playoff Moments in Red Wing History
Best and Worst of the Detroit Tigers in April
Six Questions facing the Red Wings this off season
Keep Reading

Detroit Red Wings: Like this team?