Detroit Tigers: The Best and Worst from April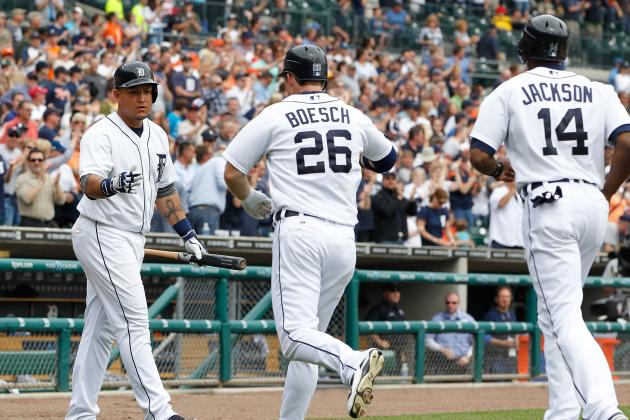 Gregory Shamus/Getty Images

The first month of the 2012 MLB season is now in the books. The Detroit Tigers had a rocky first month and finished it 11-11. The team is looking to turn things around in May by getting back to its winning ways.
Here are the three best and worst players on the team for the month of April. Players who did not finish the month with the team are not included. Yes, this means the top two spots on the worst list will not go to Brandon Inge or Daniel Schlereth. While it is lucky for them, it does move some other players up the bad list.
Begin Slideshow

»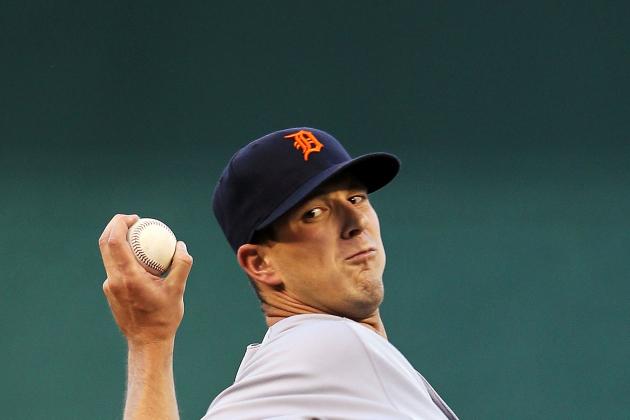 Jamie Squire/Getty Images

Drew Smyly earns the top spot on the best list. Admittedly, his cause is helped by the surprise nature of his first month. With Doug Fister getting injured in his first start and not playing since and the rollercoaster of badness that Max Scherzer and Rick Porcello have been, the team needed a solid starter to emerge.
Smyly has not been perfect but seems to have a knack for pitching out of jams. In the first inning of his first game, he loaded the bases only to get the next three outs without giving up a run. He has given up three home runs in four starts and 18 hits in 22 innings. He does tend to roll up a high pitch count, which has kept him from getting to the seventh inning in any of his games.
Despite those numbers, he has put the team in a position to win every single game. The bullpen cost him wins in his first three starts, but he finally earned his first win in New York. He has a surprising 1.23 ERA to go along with 22 strikeouts.
He has joined Justin Verlander as the only other reliable starter on the team. Hopefully this is not just his Chris Shelton month but, rather, a sign of things to come.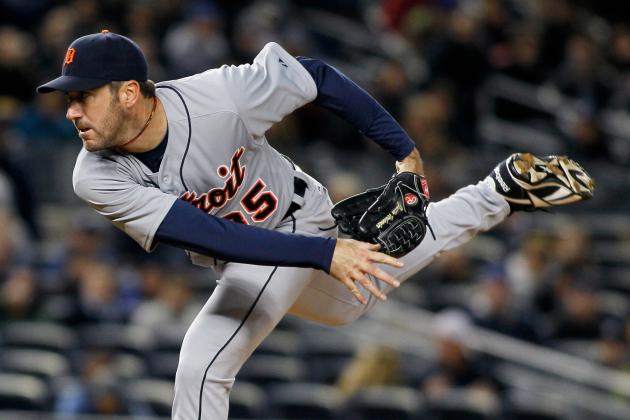 Mike Stobe/Getty Images

Justin Verlander has set the bar high. It is to the point now that when he gives up a hit, the game is almost a disappointment. He is only 2-1 on the season, and his last start, a loss against the Yankees, made his ERA jump from 1.71 to 2.24.
He has spent most of the month among the leaders in strikeouts, ERA, WHIP and innings. With the pressure of repeating last year's remarkable season hanging over him, it is surprising that he has been able to come out as strong as he has.
A few bad breaks and two bad innings are all that keep these numbers from being even better.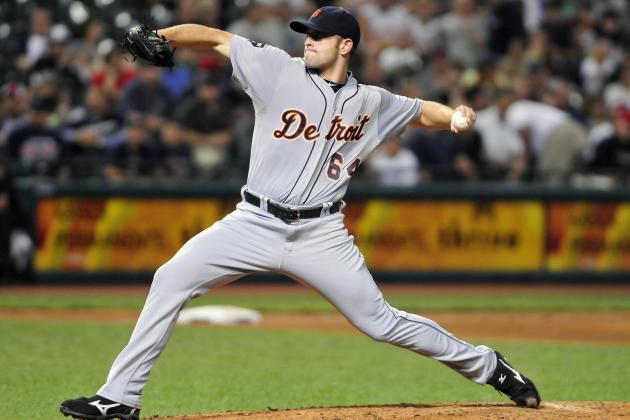 Jason Miller/Getty Images

Yes, pitchers take all three spots; more on that later.
Duane Below has done exactly what you hope a relief pitcher does. He comes in and shuts down the opponents. He has not given up a run, earned or not, so far this season. He also has yet to give up a walk. Opponents have a minuscule .167 batting average against him.
His most impressive outing was a six-inning relief stint against the hot-hitting Texas Rangers. He struck out four while sprinkling four hits over his innings and kept the Rangers off of the scoreboard. His efforts earned him a spot in the rotation as a starter; however, a rainout against Kansas City on the May 1 has delayed that start.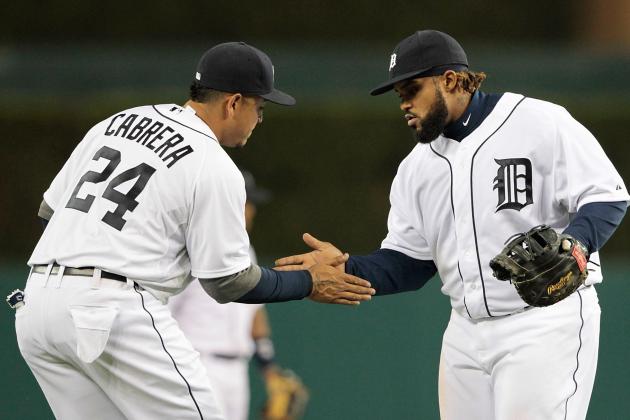 Leon Halip/Getty Images

Many will wonder why no batters made the list. While there were three contenders, none of them were consistent enough over the entire month to take one of the top spots.
Miguel Cabrera spent most of the month far below his usual .317 career average. At one point this season he was hitting .222. The last week of the month saw him raise his average to .300 again. He is still behind his typical career pace but looks to have regained his form.
Austin Jackson started hot before falling apart for most of the month. He has picked it up over the past week but just missed the list. His strikeout numbers are still bothersome, but he has been getting extra base hits, home runs and walks at a better pace than last season.
Prince Fielder is the other slugger candidate to have just missed the list. His batting average was good, but as the cleanup hitter, he only has three home runs. Four Tigers have matched or done better so far in that department.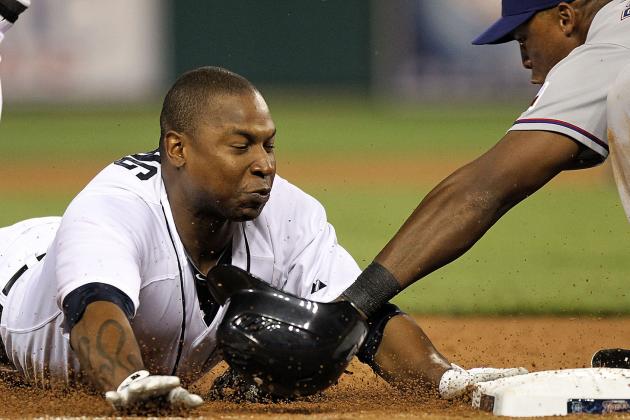 Leon Halip/Getty Images

No surprise here. While Delmon Young has been off of last year's numbers, his off-the-field actions land him on this list.
By now it is well known that he was involved in an incident outside of the team hotel in New York. He has been charged with a harassment hate crime. MLB has suspended him for seven games for the altercation.
While he was not doing much on the field to help the team, being suspended and causing the embarrassment and distraction to the team was the last thing the Tigers needed.
On the field he is over 30 points worse than he was last season. His .242 is only made worse by his lack of power, as he has only one homer run as well. Hitting behind Prince Fielder was supposed to be a great spot for Young. Instead, he has been invisible.
May will be an interesting month for Young once he returns. Will he use the altercation as motivation to focus on his game and improve, or will the Tigers decide to move him?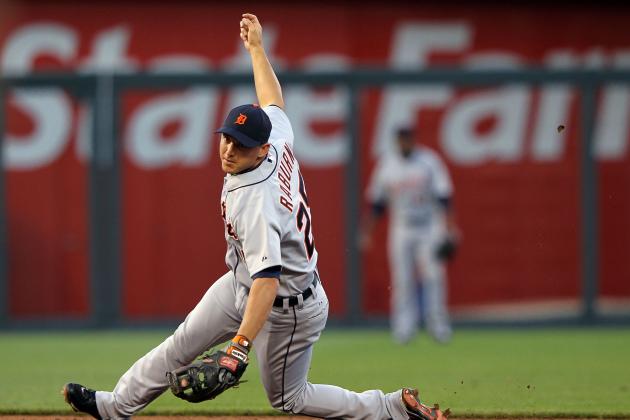 Jamie Squire/Getty Images

Ryan Raburn gets the second spot for the most disappointing. To be truthful, even if Inge and Schlereth were still on the team, Raburn would be giving them a run for this spot, and it was only Young's stupidity off the field that kept Raburn from the No. 1 spot now.
He entered the season as the hopeful second baseman and has failed to grab the job. If he would have taken control of the position, we would not have had to suffer through yet another Brandon Inge sighting. Instead, Raburn has batted only .148 on the season.
It is hard to find any glimmer of hope in his stats so far this season. He has gained a reputation as being a player who just does not hit until the weather is warmer. The team needs to look for a better solution to second base since, come playoff time, it gets cold, and so does Raburn's bat.
He really had a chance to take hold of the position and make a spot for himself on the team for years to come. Now he needs to just try to play well enough to have a roster spot in June.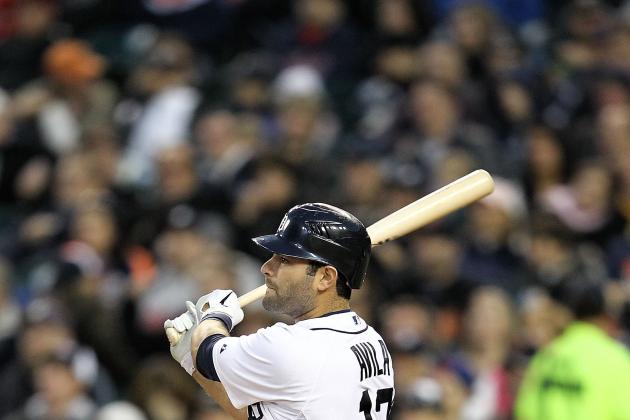 Leon Halip/Getty Images

Last year the Tigers had a catcher who batted near .300 for most of the season. This year, that same catcher is batting only .226. While Alex Avila does have some dramatic home runs this season, he only has three so far.
Most teams do not expect a .300 behind the plate, but they also cannot hit as bad as Avila has this year. Last season he was the second-best hitting catcher in the league; this year he is among the worst.
His fielding has also suffered this season. After only five errors in 133 games behind the plate last year, he already has two in 18 games this season. His fielding percentage has dropped from a .995 to a .988.
PJ Sapienza is a featured columnist covering the Detroit Red Wings as well as many other sports. You can follow him on Twitter.
To read his most recent articles, see:
Six Questions facing the Red Wings this off season
What we have learned about the Detroit Tigers so far