Detroit Tigers: 9 Things We Learned About the Tigers so Far
Gregory Shamus/Getty Images

The Tigers are now 16 games into the 2012 season. With a 10-6 record they are leading the Central Division and hold the second best record in the American League.
Despite the record they have had some ups and downs. Six of their wins have come against Kansas City and Boston, teams that are a combined 7-22 on the season. That means that they are 4-6 against teams with winning records.
It is still early in the season and a lot can change, but as of now this is what we have learned so far.
Begin Slideshow

»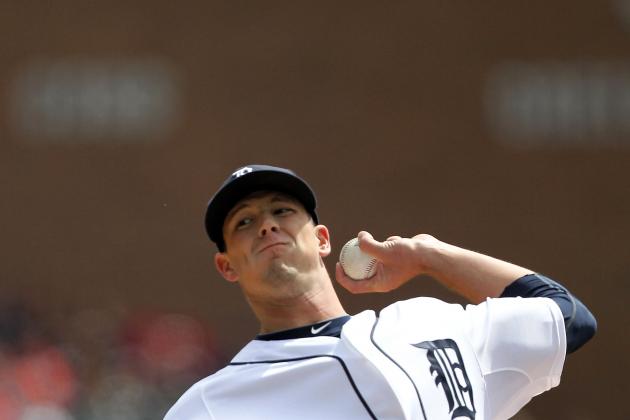 Leon Halip/Getty Images

Among Tiger starting pitchers, who has the best ERA?
No, it is not Justin Verlander. Drew Smyly has an impressive 1.13 ERA to lead to team.
The poor kid does not have a decision yet despite three great starts. At this point he has earned a starting rotation spot of even after Doug Fister returns from injury.
In 16 innings he has only allowed two earned runs, three total, while posting 15 strikeouts. He does have a tendency to get his pitch count high rather quickly. That has prevented him from getting into the seventh inning in any of his three starts.
He is still young and is a bit up and down, however he has proven to have the ability to get out of tight jams. In his first game he loaded the bases in the first inning. He then was able to force a pop out before striking out the next two batters to escape the inning.
He has allowed 16 hits and six walks. Both numbers are higher than they should be, however he has battled through his mistakes. Regardless, he should only get better as the season goes on and might find himself moving up the rotation list.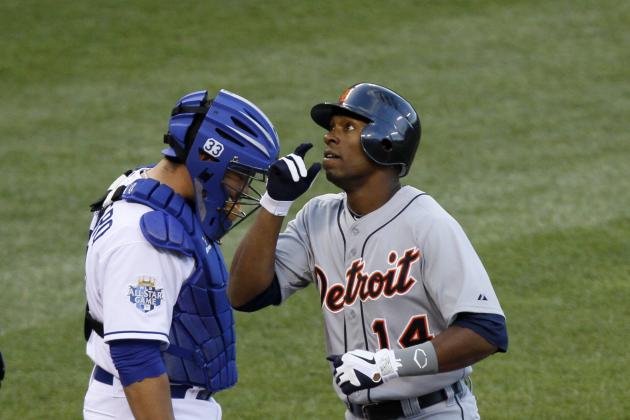 Ed Zurga/Getty Images

Austin Jackson is a very interesting player because so many of his stats tend to contradict each other that it makes fans shake their heads.
Jackson is the leadoff hitter for team. While his speed is great for that spot his bat is not. Over the last two seasons he has had 170 and 181 strikeouts. Those were the worst and second worst strikeout numbers for those seasons. The goal this season was to greatly reduce that number. He already has 17 strikeouts through 16 games, which puts him on pace for 172 for the season.
On the plus side when he does get on base it usually ends well. His has scored 12 runs which is tied for fourth in the league. He has also found some more power. After hitting a career high 10 homers last year he already has three this season. He is also doing a slightly better job at drawing walks this season.
So in the end we have a player who is batting average has continued to drop since Opening Day and now rest at .274. His walks and home runs are up but his strikeouts totals are still too high. If batting in the bottom half of the order these would be acceptable numbers but not in the leadoff spot.
His on-base percentage of .366 is average, for a player further down the lineup. You want a leadoff hitter approaching .400. The team needs to adjust their lineup to better reflect the actual performance of the players and not the potential. Jackson is a good player and might excel if placed in the proper position.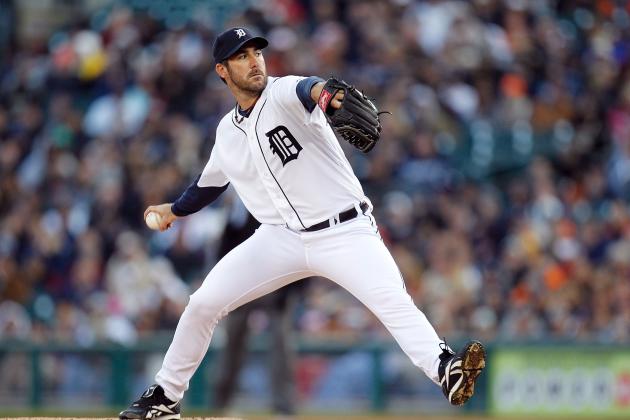 Gregory Shamus/Getty Images

Some wondered if Justin Verlander could repeat his performance from last season. It appears that he will at least come close. He has taken shutouts through eight inning in two of his four starts.
He leads the league leader in strikeouts, WHIP and opponents batting average. He is second in ERA and innings pitched. Just like last season he can dial up a late inning 100+ mph fast ball like nobody else.
The concern is that the heavy workload will wear on him as the season progresses. While he does seem much more durable than most pitchers, he is still human and there is a limit. The goal should be to have him able to pitch long into the postseason. Last season his ERA jumped to 5.31 in the playoffs.
If this team wants to make a World Series run then they need to keep the pitch count and innings lower on Verlander.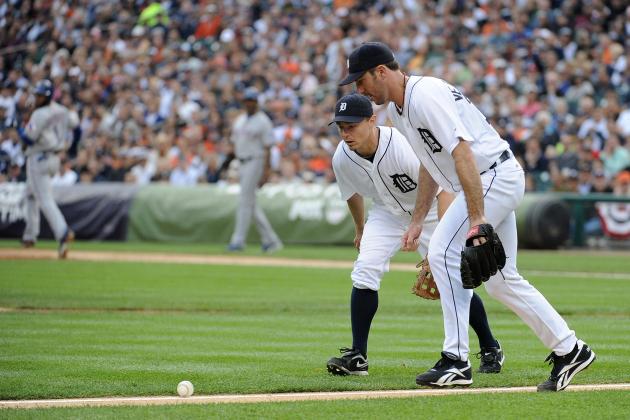 Harry How/Getty Images

Brandon Inge is like that stalker girlfriend. He will just not go away and he does not understand why he should. Apparently stats only apply to everyone else but not him.
When his rehab assignment was done in Toledo and he had hit a whopping .111 he said
"I'm not worried about the results right now. When you're going through a rehab, getting timing, seeing the pitches, and drawing walks is important. really didn't get many good pitches to hit. They weren't throwing me much—which was kind of funny."
I have to ask when will he start worrying about results.
It is to the point where you laugh wondering if he has something on somebody in the front office. How else can one explain how a guy coming off a season where he batted .197 gets even worse but still has a spot on the team? He went through spring training with a .180 effort, and then went to Toledo where he went .111 and is now hitting .056. Yes that was a point ZERO 56!
He has five strike outs and zero walks in his 18 at-bats. His one hit was a home run but he has done nothing before or since. Based on his downward trajectory of stats, it may be mid season before he gets another hit.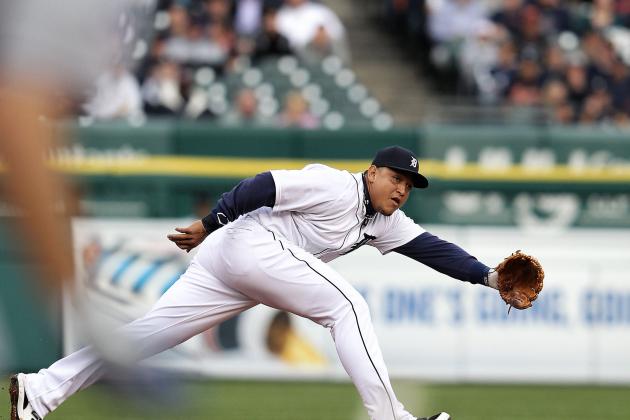 Leon Halip/Getty Images

Much was made about the move to third for Miguel Cabrera. He has shown that he can handle the move defensively. He will not win a Gold Glove at third, but he can play it. He does not have the range of most third baseman, but his very strong arm will cover some of that weakness.
He will not be perfect and is bound to have a few errors this year but he will not be train wreck.
One possible concern is that his batting is down. His batting is only at .290, far below his .316 career average and way behind his .344 from last season. Perhaps it is just a slow start to the season or maybe the move to third has affected his focus on hitting.
Jonathan Daniel/Getty Images

We will not even count the fact that Brandon Inge is still on the roster against him. That call seems to be coming from much higher up. How he uses him though is cause for concern.
In the fourth game against the Rangers the team was in the 10th inning and needed a run to win the game. For some reason, Leyland sends Brandon Inge to the plate who promptly hits the ball to third base for an out.
Now it is not as though Don Kelly was hitting all that well. He was 0-3 on the day but his .214 average is only four times better than Inge. Unless they were going to let Inge jump in front of a pitch there was no excuse to allow him to even look at a bat, let along take one to the plate.
Also in the Rangers game he sent his newly called up pitcher, Thad Weber to the mound. Now every pitcher when called up needs to be ready to play against anyone but wouldn't you want to protect the new kid just a little?
Instead he gets placed into his first game ever, against the best hitting team in baseball…in extra innings. Nothing like throwing the kid to the wolves. Although the winning run happened on a bad call, Weber allowed the runners to get into scoring position. It was a rough situation to put a first timer in.
Justin Verlander is the key to the team. The focus needs to be on him being just as strong in the postseason as he is midseason. In his second start of the season, Leyland left him in for 131 pitches. First off that is way too early in the season to throw that many pitches. There was no need to risk the star pitcher on a meaningless April game against the lowly Kansas City Royals.
Often he acts like he knows more than anyone else in the room. Sometimes it seems like he makes calls just to spit in his critics face. More than most managers he seems to really hate anybody questioning him and just cannot seem to fathom people having different opinions or at least being curious as to how he reaches his decisions.
Leyland has a very good team that has high hopes for the season. As long as he stays out of his own way they should be fine.
Leon Halip/Getty Images

Last season the team was third in the American League with a .277 team average. This year they have dropped over 30 points and sit in the middle of the pack.
This team was built to hit but has not done so the way it was meant to. So far only Prince Fielder is the only regular hitting over .300. Players like Alex Avila, Brendan Boesch and Jhonny Peraltra have dropped at least 35 points from last season. Ryan Raburn has fallen off the map with an ugly .073 average. Even Miguel Cabrera is off of his normal average.
As was discussed here this could be attributed to the Brandon Inge effect. All of these players were hitting better before he came back to the team.
While it might be a stretch to blame the hitting woes on one player it does affect the psyche of the team. Allowing one player to under perform for so long weighs heavily on a team. Now they all may very much like Inge, but having a player who does not have to be held accountable takes its toll on a team. Such actions can mess with team chemistry.
So far their pitching has carried them but they will need their bats to pick up if they are to reach their goals for the season.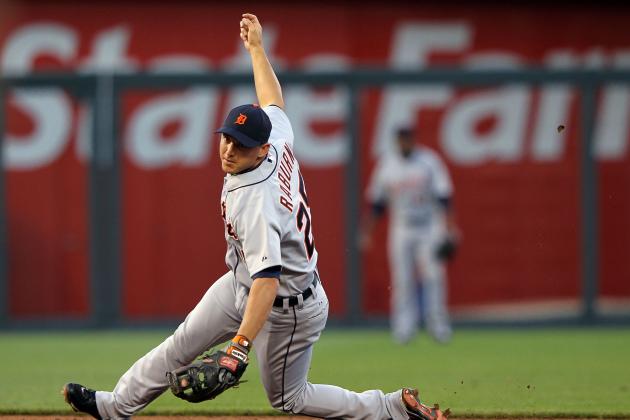 Jamie Squire/Getty Images

As bad as Brandon Inge is, there has not been another player grab the reigns at the position yet.
None of the candidates are hitting well, Ramon Santiago, Ryan Raburn and Inge are all pretty scary at the plate right now. The best is only hitting .200.
They have Eric Patterson and Danny Worth in the minors who are both hitting .279. While not spectacular it certainly is much better than any other option they have tried yet.
If they decide not to go to the minors then it might be time to make a trade. It is still April so while there is no need to panic just yet, this is not something they should let fester all season.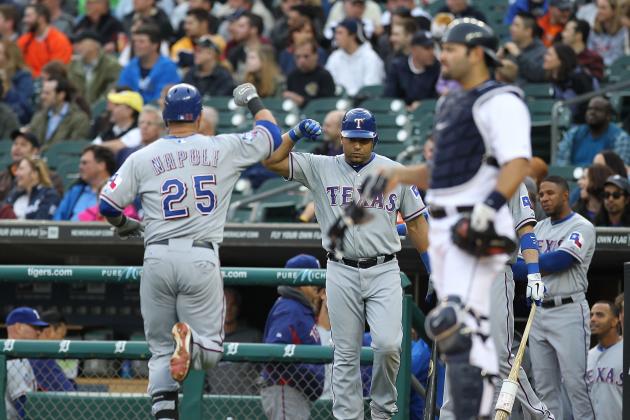 Leon Halip/Getty Images

As stacked as the Tigers appear to be they are still chasing the Texas Rangers.
The Rangers just came into Detroit and won three out of four from the Tigers. Granted one of those wins happened when the umpire decided to allow soccer rules into the game when a player has able to bunt the ball with their leg to score a run but the records counts as a loss for the Tigers.
The Rangers lead the league in wins, ERA and runs. They are solid from top to bottom. They are beatable but the Tigers will need to address their issues. Luckily they have almost a full season to correct them.
PJ Sapienza is a featured columnist covering the Detroit Red Wings as well as many other sports. You can follow him on Twitter.
To read his most recent articles see:
Shea Weber's Hit and Brandon Shanahan's Blown Move
10 Questions Facing the Detroit Tigers