Detroit Tigers: 10 Questions That Need to Be Answered as the Season Starts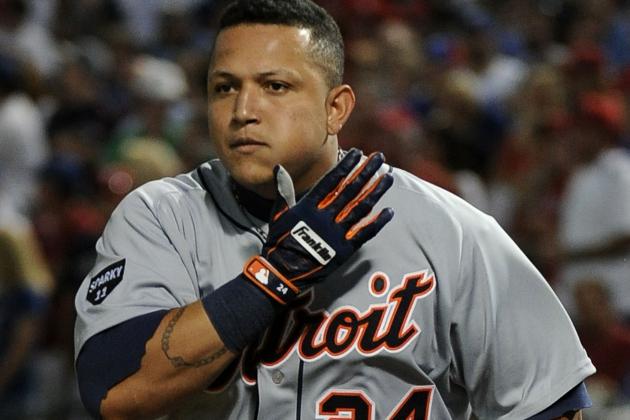 Harry How/Getty Images

Opening Day is upon us and the Detroit Tigers are looking at a promising season. They bolstered an already potent lineup when they signed Prince Fielder in the offseason.
They made it to the American League Championships last season before falling to the Texas Rangers. This year the goal will be to win the World Series.
Despite the hope of the season, there are several questions surrounding the team.
Begin Slideshow

»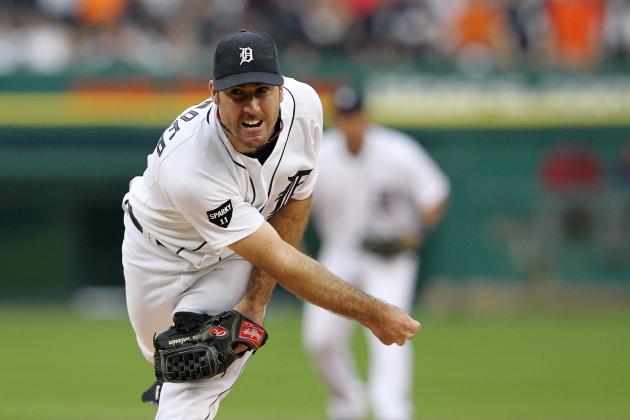 Leon Halip/Getty Images

Justin Verlander put together a career season last year. He won the triple-crown of pitching by leading the American league in wins (24), strikeouts (250) and ERA (2.40). He was unanimously selected as the Cy Young winner as also won a rare MVP for a pitcher.
It is difficult to expect him to repeat those numbers again. However, with his talent and ability he can come close. He has a unique skill where he gets stronger as a game goes on and has amazing consistency.
He pitched 251 innings last season and has topped 200 innings in each of the past five seasons. Will he be able to continue to handle the heavy workload?
While an 18-20 win season would still be good, he has set the bar very high. The pressure of living up to that will also weigh heavily on him this season.
Verlander is that special type of pitcher who will be able to rise above the pressure and expectations and put together a very good season.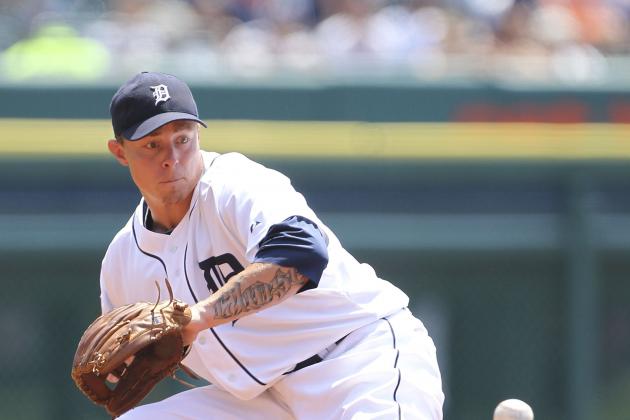 Leon Halip/Getty Images

Much has been made of the play of Brandon Inge. His scary bad offense, his overrated defense and his high paycheck make for the worst of combinations.
A groin injury conveniently popped up at the end of horrible spring training. He was given every opportunity to win the starting second base job for this season, yet has been outplayed by just about anyone else who has tried the position.
If he was not a favorite of owner Mike Ilitch, he would have been off the roster awhile ago. Someone against all logical baseball sense not only does he make the roster, but he gets way too much playing time.
He will start the season on the disabled list. Unfortunately, Manager Jim Leyland has said that Inge will get starts against lefties when he returns. The big question will be how long he will be able to stink up the joint until the team sees what every other baseball person has known for some time: Inge is not a major league ball player.
The end should be near for Inge.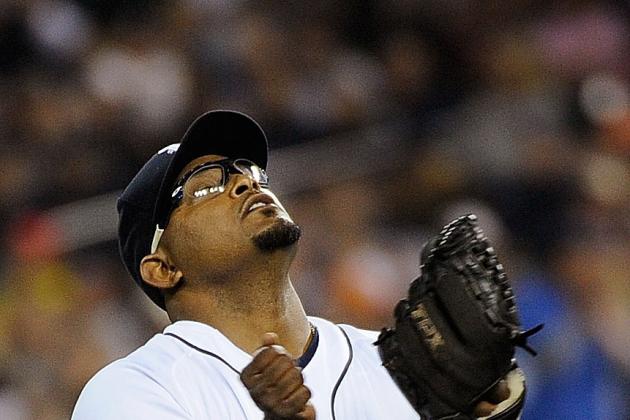 Kevork Djansezian/Getty Images

Jose Valverde had a dream season for a closer. He led the league in saves while going perfect in all 49 save opportunities. Some of his appearances had fans reaching for the heartburn medicine, but he was able seal the deal every time.
Putting together another perfect season is a lot to ask for. The team does not need perfection, although it would be nice, a solid season with less than five blown saves would be great.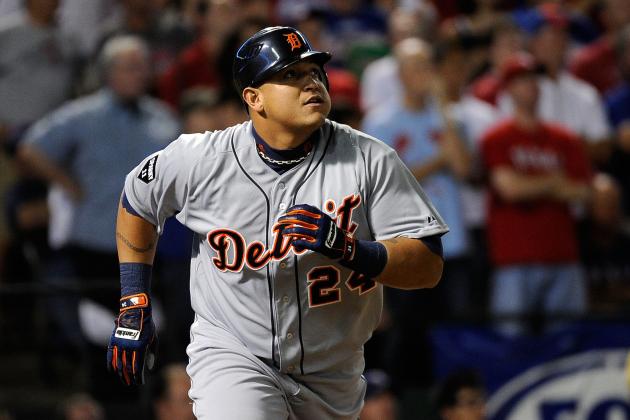 Kevork Djansezian/Getty Images

The addition of Price Fielder meant a move back to third base for Miguel Cabrera. He has not played third since 2008. He worked hard in the offseason and reported to training camp after losing around 25 lbs.
The spring training was going good until a bad hop off of a hard hit ball caught him just below the eye. He missed almost two weeks after suffering the injury. The extra playing time at third would have helped greatly before the season.
We all know he will be fine at the plate and should contend for the MVP again this year. The question will be how well he fares at third base. Even with the weight loss, he still will not have the wide range that most third baseman possess. He does not need to be a gold glove player, but simply a solid defensive player will do.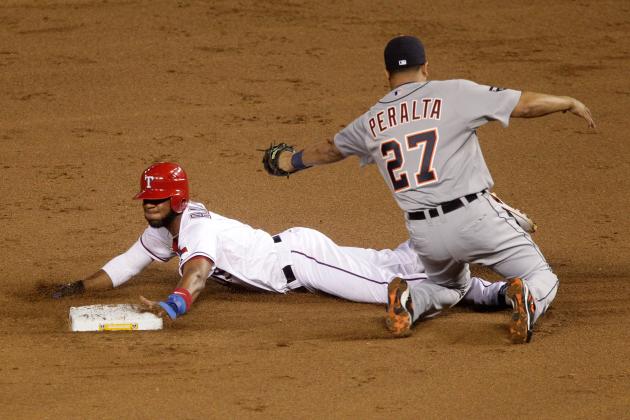 Bob Levey/Getty Images

Much has been made of the defense this season. With Miguel Cabrera and Prince Fielder at the corners, there are concerns about their limited range. Also it would seem like they could be an easy team to bunt on.
Jhonny Peralta is a solid shortstop, however, he too does not have a lot of range. With him and Cabrera, the amount of grounds balls that sneak their way through their side of the field could be troublesome. There are also questions in the outfield with Delmon Young trying to chase down balls in the expansive outfield of Comerica Park.
The other effect this will have is on pitchers such as Rick Porcello. He is a ground ball hitter; will the defense force him to push too hard? If too many routine balls make it through to the outfield, will he be able to handle it and fight back on the next batter? He is still a young player and has been known for ups and downs in play. Will he need to, and, if so, can he adjust to the defense behind him?
The defense appears to be the weakest part of the team going into the season. They do not have to be lights out, but even if average, it greatly improves the Tigers' chances at success. If the team does struggle this year, the defense will likely be the culprit.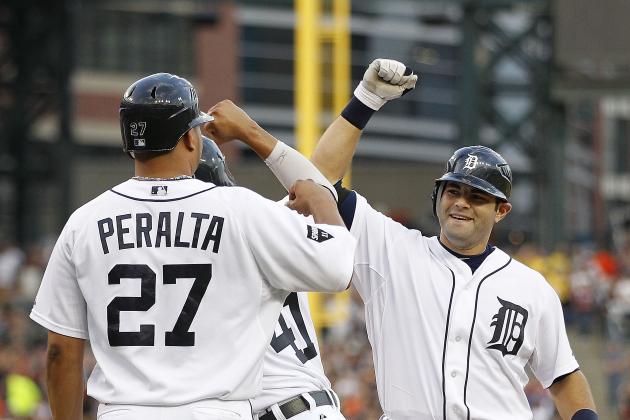 Leon Halip/Getty Images

Jhonny Peralta and Alex Avila are both coming off career seasons. While Avila's career is just getting started, Peralta has put together a nine-year career.
Last season Peralta hit .299, over 30 points above his career average. One major change was his strikeout total. From 2005-2009, he averaged 137 strikeouts a season, but that number dropped to 85 last season and 103 the year before. That is a promising trend that helps give hope that he can repeat last year's performance.
With his strikeouts decreasing, he still was able to maintain his power, hitting 21 home runs. It is rare for a player this far into their career to make such a leap. Ideally, the change of teams midway through 2010 when he joined to Tigers is what helped. If so, then he should be able to maintain this new level of performance this season.
In Avila's case he is still a young player. 2011 was only his second full season with the team. In 2010, he hit only .228, but that jumped to .295 last season. His numbers across the board improved as he hit 31 homers, 33 doubles and 82 RBI. The only worrisome number was his 132 strikeouts.
What was truly amazing was his workhorse mentality. The team went most of the second half of the season with no other catcher, meaning Avila played almost every day. He was able to maintain his batting while playing such a grueling position.
This year the team hopes to be able to give him more breaks behind the plate. Having a catcher that can hit as well as he did last year is a huge boost to the team. If he can repeat this performance, the lineup will be even more potent.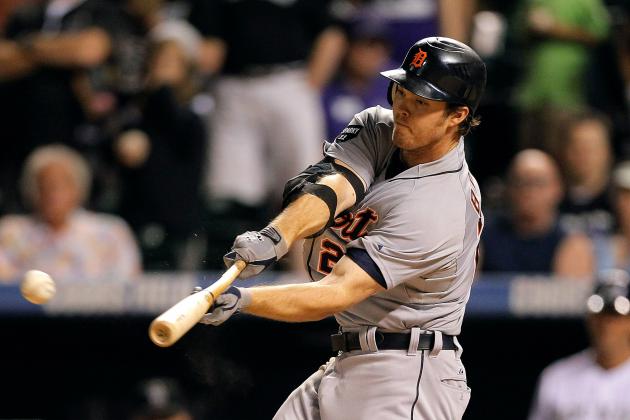 Justin Edmonds/Getty Images

Brennan Boesch has had a good start to his young career. His rookie year started hot as he was named rookie of the year in May and June. He struggled as the season wore on, but still finished with decent numbers for his rookie campaign.
Last year in his second season, he was able to improve on his numbers raising his average by almost 30 points while hitting more home runs in 18 less games. He was looking to finish the season strong when a thumb injury ended it.
As he enters his third season, he is looking to play a full allotment on games. He has never played more than 133 in his young career. He should be able to top 25 homers this season and hopefully get that average closer to .300. He will have the most envious position in baseball as he will hit in front of Miguel Cabrera and Prince Fielder.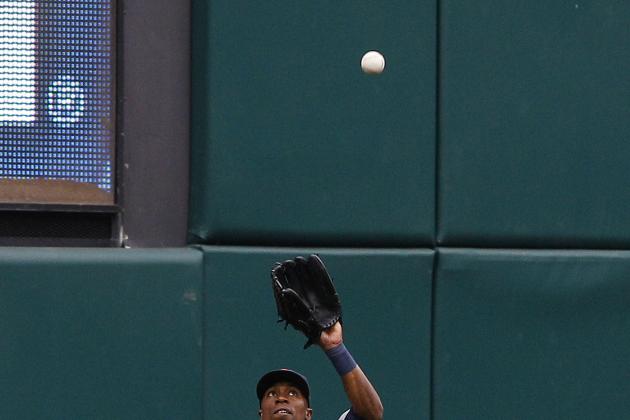 David Maxwell/Getty Images

If defense is the Tigers' biggest weakness, then the lack of a true lead-off hitter is second. Austin Jackson has been filling that spot, and while he is not bad, he just does not fit that role.
He has great speed, which is very useful as he roams centerfield in the cavernous Comerica Park, however, he does not get to show it as much on the bases as he should.
Last season, he was second in the league in strikeouts with 181 which followed his 170 strikeouts the year before. His batting average dropped from .293 to .249 as well. His on-base percentage (OBP) was only .317, which is very low for a lead-off hitter.
Perhaps it is time for manager Jim Leyland to adjust the lineup and go simply on batting average or OBP. With Fielder, Boesch and Cabrera hitting next the team really needs someone who can get on base more often to lead off.
If Jackson does keep the lead-off spot, he will need to greatly reduce his strikeout total and also increase the number of walks he draws.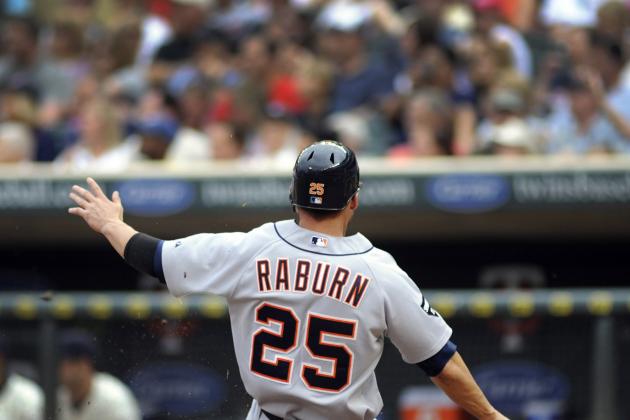 Craig Lassig/Getty Images

There does not appear to be a lock on the second base position yet. Ramon Santiago, Don Kelly, Danny Worth, Ryan Raburn and sadly even Brandon Inge are still in the running. Luckily, Inge is on the disabled list to start the season, so hopefully the team finds someone before he is ready to come off.
Each of these players has shown that they can play. Raburn may have the most promise of these players at the plate, but is known for his sometimes erratic defense. Santiago will get the start at second on opening day. Last season, he played very well, however, the team seems to doubt that he can maintain that over the long haul.
Kelly and Worth will need to jump at every chance they get. The position is still open, but one of these players needs to emerge to the point where it is difficult to sit them. As of now, Inge will be in the mix when he gets off the disabled list. One can only hope he either plays great, or the team is finally wise enough to drop him.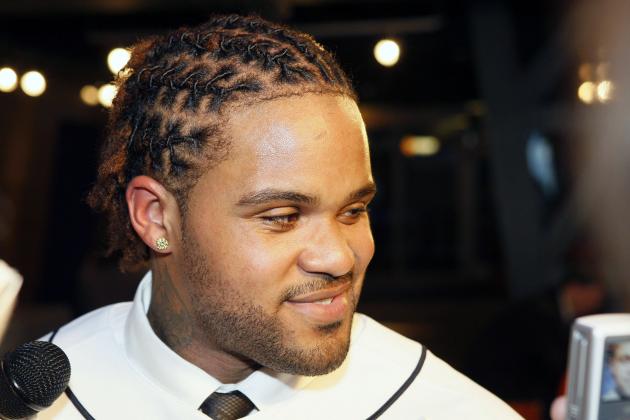 Jorge Lemus/Getty Images

Woodward Avenue is the journey that championship parades make in Detroit. Comerica Park sits just off of his road and has seen its share of other Detroit teams make that triumphant journey.
Even as Comerica Park was being built, the Red Wings made two trips past the building. Since it has opened, the Pistons and Red Wings have each had their parades pass by Comerica Park. Will this finally be the season that the Tigers will get to have a parade in front of their building?
The team is built to win now. 1984, the team's last World Series win, was a long time ago. It is time to add a new trophy to the case.
PJ Sapienza is a featured columnist covering the Detroit Red Wings as well as many other sports. You can follow him on Twitter.
To read his most recent articles see:
5 Players the Red WIngs need to step up for the playoffs
Henrik Zetterberg breaks his slump
Are the Red Wings looking at a one and done playoff season