Detroit Red Wings: Are They Looking at a One-and-Done Playoff Season?
March 21, 2012

Bruce Bennett/Getty Images
The Detroit Red Wings spent most of the season at or near the top of the Western Conference. They had their impressive and record setting 23-game home winning streak that help propel them to the top of the NHL. Then the injury bug hit.
Every team must deal with injuries; it is a part of every sport. But to deal with so many all at once and to so many key players miss games has crippled this team. Many games recently have resembled a minor league games as so many call-ups have had to play.
So far Pavel Datsyuk, Jimmy Howard, Nick Lidstrom, Johan Franzen, Joey MacDonald, Darren Helm, Jakub Kindl, Todd Bertuzzi, Jonathan Ericsson and Justin Abdelkader have all missed games recently.
That many players missing games is too much for any team to handle. With it being the team's leading scorer, leading in assist, best defensemen and one of the top goalies in the league, it makes it even more painful. While that explains the team only having two wins in their last 13 games, it also leads to questions about the future.
Nick Lidstrom has already missed 11 games with a bone bruise. Supposedly he might be back this weekend but we have heard that a few times now. Not only has injury hurt the defense, special teams has been brutal.
Even if he does come back this weekend, will he be healed enough come playoff time or will he be playing at less than 100 percent? Also what effect will this injury have on playing next season?
Datsyuk has returned and as expected picked up where he left off as he scored a goal in his first game back. His return will help boost the entire level of play of the team, but there are still too many players missing. Without him in the lineup the team looked sluggish.
Goalie Jimmy Howard was among the league leaders in most goalie categories for most of the season. Lately though he has been in and out of the lineup with various injuries. He recently aggravated a groin injury but even before that, it was obvious that he was trying to play through the injury. He had given up 11 goals over the past three games and was far off of the standard he had set earlier in the season.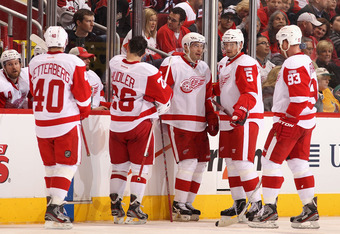 Christian Petersen/Getty Images
Now while one can point to the slump being injury caused, the hopeful will claim that once the injured player return the team will bounce back to its normal level of play. I like hopefulness but the reality is they are in trouble.
For as amazing as they were at home this season, their road record has been suspect. Before the injuries it hovered around .500, with the injuries mounting they have dropped below .500. The recent losing spell has also dropped them the fifth seed in the Western Conference. That means no home ice for the first round. Any playoff run without home ice looks shaky at best.
Usually at this point in the season, with fewer than 10 games to go, teams are lining up for the playoffs. They may rest players if needed, fine tune lineups and generally just making sure all systems are go.
The Red Wings are in such disarray right now that this cannot happen. Even when these players return they will need a few games to burn the rust off. At this point, players may not have that chance until the playoff starts.
There have been special team's issues all season. The power play and penalty kill units are both ranked in the bottom ten in the league. To make matters worse they have given up the second most shorthanded goals this season. This has been a nagging issue, and without the regular players there to finish the season, there is no way to work on it.
At this point it may be better for the team to drop back one more spot in the playoffs. While no team is easy come playoff time, a matchup with Dallas, Los Angeles or Phoenix looks a little better than a series with Nashville.
In addition that would set up a second round with Vancouver and avoid the Central Division forces of St Louis, Chicago and Nashville until the conference finals when ideally, the team has returned to full health.
I hate to be the guy pushing the panic button but there are signs that do cause concern. This is definitely a team that when healthy can rise above and make a run for the cup. The amount of injuries, the timing of them and the resulting drop to a possible road playoff team could be their undoing. 
The major question is can they get healthy enough soon enough or are we looking at a short playoff season in Detroit?
Time is running short, this team needs to get healthy and quickly.
PJ Sapienza is a featured columnist covering the Detroit Red Wings as well as many of sports. You can follow him on Twitter.
To read his most recent articles see:
Why Draymond Green is so important to Michigan State
Why the Winter Classic means so much to Detroit
Ken Hollands Overtime Idea-Will it work