Michigan Basketball: 4 Reasons They Couldn't Get It Done Against Ohio
Jamie Squire/Getty Images
Michigan fell flat on its face in its first game of the NCAA Tournament. After a season of growing and exceeding expectations, the Wolverines entered the post season as Co-Big Ten Champions. As a four seed, the Sweet 16 was the goal, instead they were bounced in the first round by Ohio.
While it is difficult to consider the season a failure based on this game, it does cast a dark shadow on the season. There were many positives to come out of the season. They were ranked in the Top 25 all season and earned their highest seed since 1998. Trey Burke earned Big Ten Freshman of the Year honors from the media and was named to the All Big Ten Second Team. Tim Hardaway Jr picked up where he left off last year and earned Third team honors.
There is hope for next season. Burke and Hardaway should be even better. Evan Smotrycz showed some signs of promise this season. Despite playing out of position, Jordan Morgan played his heart out. He might be the most excited to see the highly touted 6-10 Mitch McGary join the team next season. Another hopeful incoming freshman will be Glenn Robinson III.
Despite the promise of next season, there is still the disappointment of how this season ended. Why couldn't Michigan get it done?
Offensive System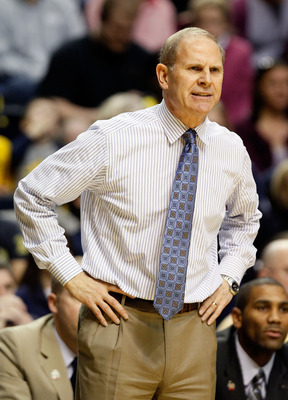 Kevin C. Cox/Getty Images
John Beilein is known for his three point shooting offense. While it is exciting to see the team hit those long range shots, it tends to be an all or nothing approach. This offense just is not effective and is one dimensional.
While they are 11th in the nation in three-point attempts and 18th in three pointers made, they fall all the way to 140th in three-point percentage. With being such a high three point shooting team, they should rank much higher than 202nd in points per game.
Against Ohio they suffered many cold spells where they just were not effective. The shot 7-for-23 from beyond the arc. The team needed to shoot much better than it did to have a chance. They have suffered a power outage over their last couple of games. They were not able to shake the slump during this game and it lead to their early exit.
The scary thing is that unless Beilein makes some tweaks to his offensive system, this may never be the style of team that can be a legitimate contender.
Rebounding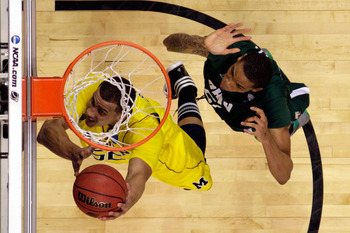 Jamie Squire/Getty Images
In order to be an effective three point shooting team, they have to be able to rebound well. All year the team has not been able to rebound to do this. They sit 311th in the nation in rebounding.
When a team shoots as many three pointers as Michigan does, they need a strong rebounding presence in order to grab the misses in order to give the team a second chance. Michigan has struggled with this all season, which has led to many one and done offensive possessions.
Against Ohio they were decent on the boards and in a rarity this season did win the rebounding battle. With their long range missed shots, they needed to be much better than plus two on the boards. The lack of rebounding power puts even more pressure on the shooters to hit their shots.
The Seniors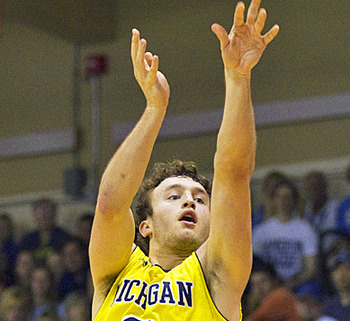 http://www.cbssports.com/collegebasketball/gametracker/recap/NCAAB_20111123_UCLA@MI/no-15-michigan-pulls-away-vs-ucla
Zach Novak and Stu Douglas have played so hard in their careers and helped this team rise out of the dismal abyss that they had been in for over a decade. I hate to call out two players who have meant so much to this team after playing in their last game but neither played well.
Novak went 1-for-6 while Douglas was 2-for-7 from the fields. They combined for only seven points, over 10 below what they averaged this season. Add to that a combined five rebounds, two assist and zero steals and it was not the type of game either of these players wanted to end their collegiate careers on.
When a team is struggling as Michigan did, the need to be able to look to its captains and leaders to guide it. Novak and Douglas came through many times in the past, but in this their last game, they were not able to.
Poor Defense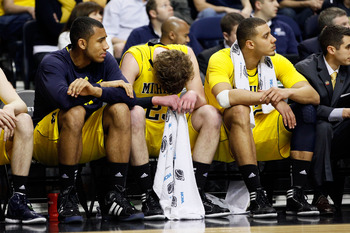 Kevin C. Cox/Getty Images
Michigan has been able to play strong defense all season finishing 38th in the nation. That did not happen against Ohio though as it gave up 51 percent shooting from the field.
The Bobcats were led by DJ Copper who had his way against Michigan. He had 21 points and five assists to lead the way for Ohio. He was one of four players to reach double digits for Ohio.
While Michigan was not able to hit their three's, Ohio was effective with their attempts. They ended up making one less three than Michigan, but did so on seven less attempts. Ohio on the other hand was able to maintain perimeter defense and held Michigan in check.
They did not force enough turnovers had zero blocks and just were not able to put enough pressure on the Bobcats to win.
For now, this season will end in disappointment. There are building blocks here, and with the new talent arriving, hopefully this team can learn and grow from this loss. Until then, it will be a bitter pill that will hopefully motivate this team over the offseason.
PJ Sapienza is a featured columnist for the Detroit Red Wings and a writer of many other sports. You can also follow him on Twitter.
To read his most recent articles see:
Why the Winter Classic means so much to Detroit
Ken Hollands Overtime Idea-Will it work
Keep Reading

Michigan Wolverines Basketball: Like this team?