Detroit Red Wings: Henrik Zetterberg Breaking the Slump
March 27, 2012

Bruce Bennett/Getty Images
Henrik Zetterberg started the season slowly in what most thought was just a small slump. A month into the season though, he still had not found his game. As the games dragged on, many began to wonder if this slump was more a sign of a long-term decline than just a short slump.
The Red Wings have resembled a MASH unit over the past month. At least 10 players have missed games due to injuries. The team dropped from first in the conference down to fifth at one point. One player that rose to do everything he could to keep the team afloat was Henrik Zetterberg.
With his recent play it is safe to say the slump is over. After only scoring nine goals and 25 assists in the team's first 47 games, he has taken off with 12 goals and 20 assists over the past 29 games. That stretch has him over a point a game, hitting 1.25 points per game since the start of February.
At one point this season, he was looking up to Nick Lidstrom and Niklas Kronwall on the team's goals list. His recent surge though has pushed him to fourth on the team in goals.  With his four-assist game against Columbus, he has now taken the team lead in points with 66.
What really bodes well for the team as the playoffs draw near is how he has steadily improved during the season. There does not appear to be any fatigue factor, and he is poised to finish the season strong.  His point total by month shows that aside from an off January, he has had a pretty constant improvement throughout the season.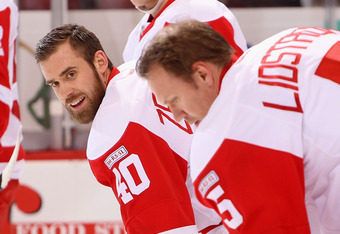 Christian Petersen/Getty Images
| | |
| --- | --- |
| Month | Points |
| October | 9 |
| November | 10 |
| December | 13 |
| January | 9 |
| February | 16 |
| March | 15* |
* Two games left in the month
While the team definitely took a hit with all of the injuries, it would have been even worse if not for the play of Zetterberg.   The great news is that with the team getting healthy he has not slowed down.  In the past two games, with Pavel Datsyuk and Nick Lidstrom both back in the lineup, he has scored two goals and six assist.
It's the best time of year for a player to find his stride.  Zetterberg is ready to lead the post-season charge; and if the rest of the team can get healthy, then the Red Wings look to be in good shape for a deep playoff run. 
PJ Sapienza is a featured columnist covering the Detroit Red Wings as well as many of sports. You can follow him on Twitter.
To read his most recent articles see:
Are the Red Wings looking at a one and done playoff season
Why the Winter Classic means so much to Detroit
Ken Hollands Overtime Idea-Will it work