Detroit Tigers: What Should They Do with Brandon Inge?
April 1, 2012

Dave Reginek/Getty Images
The name Brandon Inge brings up such opposing opinions by Detroit Tigers fans.  It is rare that a player can have so many passionate, diehard fans, and just as many fans who do not understand how he is still on a major league roster, but such is the life of Brandon Inge.
The fans of Inge point out that he is a stand-up guy who is great in the community, and despite a weak bat, his fielding is among the best in baseball. 
Those that want him out of Detroit point out his many faults on the field.  He has shown versatility in playing many positions, but his numbers are not as good as many believe.  Last season, before being sent to the minors, he was the worst hitting starting third basemen in baseball, and he also had the worst fielding percentage.
The problems with Inge's numbers are obvious.  A player who struggles to hit .200 with an OBP just above .300 would be hard pressed to make most major league rosters.  Yet, here we sit, days away from Opening Day, and Inge is still in the running for the starting second base job on the Tigers.
In spring training, he is hitting .180.  Generally, spring training numbers need to be taken with a grain of salt.  At this point of the season, hitters are ahead of pitchers which is why so many hitters have such good spring training numbers. Usually you downplay those numbers as they tend to be inflated.  When a batter is already hitting this badly, however, it does not bode well for the regular season.
Never has a player been able to have such a long career out of only one-and-a-half decent seasons, not great, just decent.  In 2006, the Tigers awoke from over a decade of horrible play and made the World Series.  While Inge only hit .253 that year, he did hit 27 home runs.  The fans that adore him tend to hang on to this one season.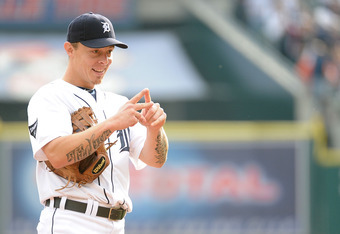 Harry How/Getty Images
The first half of 2009 started with promise as he had 21 home runs by the All-Star break.  During the second half of the season, however, he returned to his normal standard of play.  By the end of the season, as knee injuries slowed him, Inge finished with 27 home runs while only hitting .230.
Over his career, he is a .235 hitter.  Only once has he even finished a season hitting above .270.  His career on-base percentage is .305.  Last season, it was only .265.  How bad is that?  He was almost 30 points behind the next Tiger player among those that played at least 30 games.
There are many stats to determine how good a hitter a player may or may not be.  Most are familiar with batting average so there is no need to point out how bad his batting average is.  Instead of just posting his deeper stats, we will look at them in comparison to an average player as well as the top players.
Most baseball experts prefer stats such as on-base percentage (OBP), slugging percentage (SLG) and on-base-plus-slugging (OPS), as they better reflect a player's true value at the plate.  Sadly, Inge falls far behind even the average player in each of these important stats.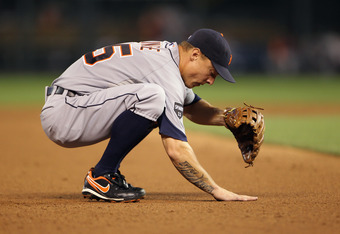 Jamie Squire/Getty Images
| | | | |
| --- | --- | --- | --- |
|   | Inge | Average player | Top players |
| OBP | .305 | .340-.360 | .380-.400 |
| SLG | .388 | .420-.440 | 0.55 |
| OPS | .692 | .900-.950 | 1.0 |
I can hear the Inge lovers already pointing out how "great" a fielder Inge is.  Not so fast, though.  In his time at third base he has a fielding percentage of .962, and an average third baseman is .980.  At best, this barely puts him on the bottom end of an average third basemen.  Not a ringing endorsement by any means.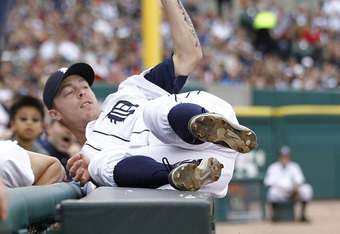 Leon Halip/Getty Images
The problem with Inge being on the team goes beyond his play.  It is the message it sends to the rest of the team.  The Tigers entered the offseason as a contender to make the World Series.  Once they added Prince Fielder, they made the short list of favorites to win it all.
A team with that much promise and pressure cannot have such a black hole on the team.  How can manager Jim Leyland bench another player for their performance with Inge doing so poorly?   How can other players not resent him for his playing time when they outplay him?  What message does it send to younger players? 
While many will point out his admirable work in the community, such community service is not a reason to keep him on the roster.  If charitable works are a reason to keep a player, then I am sure we can walk into many charities in the Detroit region and find people who could hit .180 but make a lot less than the $5.5 million Inge is due this year.  Obviously, that is not an answer.
Inge is also known for being a complainer.  When surefire Hall of Fame catcher Ivan Rodriguez joined the team, the young Inge was angry at being bumped from the lineup.  Similarly, when perennial MVP candidate Miguel Cabrera joined the team, Inge was also perturbed.  While you never want a guy to be fine with getting moved to the bench, a player also needs to be able to look at their play and understand that it is on them to improve and earn their playing time.
Until that player can improve their game and make a case for more playing time, they need to keep their complaints out of the media.  You would be hard-pressed to find another team that hears so much playing time talk out of a player with stats this bad.  Most would be too ashamed to draw such attention to their struggles.  Instead, for some reason, Inge seems to feel he is entitled to be a starter.
Risking the chemistry of a team on any player is tricky.  When doing so on a player that many would argue does not even play at a major league level is downright dangerous in the locker room.  After all of the money owner Mike Ilitch has spent this season, it would be a shame to see it go to waste.  Playing a bad Inge reflects poorly on the rest of the team, and having a complaining Inge in the locker room could be troublesome as well.
Ryan Raburn, Ramon Santiago and Danny Worth are all viable options to take the second base job that Inge is trying to land.  Each outplayed him last season and they have continued to do so thus far in spring training.  The team has tried to trade him, but nobody seems interested.  Last season he cleared waivers, which allowed him to go to the minors. 
The Tigers are looking ahead at the possibility of a very promising and special season.  It is time to cut Inge and move on.
PJ Sapienza is a featured columnist covering the Detroit Red Wings as well as many other sports. You can follow him on Twitter.
To read his most recent articles see:
Henrik Zetterberg breaks his slump
Are the Red Wings looking at a one and done playoff season