Mr. Irrelevant: An Interview with Indianapolis Colts' Chandler Harnish
May 7, 2012

With the final pick in the 2012 NFL draft, the Indianapolis Colts selected a lesser-known quarterback out of Northern Illinois University named Chandler Harnish.
Chandler was nice enough to sit down with me and give me his thoughts on everything from his expectations of his rookie year, to the Colts zany owner, his relationship with Andrew Luck and his favorite throw to make in a game.
Read ahead to learn more about the Colts seventh-round draft choice, Mr. Irrelevant Chandler Harnish. You can follow him on twitter, @Charnish8.
Clint Evans (Me): How hard is it watching every pick go by and not knowing if you're going to be drafted? What was the feeling when your name got called at the end of the draft?
Chandler Harnish: It was a terrible feeling. I was getting very stressed out and frustrated. I was almost feeling like I had let everyone down around me like my friends and family and even fans at Northern Illinois. When I finally heard my name called it was such a feeling of elation. I had trouble even processing what had just happened. More than anything, I was just relieved to actually see my name on television and feel the success of accomplishing a lifelong dream.
CE: You've gone from being a superstar at one level to a likely backup for now at the NFL level. What are your expectations? What do you see as your role on the team?
CH: My expectations are simply to make the quarterback position with the Colts a better one. I'm going to come in every day and give it my all and prepare as if I am the starter. I want to learn as much as I can, and then at the end of the day I want to help the team win in any way possible. I still haven't met many of the veterans on the team but I have seen some great people already. I can tell Drew Stanton is a great guy, so he may be my role model as we move forward.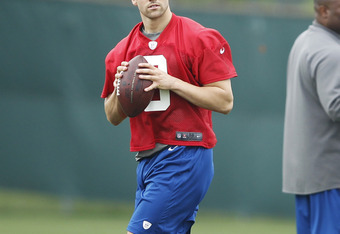 Joe Robbins/Getty Images
CE: Were you a Colts fan growing up as a kid? Who was your all-time favorite NFL player?
CH: I was a huge Colts fan growing up! Peyton Manning was by far and away my favorite player.
CE: Have you had any conversations with Andrew Luck to this point?
CH: Yes, Andrew and I grew close over the last weekend at the rookie minicamp. I can really see us becoming close friends as this thing progresses.
CE: Jim Sorgi was Peyton Manning's backup for six years. Many fans out there are hoping you are the long-term No. 2 quarterback behind Luck in much the same manner. Would you be okay with that, being a Sorgi-type player over the next era of Colts football?
CH: As a player you never set a goal to be a backup player, but if that's what it takes for me to help the team win then I am more than willing to be in that role.
CE: Of the following throws, which one is your favorite to throw in a game and why? Go route, post route, fade route or a perfectly executed screen pass?
CH: That's a tough question. I guess I like throwing the speed out more than anything, because it's a timing-type throw, and if executed just right, the corner has no chance of defending it. It's always fun to see helpless defenders on the field.
CE: Would you be open to being used in special Wildcat-type packages like a Brad Smith or Antwaan Randle El?
CH: Again, I would be willing to help the team win in any format; but I have always been a dual-threat quarterback so I would never turn down an opportunity like that.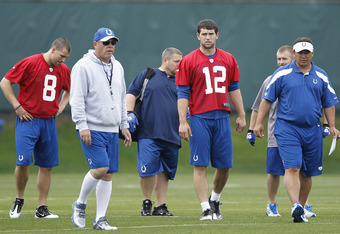 Joe Robbins/Getty Images
CE: What do you love most about Indianapolis as a city?
CH: I love the friendliness of the people and the ease of getting around. It's such a safe and clean city, so I would never feel in danger in bringing my family or friends around.
CE: How excited are you to play for the most entertaining owner in the NFL?
CH: Very excited! Mr. Irsay is a great owner, and even a better person. He truly cares about his organization and the players, coaches and everyone else involved in it. You can see it when he talks to you. I can't wait to help him win another championship.
On behalf of Bleacher Report, I would like to thank Chandler for taking the time for this interview. We would like to wish you good luck during your rookie season and beyond.