Liverpool Transfers: Scouting Report for Luuk De Jong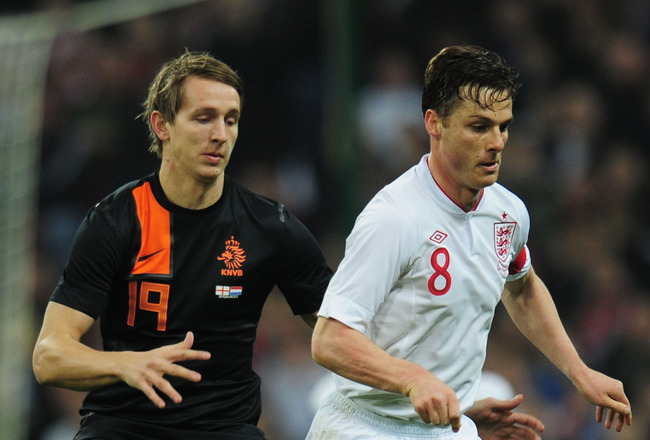 Shaun Botterill/Getty Images
Back in March, agent Marco De Marchi confirmed that Liverpool—amongst others—were interested in FC Twente star Luuk de Jong.
He's a popular prospective buy among the Liverpool fans too and his Dutch club have slapped a £12.5 million price tag on his head.
Is he worth it? Let's take a look. Here is a scouting report on the striking prodigy, detailing what you need to know about him as a player.
Information
David Rogers/Getty Images
Name: Luuk de Jong
Age: 21
Position: Striker
Club History: De Graafschap (2001-2009), FC Twente (2009-Present)
Brother of Siem de Jong, Luuk started at De Graafschap and rose up through the ranks for the youth squad.
He played one senior year and that was enough for FC Twente to snap him up at the start of the 2009/2010 season. Three years later, he's banging the goals and attracting worldwide attention.
Achievements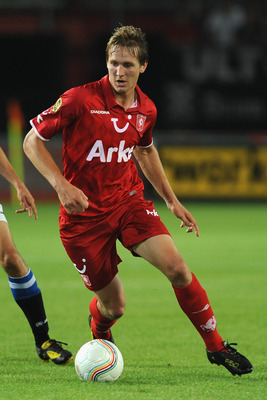 Valerio Pennicino/Getty Images
Winners Medals
Eredivisie 2010 (FC Twente)
KNVB Cup 2011
Cruijff Shield 2010, 2011
Luuk de Jong already has a history of winning titles and has played in pressure-cooker atmospheres such as the Amsterdam ArenA.
Even at 21 years of age, he's experienced some high-octane football and shouldn't be affected by a passionate but potentially overwhelming Anfield.
Strengths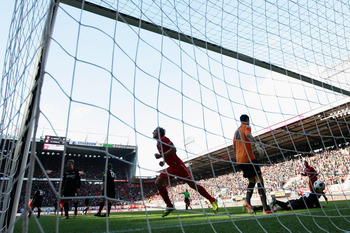 Dean Mouhtaropoulos/Getty Images
Composure
He's pretty happy in the penalty area. He doesn't rush his shot and he doesn't panic under a challenge. For a slight guy, he's very stable on his feet and waits for his chances.
When sent through one-on-one, he doesn't suffer from the same profligacy that many sharp, quick strikers do (Gabriel Agbonlahor, for example).
Two-Footedness
An underrated trait by most, but certainly an important one I might add, is the ability to use both feet. Luuk de Jong is right-footed, but scores a lot of goals with his left. He is not limited by any degree of one-footedness, meaning he doesn't have to adjust his body or run to compensate.
Imagine if Robin van Persie could use his right foot...
Physically Sound
He has good top-end speed and is quick out of the blocks despite the fact that he's 6'2". He's OK in the air, so you don't have to limit your deliveries to him in any way. He'll take a ball in on the ground, in the air or straight over the top.
Weaknesses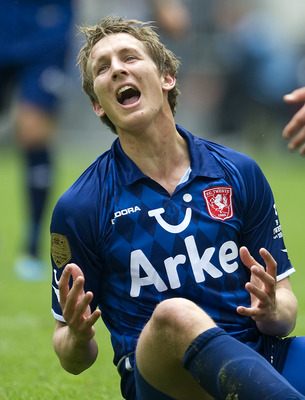 EuroFootball/Getty Images
Despite Luuk de Jong's obvious strengths, he has some issues as a player. He is not the finished article and doesn't subscribe to every one of a striker's responsibilities.
He Won't Get Stuck In
Steve McLaren labelled de Jong an "English-style striker"—I'm not sure I completely agree.
He isn't the most aggressive forward you'll see. FC Twente have some creative players that have been able to make clear-cut chances for him.
In a higher standard of league and in a more physical country like the English Premier League, de Jong's "lack of fight" in getting to the ball might see him...
Disappear During Games
It goes hand in hand with not getting stuck in. If Carlos Tevez, Sergio Aguero or Fernando Llorente aren't getting much joy, they'll go looking for the ball. They'll chase, they'll harry and they'll hassle their opponents and force mistakes.
If your not receiving service or getting much luck in front of goal, you have to exert your influence in alternative ways.
I'd be concerned that de Jong could drift out of games.
Comparing Across Liverpool's Strike Force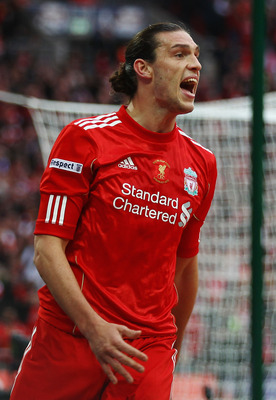 Clive Brunskill/Getty Images
On face value and indeed after careful consideration, it's obvious Luuk de Jong would be an immediate upgrade at the central striker position for Liverpool.
He's been prolific this season, albeit at a lower standard of league, netting 25 league goals in 31 appearances.
On top of this, he's earned international recognition. Patrick Kluivert has labelled him the Next No. 9 for the Netherlands national team and Bert van Marwijk has seen fit to award him seven full international caps.
He has skills on the deck and will suit Liverpool's playing style and personnel far better than Andy Carroll does. He's not restricted to a lofted ball into the box and was born to poach goals.
It's pretty obvious, on the basis of this season alone, that the Reds are crying out for a poacher in the mould of Ruud van Nistelrooy. Hitting the woodwork 35 times is very unlucky, but it does get to a certain point where you question the level of finishing.
Comparing Across the Board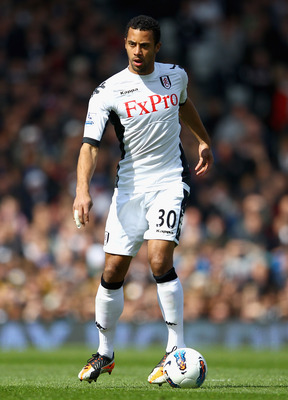 Julian Finney/Getty Images
It must be said that Luuk de Jong is far from proven and far from the very best in the game.
However, there's no reason why £12.5 million couldn't be considered well spent on him. He's 21, he's enthusiastic and he's naturally gifted.
Liverpool are not in a position where they can coax Edinson Cavani from Napoli or Falcao from Atletico Madrid. They are in a position to take a top Eredivisie performer and give him a go.
I would compare de Jong to Fulham's Moussa Dembele with better finishing skills inside the penalty area. His ability to break the offside trap and latch onto the ball when it matters is akin to Darren Bent.
He's a predator.
Conclusion and Value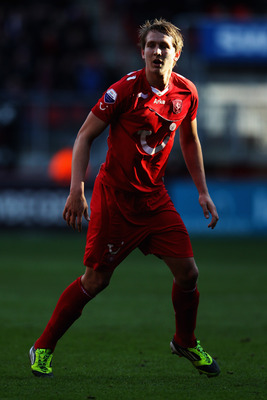 Dean Mouhtaropoulos/Getty Images
Is he worth a gamble at £12.5 million? Why yes, yes he is.
Judging by the current market, paying just over £10 million for a promising, prolific striker is a shrewd move. It's also a lot less than Liverpool are currently accustomed to paying for anyone. Period.
Transfermarkt.co.uk have him valued at €8 million, a figure which is depressed due to the league he plays in. One season in a similar goal-scoring vein in England and his value will triple with ease.
He would need to learn to force his way back into games when he drifts out of them to succeed in the Premier League and not be tempted to just "go missing."
If he was able to do that, he'd be a success. The defences in England are better and he'd score far less goals from springing the offside trap, but his cool attitude in the box would see him breach the 10-goal mark in his maiden campaign should he sign.
Statistics courtesy of Transfermarkt and WhoScored?
Keep Reading

Liverpool: Like this team?