Brad Keselowski Survives Dodge Win at Dega
May 7, 2012

Jerry Markland/Getty Images
Brad Keselowski managed to survive the carnage during Sunday's NASCAR Sprint Cup race at Talladega, bringing home the big trophy—a first for a Dodge product since 1976.
The opening 100 laps were fairly boring, but the rest of the 300 laps were better, comprised of a few small wrecks and two large ones, wiping out some top contenders such as Carl Edwards, Jeff Gordon, Kevin Harvick and so on.
By the end of a long afternoon, 19 cars were sidelined by either wrecks or blown engines—a wide open track obviously tough on engines to run flat out for so long each lap.
The race began with a slight delay for a brief shower just before the scheduled opening lap. Once underway, pole sitter Gordon brought the field to the stripe, but never led a lap. A host of drivers took turns out front, but none more than Matt Kenseth with 78 laps led. Other leaders included Greg Biffle, Kasey Kahne, Dale Earnhardt Jr, Michael Waltrip and Tony Stewart, among others.
The final restart found Kenseth out front with teammate Biffle right behind him. Biffle gave him a great push on the start and the two pulled away from the pack, but perhaps too far, as they got separated, allowing Kyle Busch to push Keselowski past the two Fords for the lead and eventual win.
Capping off the top-five finishers were the cars of Kyle Busch, Kenseth, Kahne and Biffle. The latest results finds Biffle still on top of the points, but only by seven over Kenseth and eight over Earnhardt Jr.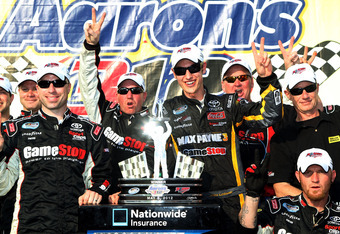 Jerry Markland/Getty Images
Notable poor finishes included blown engines for Ryan Newman and Jimmie Johnson, in addition to Gordon and Carl Edwards ending their days in one of the "big ones."
Nationwide
The Nationwide race on Saturday afternoon at 'Dega saw up a similar scenario to the Cup show, with half the field parked early because of numerous wrecks.
When the smoke and flames finally cleared, Joey Logano snookered leader Kyle Busch within a few 100 feet of the finish line to win the 122-lap event. Others in the top five included Ricky Stenhouse Jr., Cole Whitt and Earnhardt Jr.
Danica Patrick finished right behind Sam Hornish Jr. in 13th, something she took exception to right after the checkers. She felt that Hornish squeezed her a little bit at the finish line to protect his spot. Not long after the finish line, she retaliated by turning Hornish headfirst into the outer wall—a despicable intentional and dangerous move for sure.
NASCAR has not announced any fines or penalties as of yet, but this incident is very reminiscent of Kyle Busch turning Ron Hornaday last year in a truck race, where NASCAR set the overanxious driver down a race and levied other penalties for using his car as a weapon.
She also used her car as a lethal weapon after the race was over. I understand her not wanting to be bounced around as a rookie, but this was a very dangerous move. Had she rubbed on the car going by or spoke to him later, it would have been a much wiser decision.
What do you think? Drop me a line. 
From Rumorville
Good Sam/Camping World has announced sponsoring Trevor Bayne for an additional four races with the Wood Brothers. This latest situation finds Bayne able to expand his Sprint Cup entries to 16 for the 2012 season.
Regan Smith's sponsor Furniture Row has been rumored to be in discussions with Kurt Busch as a possible second full-time car for next season. Stay tuned.
In other driver news, veteran racer Mike Skinner will start a full-time Sprint Cup deal with Means-Hamilton Racing starting this week in Darlington.
That's it for this week. Next week, RWR will review the NASCAR action from the always-tricky Darlington racetrack, along with more racing news from around the globe.