Kentucky Derby 2012: Secretariat and the 10 Greatest Horses in Racing History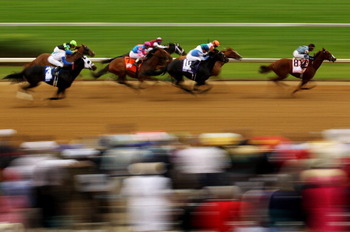 Al Bello/Getty Images
One of the world's oldest sports, horse racing has been around since before Jesus Christ, when it flourished as a sport for kings and other nobles.
Today, times have changed and just about everyone can get into it. And many do, mainly because it is a major venue for legalized gambling.
With that said, the biggest part of the American horse racing scene is set to begin Saturday with the first leg of the Triple Crown, which will take place at Churchill Downs.
The 138th Kentucky Derby has seen some very famous horses race on its track, and this year will be no different.
But, this story isn't about this year's horses.
This story is about honoring horse racing's past.
Here's a look at the 10 greatest horses in American racing history.
10. Smarty Jones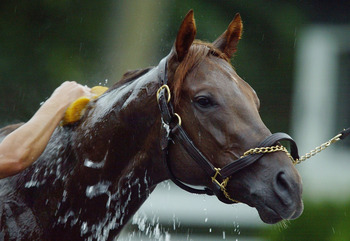 Al Bello/Getty Images
Smarty Jones might be the one horse that most people remember, because he was the most recent.
Although he only raced nine times, he dominated. Well, except of course for his last race.
But, I won't start there.
All of his races came within a seven-month period and he simply dominated.
A win at the Arkansas Derby set up what would be a historic run at the Triple Crown.
Victories at Churchill Downs and the Preakness had everyone thinking that he would win it all.
But, along came Birdstone at the Belmont Stakes and Smarty Jones fell from the ranks of the undefeated and one race short of the Triple Crown.
Sadly, it was the last race of his career.
9. Seabiscuit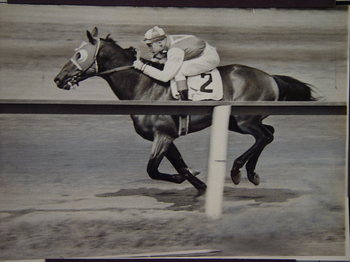 http://mycrazyadoption.org/images/seabiscuit.jpg
Everyone has heard the story and/or seen the movie.
Seabiscuit was an underdog horse, but that didn't stop him.
In 89 starts in his career, Seabiscuit won 33, and finished second or third 28 times.
In 1938, Seabiscuit got his chance to go against one of the greatest of all time--War Admiral.
With only those two horses in the Pimlico Special, it was a match race for the ages.
And, Seabiscuit didn't disappoint, winning the race by four lengths.
8. Holy Bull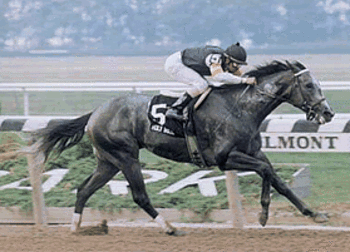 http://www.horsehats.com/images/horses/holybull.gif
Holy Bull had 13 wins in 16 starts.
He is widely considered one of the best horses of the 1990s.
But, he's a little lower on this list because of a disastrous 1994 Kentucky Derby. If he had won that, then he'd be up a little higher.
Still, it's hard to discount what he did on the track, even though he didn't finish out the Triple Crown.
One can only wonder: had his trainers let him race in the other two legs, how much higher would he be on this list?
7. Kelso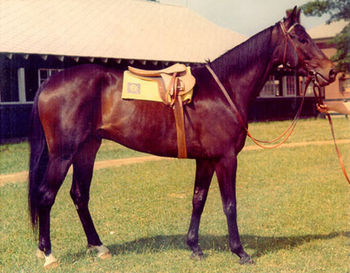 http://www.sporthorse-data.com/horse/10598827/492/Horse_Kelso-_2big.jpg
Named Horse of the Year five times from 1960-64, Kelso is the only gelding on this list.
With 39 wins in 64 starts, Kelso may not be the most consistent on this list, but he was definitely the most durable.
Although he never raced in a Triple Crown race, one has to wonder how he would've fared had he done so.
I would like to think he would've won at least one of the legs of the Triple Crown.
Regardless, Kelso still showed durability throughout his career, and deserves a top-10 ranking.
6. Affirmed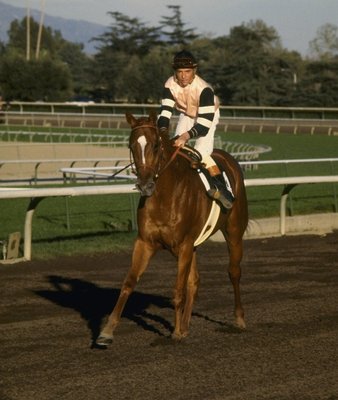 Getty Images/Getty Images
The 11th winner of all three Triple Crown races, Affirmed did it all in his time on the track.
With 22 wins in 29 starts, this horse went hoof-to-hoof with Alydar in all three races, which was arguably one of the best battles in horse racing history.
Affirmed claimed a win over Spectacular Bid, but was easily beaten by Seattle Slew in their two meetings.
But, can you really knock a horse for that?
Affirmed still had a great career, which included 13 wins from 1978-79, the year he won the Triple Crown.
Not too bad for the prime of your career.
5. Native Dancer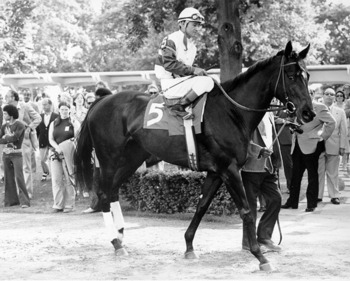 http://www.championsgallery.com/Ruffian%20Walking%20Ring%20Belmont.jpg
Only a minor trip at the 1953 Kentucky Derby kept Native Dancer from being undefeated throughout his career.
With 21 wins in 22 races, Native Dancer was consistent with the races he did enter.
Throughout his career, Native Dancer took on all challengers and defeated them.
After winning the Preakness and Belmont, the horse went on to win the Travers Stakes, which had only been done three times before.
4. Seattle Slew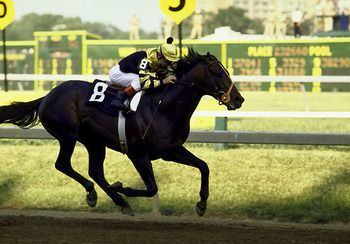 http://www.jkhg.org/seattleslew/seattleslew6.jpg
Undefeated as a two-year old, Seattle Slew won 14 races in 17 career starts.
The 1977 Triple Crown winner, Seattle Slew won perhaps the greatest Kentucky Derby in history, holding off the rest of the horses after being rushed out front by his jockey.
And, to think, he was sold off by his first owner because he wasn't thought to be a good racehorse. Think that guy was kicking himself after Seattle Slew won the Triple Crown?
In 1978, he crushed Affirmed twice, to leave no doubt that he was the better race horse and one of the greatest in history.
3. Spectacular Bid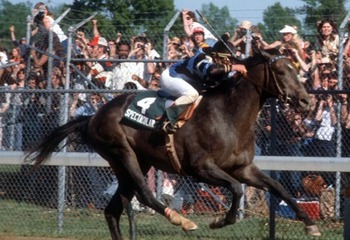 http://galleryofchampions.com/wp-content/uploads/2011/09/SpectacularBidDerbySideCC.jpg
With 26 wins in 30 starts, Spectacular Bid won the 1979 Kentucky Derby and Preakness Stakes.
At Santa Anita, he ran a 1:57.4 in the 1980 Strub, which still stands as a record for 10 furlongs today.
Throughout his career, Spectacular Bid finished worse than third, and never lost between seven furlongs and 1 1/4 miles.
His ability to succeed on short and long tracks makes him easily one of the top horses of all time.
2. Man o' War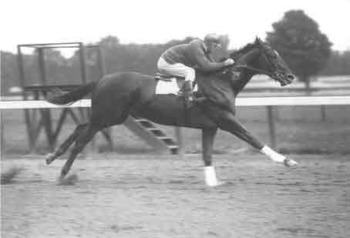 http://www.man-o-war.info/images/MoWinaction.jpg
Man o' War had 21 wins in 22 starts and is the stuff of horse racing legends.
The first great race horse to grab the public's attention, Man o' War lost only one race in his career, ironically to a horse named Upset.
His wins include the Preakness, Belmont, Travers and Potomac Handicap.
Honestly, it was a little unfair for Man o' War. He was so good, that there was no chance any of the other horses could really compete with him.
But, he still gets the No. 2 spot on the countdown, because the greatest horse of all time is...
1. Secretariat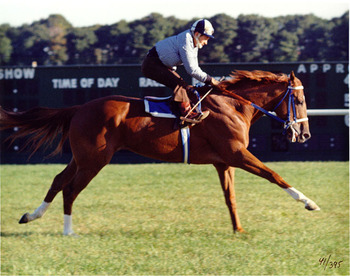 http://www.best-horse-photos.com/images/Secretariat%20Horse%20Photo.jpg
DUH!
I'd be an idiot not to put Secretariat as the best racehorse of all time.
Secretariat had 16 wins in 21 starts, but was most impressive during his Triple Crown run.
At Churchill Downs and Belmont Park, he set official track records, while he set an unofficial track record at Pimlico, which has never been done since in horse racing by the same horse.
The manner in which Secretariat won was simply amazing, including a 12 furlong win at Belmont, which still stands as a record today.
When you think of horse racing, tracks like Churchill Downs and Pimlico come to mind, but when it comes to the horses, Secretariat is the name most synonymous with horse racing.
Secretariat is a legend in the sport.
His feats on the track will never again be duplicated.
Keep Reading