NBA Draft 2012: Best Options for Second-Round Steals
April 26, 2012

Mike Ehrmann/Getty Images
Second-round picks in the NBA draft have an uphill battle facing them just to make the roster, but every so often a team stumbles on a hidden gem. Isaiah Thomas was the absolute last pick in the 2011 draft, but has become one of the most reliable players on Sacramento's woeful roster this season.
This trio of players may not make quite as immediate a splash as Thomas, but they'll be some of the best values available in the second round this spring:
Will Barton, Memphis
A likely victim of the draft's depth on the wings, Will Barton was a dominating player for an otherwise underachieving team. Even if he doesn't have the program pedigree of Kentucky's Michael Kidd-Gilchrist or UConn's Jeremy Lamb, though, Barton has the athleticism and versatility to become a standout NBA player.
At 6'6", Barton has NBA size, and his productivity is hardly in question after he averaged 18.1 points and 8.1 rebounds a night last season. He's also an opportunistic defender who averaged 1.4 steals per game, and even his most obvious weakness (.346 shooting from long range) improved dramatically over his freshman year and could keep getting better in the pros.
Kim English, Missouri
Concerns about Kim English being one-dimensional are not unreasonable, but what a dimension it is. The Missouri shooting guard shot an absurd .459 from three-point range last year (and .521 overall), averaging 14.9 points a game for the Tigers.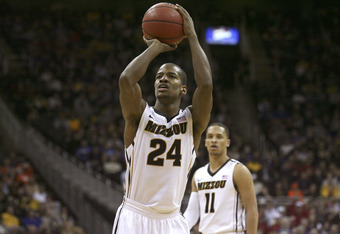 Ed Zurga/Getty Images
English could also be a lot worse as a defender. He parlayed Mizzou's high-pressure schemes into 1.3 steals a game, and at 6'5", he has the length to match up with NBA 2-guards.
Henry Sims, Georgetown
With so many center prospects for this year's first round, a few big men are sure to slip through the cracks. One of the most intriguing is Georgetown's bruising Henry Sims.
Calling the 6'10", 245-lb Sims a late bloomer would be an understatement: through his first three seasons, his best averages were 3.6 points and 3.2 rebounds per game. As a senior, though, Sims blossomed as a center with physicality (six boards and 1.4 blocks per game) and passing skills (3.5 assists a contest), and he gives every indication of developing into a top-notch NBA reserve.