Los Angeles Dodgers: Andre Ethier's Big Payday Is Just over the Horizon
April 26, 2012

As you may have seen this week in the Los Angeles Times, Dodgers General Manager Ned Colletti has expressed his desire to sign right fielder Andre Ethier to a contract extension.
Ethier's current one-year $10.95 million deal is set to expire at season's end.
Just 18 games into this young season, Ethier has been hot. He is leading the National League in RBI with 22. That number is just about a third of what he produced in 2011 (62) and a quarter of 2010 (82) just a few weeks in.
Currently he is batting .290, just one percentage point below his career average, but his power numbers have been impressive. His five doubles ties James Loney for most on the Dodgers' roster and his four home runs is second best behind only Matt Kemp on the team.  
This outburst of extra base hits has his slugging percentage spiking at .565 right now—the highest on his career stat sheet.
On the other side of the ball, Ethier is a Gold Glove-winning right fielder with a solid arm. The fact that Ethier is only 30 years old is certainly appealing as well.
Kemp and Ethier are heating up at the same time. With new owners in town, the team behind Kemp and Ethier appear reinvigorated.
Matt Kemp received his extension.
Clayton Kershaw received one as well (however, he is still due another raise in my humble opinion).
It would be silly for the Dodgers to turn their back on their young, stud right fielder.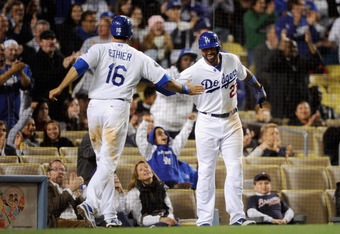 Kevork Djansezian/Getty Images
So, the time has come to compensate and lock up Ethier.
Will he receive Ichiro Suzuki or Jayson Werth money? (Roughly $18 million per season.)
The likely answer to that question is no. However, I don't think it would be too far out of the realm to see him sign a deal that carries an annual average salary in the $13.5 million range.
As Dylan Hernandez pointed out in his article this week in the Times, "Nez Balelo, Ethier's agent, has said his client would be open to negotiating a multi-year deal with the team's new owners during the season."
Ethier has gone on the record to state he wants to stay in L.A.
The Dodgers need him to stay in L.A.
The new ownership would be downright silly to allow the teams second-best offensive player to walk away over a few dollars.
With the universe seemingly smiling down upon the Dodgers, it would seem appropriate to discuss and announce the extension of a beloved member of this ball club.
Ethier has certainly paid his dues; now it is time for him to collect.