Brock Lesnar, and 5 More Current TNA Employees He Ran Through Back in His Prime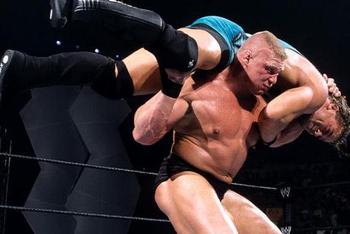 From WWE.com
Monday night's RAW featured three hours of television where new acquisition Brock Lesnar was simply u-brock-quitous.
The WWE pushed down on the hard sell button until its collective fingertips turned white as they aired that impressive, UFC-style hype video multiple times, while showcasing Brock Lesnar's greatest moments in the WWE.
What was interesting about the various elements from Lesnar's in-ring highlight reel was that all of his featured victories came against prominent TNA employees.
While all three victories—against Jeff Hardy, Hulk Hogan and Kurt Angle—were certainly critical to the evolution of Lesnar's wrestling career, the decision to cede that much TV time to non-WWE employees was somewhat curious, to say the least.
It has long since been speculated that Vince McMahon is extremely anal about going so far as to mention any establishment resembling competition.
But with multiple Hulk Hogan references in the past few weeks, the WWE (finally) publicly coming to terms with the existence of the UFC and Monday night's episode of TNA: Seek and Destroy, it appears that the WWE either truly does not believe they have competition or is provocatively teasing any and all competitive forces at a distance through Lesnar himself.
Whatever the case, I decided to bark up that tree a bit louder. So here's a list of TNA employees who, like Hardy, Angle and Hogan, all fell victim to Lesnar en route to his ephemeral rise to the top of the WWE.
Undefeated Brock Lesnar Beats Down Bubba Ray
Before he was a bully, he was Bubba—a lovable, midcard tag-team specialist with the jobber-like ability to enhance young talent despite his size.
As a hungry Brock Lesnar began feasting on the WWE roster, Bubba Ray was but a side dish on Lesnar's plate of human flesh.
Bubba's former ECW boss, Paul Heyman, stood ringside as Lesnar made quick work of a former WWE superstar who is now one of TNA's top heels.
Brock Lesnar Scores a Royal Victory over Rob Van Dam
Rob Van Dam proved to be a pivotal obstacle in Brock Lesnar's path to near-immortality. Van Dam was one of Lesnar's first serious opponents and stood in the way of him and royalty as Lesnar faced off with Van Dam on the greatest day in history at WWE's King of the Ring in 2002.
Despite Lesnar still being considered a WWE rookie, he walked in to the tournament final as a considerable underdog, with the winner receiving a WWE title shot at SummerSlam.
Van Dam and Lesnar put on a very good match, but in the end, Lesnar would not be denied his destiny of eventually becoming the youngest WWE champion in history.

Lesnar capitalized on a momentary distraction, where RVD blasted Paul Heyman with a baseball slide dropkick, by catching RVD in midair on an ensuing cross-body attempt, and finishing him off with an F5 to become the 2002 King of the Ring.
Al Snow Gets Trashed by a Debuting Lesnar
Like Simba in the middle of a stampede, current TNA road agent Al Snow was helpless as the WWE demonstrated the audacity to book a hardcore match without a true finish, but for the greater good.
As Snow tried valiantly to concuss Maven with repeated trash can lid shots to the cranium, a young, Lundgren-like Brock Lesnar made an impromptu appearance and proceeded to annihilate the field.
If the WWE Hardcore championship didn't mean anything before, which it didn't, it was officially rendered pointless now that nobody in that division could mess with Brock. And this was before he even got started.
Brock Lesnar Laughs in the Face of Legends, Defeats Ric Flair
Brock Lesnar had been built into such a force in such a short period of time that he was in position to issue open challenges to veterans.
As usual, Paul Heyman was awesome in his instigating antagonist role as he taunted the WWE roster until the incomparable Ric Flair answered the bell.
As a means of last-minute intimidation, Lesnar simply told the 16-time world champion that he was "in the wrong place, in the wrong year, against the wrong guy."
Flair was sprightly, even at age 53, and took the fight to Lesnar. But it wasn't long before the younger, bigger, stronger star overpowered the world champion turned TNA manager as his body count continued to grow.
Brock Lesnar vs. 'Shannon Moore, Shannon Moore and Shannon Moore!'
As good as smaller stars like Shannon Moore are at making larger talents look like monsters, Brock Lesnar was even better in his role, as he used his brute strength to virtually squash Moore in an unlikely WWE Championship match on SmackDown.
During a feud with lukewarm babyface Hardcore Holly, Lesnar gave himself a nice tuneup match against cruiserweight Shannon Moore—who has been with TNA for a number of years now—as he admittedly rigged what was supposed to be a random drawing for the opportunity.
What's wrong with the brand extension era? Check out Big Nasty's latest rant with B/R Video, then follow him on Twitter @ThisIsNasty.
Keep Reading