WWE/TNA News: Kane, Brock and the Five Most Memorable Moments on June 23rd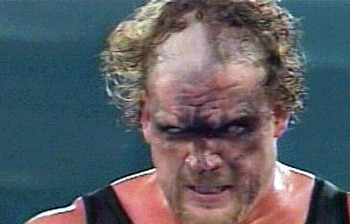 June 23rd is the perfect day to be a wrestling fan. Not only does this date mark the birth of Big Nasty (then known as Lil' Nasty), but it is rich with some of the most memorable pro wrestling moments of all time.
The month of June marks the summer season where WWE begins to shake off its WrestleMania blues as they gear up for a high profile SummerSlam program.
During the days of the King of the Ring, June 23rd saw the creation of two iconic stars, one of whom is considered by many to be the greatest of all time.
With June 23rd once again set to occur on a wrestling night, as both Impact Wrestling and Superstars will air tonight, it is only fitting that I reflect on some of the most thoughtful birthday gifts that a wrestling promoter ever gave me.
It's Big Nasty's birthday. Follow him on Twitter @ThisIsNasty to wish him a Nasty Birthday.
5. June 23rd, 2004: Jeff Hardy Debuts with TNA Wrestling, Faces A.J. Styles
Following his first departure from WWE, caused by the same substance abuse problems that continue to plague him to this day, Hardy bounced around the independent scene before making his next big splash.
That splash saw the talented yet troubled star make his debut in TNA in an event that marked the birth of the "charismatic enigma".
Hardy battled X-Division champion A.J. Styles to a no-contest due to outside interference, and appeared to have a promising future with the upstart company.
Unfortunately, familiar problems with punctuality and drug abuse once again reared their ugly heads and Hardy would subsequently be fired from TNA.
With Hardy burning his bridges with both TNA and WWE, his only other option...was to go back to WWE, proving once again that wrestling bridges are indeed flame retardant.
After yet another substance abuse-plagued run in WWE, Hardy left the company on his own accord before returning to TNA, where he is currently employed, to resume a tumultuous career that is in desperate need of rehabilitation on many levels. Hardy has not been seen on TV since an infamous TNA Championship match, against Sting at Victory Road, that had to be ended in a matter of seconds as Hardy was in no condition to perform.
4. June 23rd, 2002: Brock Lesnar Beats RVD to Win King of the Ring
Brock Lesnar was arguably the most can't-miss prospect in WWE history, and miss he didn't. Almost immediately, Lesnar made an impact in WWE and was ready for the main event upon his debut.
Accompanied by charismatic handler Paul Heyman, Lesnar was, and still is, a specimen to behold. Running through a roster of talent that ranged from Funaki to Hulk Hogan, Lesnar was unapologetic about feasting on the WWE roster leading up to a SummerSlam showdown with WWE Champion the Rock.
Lesnar earned his no. 1 contender's match at SummerSlam by winning the once prestigious King of the Ring tournament held in Columbus, Ohio. Lesnar cleaned out the King of the Ring bracket, defeating all five of his opponents by pinfall.
His ultimate victory would come against former WWE and TNA Champion Rob Van Dam. On the six year anniversary of Austin 3:16, a new era in pro wrestling seemed to be imminent.
Lesnar prematurely left the WWE in 2004 to try his hand in the NFL before signing with UFC, where he became the only athlete in history to win both the WWE and UFC Heavyweight Championships.
3. June 23rd, 2008: Vince McMahon Severely "Injured" After RAW Set Collapses
With the annual summer ratings woe in full effect, Vince McMahon decided to literally buy a ratings increase with the announcement of McMahon's Million Dollar Mania. Each week on RAW, McMahon called a loyal (and registered) fan and awarded them a generous sum of money.
The promotion lasted all but three weeks, with the final edition occurring on a three hour edition of RAW that coincided with the WWE Draft.
Following the shocking draft of Triple H to the SmackDown roster, where he had never exclusively competed since the brand extension in 2002, the set of RAW collapsed on McMahon after one lucky fan was awarded $500,000.
To make the worked incident seem real, McMahon was heard calling for "Paul", which was the real name of McMahon's son in law Triple H.
The timing of the incident was peculiar if not sinister. Just weeks earlier, an employee of the rival promotion TNA had been killed in a similar scaffolding accident.
McMahon would return to television unscathed at the beginning of 2009.
2. June 23rd, 2003: Kane Loses to Triple H, Forced to Remove Mask
After years of competing under a mask as the big Red Machine/Monster, the time finally came to build a program around the permanent removal of Kane's mask.
On a summer episode of RAW, Kane challenged then World Champion to a match that stipulated he remove his mask if he was not successful in winning the title.
Outside interference from Evolution helped Tirple H retain the championship, mandating that Kane remove his mask.
After being inexplicably attacked by Evolution while trying to remove his mask, RVD hit the ring to save the day. After clearing the ring, the realization set in as to what Kane had to do, and the seven foot monster reluctantly removed his mask before snapping and choke slamming his tag team partner RVD.
1. June 23rd, 1996: "Austin 3:16 Says I Just Whooped Your Ass!"
I asked for one birthday present from my parents on what would be my tenth birthday, and that was the 1996 King of the Ring.
My desire for the now legendary pay-per-view had nothing to do with Steve Austin, who on that night would take the first steps towards immortality, but rather Ahmed Johnson (he was cool then so shut it) who was due to be come the first African-American Intercontinental Champion in WWE history.
The Intercontinental Championship still meant something in the mid nineties. During a feud with Goldust, who was at the top of his game as a bizarre yet red hot heel, Johnson was subject to mind games from Intercontinental Champion Goldust that eventually lead to him receiving a shot at the title at King of the Ring.
After weeks of psychological torture, Johnson defeated Goldust, thus making history. It was Stone Cold Steve Austin, however, who would make history that will reverberate throughout WWE forever.
Following a victory over a resurgent Jake "The Snake" Roberts (who I was pulling for), Austin allegorically took the throne and delivered what would become one of the most iconic lines in WWE history.
Heelishly mocking the born again Christian, Austin pugnaciously declared "Austin 3:16 says I just whooped your ass!"
The line, intended to draw heel heat on Austin, popped the Milwaukee crowd (in the city where I was born), and sparked a revolution that would give way to both a prolific superstar and periods in WWE.
Meanwhile, Ahmed Johnson fizzled out following a career plagued with weight issues and injuries. He has since returned, defeating Wade Barrett at Capitol Punishment to become a 2-time Intercontinental Champion.
It's Big Nasty's birthday. Follow him on Twitter @ThisIsNasty to wish him a Nasty Birthday.
Keep Reading