Bayern Munich at Real Madrid: UEFA Champions League Semis Leg 2 Odds Preview
April 22, 2012

UEFA Champions League Semifinals Leg 2 Odds Preview
What: Bayern Munich at Real Madrid
When: Wednesday, April 25, 2012
Where: Santiago Bernabéu Stadium, Madrid, Spain
Time: 7:45 p.m. BT/2:45 p.m. ET/11:45 a.m. PT
Television: FX  (USA), Sky Sports 2, ITV1, YTV, UTV, STV Central  (Europe)
Radio: SiriusXM Channel 92
LVH SuperBook Odds: BM +550, RM -200; Draw +330; BM +1 Even, RM -1 -120 
LVH SuperBook Total: Over 3 -105, Under 3 -115
Sportsbook.com "Name the Finalists" Odds: Barcelona-Real Madrid +130, Barcelona-Bayern Munich +200, Chelsea-RM +550, Chelsea-Bayern Munich +400
(Updated Monday.)
Sportsbook.com "Which Country Will Win UEFA Champions League?" Odds: Spain -300, Germany +375, England +650 (Published Saturday.)
LVH SuperBook Club Odds to Win UEFA Champions League: Barcelona 11/10, Real Madrid 5/2, Bayern Munich 3/1, Chelsea 13/2 (Published Saturday.)

After upsetting La Liga rival Barcelona as a big underdog (+400) on the road Saturday at Nou Camp in El Clásico II and putting the clamps on the La Liga crown, Jose Mourinho and Real Madrid now shift focus to Bayern Munich and Leg 2 of its UEFA Champions League semifinal match Wednesday.
Bayern Munich won the first leg, 2-1 last Tuesday and head to Spain with only one thing in mind—advancing to the championship game on May 19 in their hometown.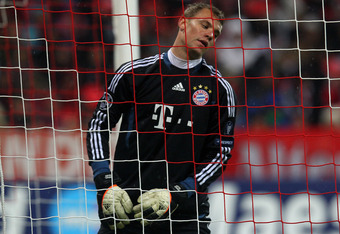 Martin Rose/Getty Images
With Borussia Dortmund clinching its second consecutive Bundesliga title on Saturday with a 2-0 home win over Monchengladbach, Der FCB can now put all its energies into battling Cristiano Ronaldo and the offensive-minded Los Blancos.
The Bavarian giants won the first leg at home in dramatic fashion on a late goal by Mario Gomez (25 goals in Bundesliga) and possess its own talented cast of double-digit league scorers in Franck Ribéry (12, 11 assists) and Arjen Robben (11), who reportedly had a little physical disagreement in the locker room at halftime over who should take a free kick  last Tuesday.
In goal, Manuel Neuer was tremendous for Der FCB against Real Madrid in the opening leg but will no doubt face an onslaught at the Santiago Bernabéu Stadium against a side that just set a La Liga record for goals in a season (108) as CR7 notched his 42nd of the campaign for the second-half game-winner in El Clásico II.
Real Madrid will be glad to be playing this crucial leg at home as Leg 1's loss dropped Los Blancos record to 0-9-1 in their 10 matches at Bayern Munich. And if there's any club in Europe that believes it can hang with The Big Two, it's Bayern Munich.
Trend-wise, both teams have been phenomenal here, with Bayern Munich outscoring UEFA Champions League foes 13-2 in its last five matches and becoming the first club to actually have a lead on Real Madrid in the entire tournament.
Los Blancos have outscored opponents 14-6 in their last five Champions League games, 33-8 overall and suffered just their first setback (9-1-1) in last Tuesday's loss at Bayern Munich's Allianz Arena.
The pace in this match will be crazy and with so many talented scorers on the pitch, I think betting the over (2½, -222) would be well advised. And there may well be three goals at halftime with Real Madrid chasing a one-goal deficit and the winner of the Chelsea-Barcelona series already lying in wait.
If the score of game after 90 minutes is Real Madrid, 2-1—which would tie the series 3-3 on aggregate and 1-1 on away goals—then make a pot of coffee, wake the neighbors and strap yourself in for some of the most exciting football (soccer) you will ever be a witness to with a trip to the championship possibly coming down to a goal in overtime.
I'm advising against wagering on the draw in this important game and simply suggest betting on the side you want to win. With Real Madrid at -200, it's a fair price for Los Blancos bettors.
A bet on Bayern Munich has great value at +550 (shop around, you may find better odds), but the visitors know they can simply draw or win and advance.
Der FCB coach Jupp Keynckes could stress defense but trying to stop a deep and goal-hungry squad like Real Madrid on their home turf is like trying to stop Popeye from eating another can of spinach. In other words, good luck brother...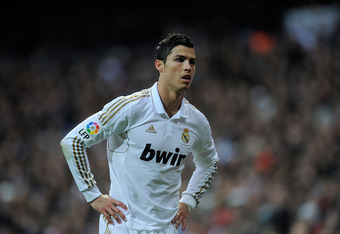 Denis Doyle/Getty Images

PREDICTION: Real Madrid 2, Bayern Munich 1 (Overtime scenario)
TEAM TO ADVANCE IN OT OR MORE: "No tengo la menor idea."
(ENGLISH TRANSLATION):  "I don't have the slightest idea."
BETS: Over 2½ -222, Real Madrid -200  (90 minutes, three-way odds)
PROPOSITION BET - "Country To Win UEFA CL:"  Spain -300
> For the Odds Preview of Tuesday's Chelsea-Barcelona semis match simply click here.
Follow me on Twitter: @KevinStott11