SF Giants: Explaining the Arizona Diamondbacks' Dominance over the Giants
April 19, 2012

Christian Petersen/Getty Images
Since June of 2011, the Arizona Diamondbacks have thoroughly demonstrated a strong command and mastery over the San Francisco Giants.
With a record of 11 wins to just two losses since an extra inning, walk-off victory at the expense of Giants reliever Santiago Casilla, there can be little argument that the D-Backs are on a huge hot streak against their foes by the Bay.
As sacrilegious as it might be for a team that prides itself on its pitching, Giants' pitching has somehow come up short against the D-Backs: Tim Lincecum can't stop them—he's lost four straight to Arizona dating back to the 2010 season—while Ian Kennedy has won four straight versus San Francisco.
Without winning pitching up front, the likes of Brian Wilson—injured or not—have given way to the 2011 NL saves leader, Arizona's J.J. Putz. Indeed, San Francisco hasn't recorded a save against Arizona since June 15, 2011 while Putz wrapped up six games since, taking a day off on April 8 to allow teammate Bryan Shaw to close out the D-Backs' most recent victory against the Giants.
Yes, the Diamondbacks have found dominance over San Francisco in its most unlikely form—wins.
Throw those hyperbolic sabermetrics out the window, and let's get back to the roots of baseball, the national pastime where an upstart Arizona squad is just as likely to go 11-2 against rival San Francisco as they are to hit a grand slam in four consecutive home games, which they did during Chase Field's final four contests last season. For the mathematicians amongst us, those grand slam odds come out to one-in-130,634.
Whether it has been jumping on Madison Bumgarner early or breaking through Matt Cain late, the Diamondbacks have simply found ways to win, even if four of those 11 wins have been of the one-run variety.
By contrast, the Giants' last one-run victory over Arizona came on June 14, 2011.
Over the course of the Diamondbacks' last three victories, pitchers Kennedy and Hudson have outlasted Lincecum and Bumgarner, while Cain outpaced Josh Collmenter, though reliever Jeremy Affeldt gave up the eventual game-winner within one-third of an inning after Cain's departure.
Otherwise put, no matter the stats—the Giants' overall pitching power numbers in 2011, for instance—Arizona has found ways around the roadblock.
Thus far in 2012, it is Arizona that presently owns better pitching stats, whereas the Giants are currently the better hitting team. Yet even with the roles reversed, Arizona continues to beat San Francisco in close contests.
Call it the Kirk Gibson advantage; blame it on the fact that Buster Posey, Melky Cabrera and the others are still coming into form; or get off that calculator and just give into the intangible fact of pragmatic momentum.
Though the Giants are not destined to become the Angels to Arizona's Red Sox squad, it did take nearly five years for the Angels to shake that mini-curse.
Speaking of curses, baseball is full of them. Bambino has always been the most famous, though the Cubs' World Series drought far eclipses Boston's comparatively tame jinx of folklore. The last time Chicago won the World Series, Fenway Park did not even exist.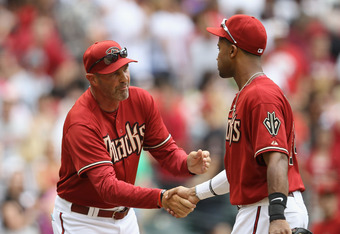 Christian Petersen/Getty Images
To review, the grand scheme of dominance breaks down into a sliding scale that starts with a modest winning streak, turns into hot before bubbling over and setting a team on fire and its foe into a mini-curse.
In the grand scheme of baseball, the D-Backs are on a significant tear vs. San Francisco, though this is a state of inertia susceptible to any number of wild cards, including one variable the Giants are all too familiar with—an untimely injury to a key component.
If the Diamondbacks end up losing Chris Young, their acquisition of Jason Kubel—considered by many to be a poor move at the time—could prove to be a lifesaver.
Similarly, with Brian Wilson set to undergo season-ending Tommy John surgery, the performance of Casilla in the coming weeks will determine whether manager Bruce Bochy can finally turn his attention away from the late-inning bullpen.
Arizona dominated the Giants over the course of late 2011 and into early 2012 thanks to injuries and the intangibility of momentum and the ever popular factor called clutch.
The Snakes' dominance is not an insurmountable mountain to climb—any one series could easily change all that.
The Giants return to Chase Field for a three-game set May 11-13, 2012.