FC Barcelona vs Chelsea: Barcelona Slips Up at Stamford Bridge
April 18, 2012

Jasper Juinen/Getty Images
Well, that was fun, wasn't it?
Roberto Di Matteo used the Old Italian style of defending—use everyone—and Chelsea defeated FC Barcelona 1-0 in the first leg of the UEFA Champions League semifinal.
Didier Drogba had a good game as he got the goal and pressured the Barcelona defenders.
I didn't like how Drogba kept falling down and complaining though. It looked like he was the Barcelona player by the way he kept flopping and complaining to the ref.
I mentioned in my previous article "Judgment Week for FC Barcelona" that I thought Ramires would play a key role in the game and he did as he ran past Xavi and set up the Drogba goal.
Which begs the question: Why was Xavi defending Ramires? This is the risk of having a player like Dani Alves on your team. He's great coming forward, but he can be the reason a counterattack by the opponent can kill you.
Chelsea did not miss David Luiz one bit as Gary Cahill played an outstanding game. Not too much from Juan Mata though.
Let's focus on FC Barcelona now.
Alexis Sanchez should have made two goals as he hit the crossbar in the first half and missed terribly on a close shot in the second half.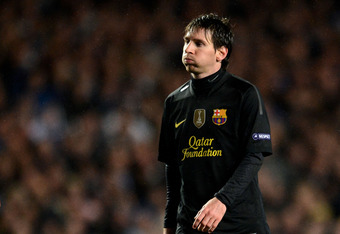 Jasper Juinen/Getty Images
But as we all know, "should have" means nothing in the end. Alexis needed to step up and failed.
Lionel Messi played OK—nothing great or nothing too bad. He led the charge many times, but Chelsea essentially parked themselves in the back line and stopped the Argentine. Messi couldn't find his teammates many times as well.
Messi will now need to put on his cape and be the hero Barcelona needs at the Camp Nou.
I thought Xavi over-thought too many plays. Chelsea's defenders aren't going to go anywhere; take a smart risk and create a play a bit more quickly. Andres Iniesta had a solid game. Cesc Fabregas had his moments—like the pass to Alexis—but he missed that excellent opportunity to score inside the penalty box in the first half.
There's not much too be said about what to improve for Barcelona. They controlled the ball possession and had plenty of chances. Barcelona had 24 shots to Chelsea's four.
But as Pep Guardiola said at the press conference after the game, "The most important thing is to put the ball in the back of the net."
Chelsea did that, Barça didn't.
As I mentioned in "Judgment Week for FC Barcelona," if Barça is down on aggregate after the first leg—which they obviously now are—Pep has no choice but to go all-out on attack. Pep would look to go for a 3-4-3 lineup; however, look for Busquets to stay back while Xavi, Iniesta and Fabregas move further up front the midfield to attack so the formation looks more like a 3-1-3-3.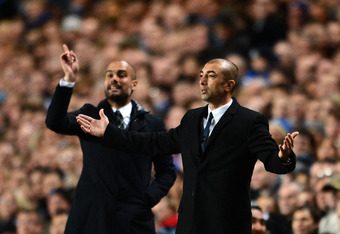 Jasper Juinen/Getty Images
A 3-3-4? At times but don't count on it for the whole game.
Barcelona will need to score goals and plenty of them next week at the Camp Nou. I feel good about the chances of Chelsea being held scoreless in the return leg because of the way Chelsea will undoubtedly play—all-out defense.
Di Matteo will look to recreate what Jose Mourinho and his Inter Milan did at the Camp Nou two years ago and defend, defend and defend. Drogba will be the lone player up front.
It is going to be very difficult to score goals.
This is not all on Guardiola and come up with a strategy—it's on the players to execute the plan. Most of the Barcelona starters were part of the 2010 team, and they will be reminded of what that empty feeling inside of them as they watched Mou run around in celebration at the Camp Nou as Inter defeated Barça 3-2 on aggregate.
I'm sure Di Matteo will have his running shoes on next Tuesday—just in case.
Let's hope the memory of 2010's loss will further motivate the Barcelona players even more to not only win, but to win big.
Was Chelsea lucky in the first leg? It could be said that it was luck. Barça hit the post twice, blew close shots and no luck.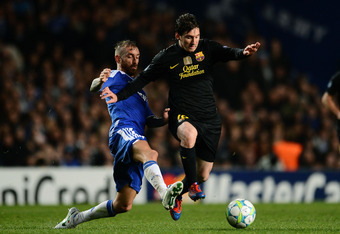 Jasper Juinen/Getty Images
That being said, luck is part of all sports and all the things I just mentioned are Barcelona's fault. They had no accuracy, missed too many opportunities and most importantly allowed Drogba to score the goal. Got to give much respect and credit to Roberto Di Matteo and his team.
Some people—or I should say teams—make their own luck, right?
Camp Nou will be just like it was two years ago against Inter Milan—tense! Culés will be on edge as they hope to see Barcelona overcome and move on to Munich. As a Culé, I am confident they will play better and push Chelsea to the brink.
My heart says Barcelona will win, but my mind knows anything can happen.
The Camp Nou will be the setting of the two biggest games in FC Barcelona's season in a span of just four days.
I say to all Barcelona fans: Let's not think about this loss, Chelsea FC and the second leg of the Champions League semifinal anymore until Sunday. Get some rest, Culés.
Because as of right now, it's all about Saturday and El Clásico.
¡Vamos!
¡Visca el Barça!
Xoel, The Voice of FC Barcelona on Bleacher Report!
Look out for my article "El Clascio: Win or Lose Title" later this week.
Follow me on Twitter: @XoelCardenas
Don't forget to check out my other columns:
Judgment Week for FC Barcelona 

Pele: Lionel Messi's Most Famous Hater