NASCAR Sprint Cup at Kansas: 10 Drivers Who'll Be in the Running at the STP 400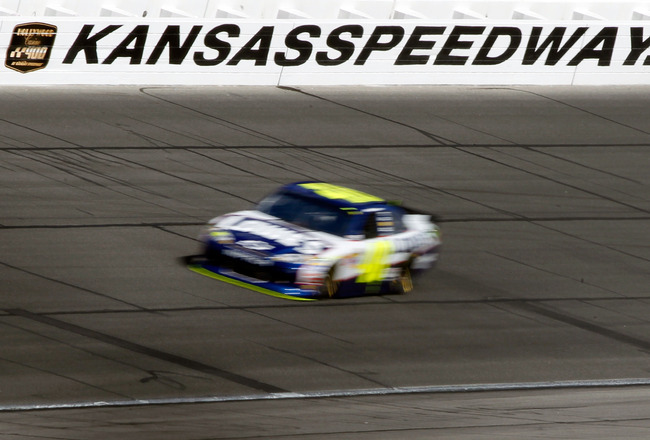 Todd Warshaw/Getty Images
The NASCAR Sprint Cup Series' next stop on the schedule is in the Midwest, at Kansas Speedway.
This race was not run in April last season. It was run back in June, which means that weather could be a factor in this race with possible cooler temperatures.
What is also interesting about this race is that it will be the last race on this asphalt. Before the Sprint Cup Series returns to Kansas in the fall, the speedway will be completely repaved. With that in mind, these drivers will be really going after the win before their setups for this track are completely changed.
Here's 10 drivers to look out for in the STP 400.
10. Matt Kenseth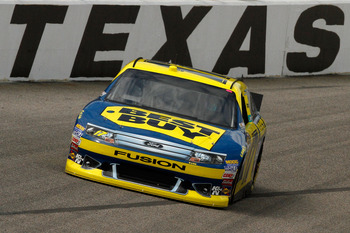 Tyler Barrick/Getty Images
After getting a fifth last week in Texas, Matt Kenseth could be fighting to get into victory lane this weekend in Kansas.
Kenseth has been having a great season, with a win in the Daytona 500 and four top-five finishes. Sitting second in points has Kenseth looking as strong as he did when he won the championship back in 2003.
Kenseth has four top-10 finishes in the last fives races in Kansas, including a sixth-place finish in last summer's race.
With the Roush cars showing their power this season, don't be surprise to see Kenseth fighting for the win.
9. Kasey Kahne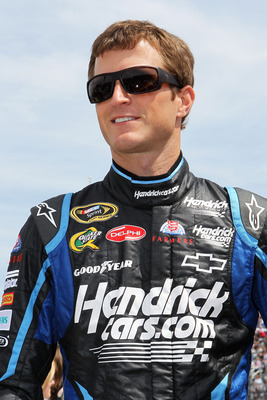 Tom Whitmore/Getty Images
Kasey Kahne is going into the STP 400 looking to build some momentum after a disastrous start to his first season at Hendrick Motorsports.
Even with two poles this year, Kahne earned his first top-10 finish last weekend in Texas. While Kahne is still adjusting to his new team, he has flashed moments where he looked poised to be a contender for good finishes.
Kahne finished second in the fall race at Kansas last year, and with better equipment this year, look for the No. 5 Chevrolet to get another top-10 finish, if not more.
8. Mark Martin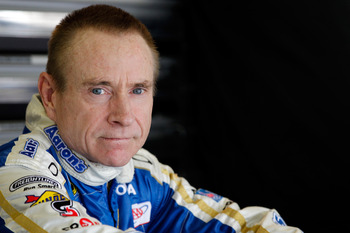 Tyler Barrick/Getty Images
Mark Martin has been one of the surprises of the 2012 season.
Martin has looked strong and has good finishes to back it up. While Martin is not running the full schedule in the Sprint Cup Series this season, he looks like he's having fun and he's out to win.
Martin has one top-five and three top-10 finishes, and he has even won a pole. This is also in just five races so far this season.
The Michael Waltrip Racing cars are running up front on a weekly basis, and Martin has led the charge at times.
Kansas Speedway has been pretty good to Martin in his career. He won this race back in 2005 and finished 10th in the fall race last season.
While Martin is a dark-horse pick, I'd be surprise if he didn't get a top-10 finish.
7. Tony Stewart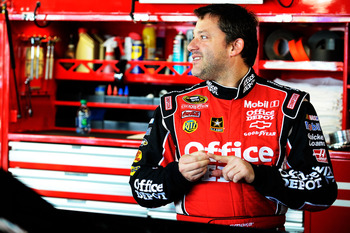 Jared C. Tilton/Getty Images
After getting to spend some time with President Obama at the White House, Tony Stewart is looking to rebound after a rough night in Texas.
The defending Sprint Cup Series Champion is going into Kansas with two wins already this season. Even with his two wins, Stewart lost four spots in the points after finishing 24th in Texas.
Each race is important, and Stewart needs a good finish in the STP 400. He finished eighth in the summer Kansas race last season and has two wins at Kansas Speedway.
Don't expect Stewart to stay down for long. Look for Stewart to rebound and run up front this weekend.
6. Dale Earnhardt Jr.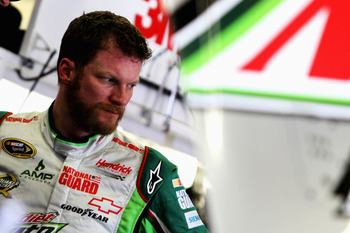 Jerry Markland/Getty Images
So far, the 2012 season has seen Dale Earnhardt Jr. running fast and consistent.
While Earnhardt is still searching for that elusive win, he sits tied for second in points. Earnhardt has three top-five finishes and five top-10 finishes.
This weekend in Kansas could be where Dale Earnhardt Jr. ends his losing streak. In his last race at Kansas Speedway, Junior finished second after having to start 28th and march his way up to the front.
With Earnhardt's new-found confidence, it's only a matter of time before we see the No. 88 Chevrolet in victory lane.
That could happen this Sunday.
5. Brad Keselowski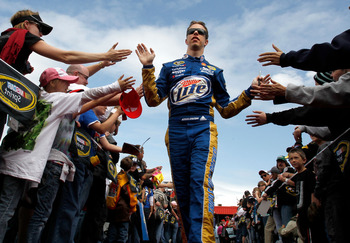 Jonathan Ferrey/Getty Images
Another driver looking to rebound in Kansas is Brad Keselowski.
Keselowski is coming off of a 36th-place finish in Texas due to mechanical problems. While Keselowski has a win in Bristol this season, he sits 15th in points because of his inconsistent finishes.
Keselowski should be looking forward to Kansas since he won the summer race last season and finished third in the fall race.
Based on Keselowski's pattern of good finishes and bad finishes this year, expect the "Blue Deuce" to be fighting for the win.
4. Carl Edwards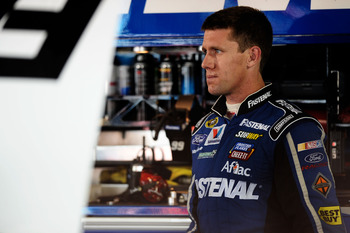 Jared C. Tilton/Getty Images
It has been over a year since Carl Edwards has won in the Sprint Cup Series.
Edwards has two top-five and four top-10 finishes, but he has no wins and sits 11th in points. While Edwards is still looking for a win, he finished eighth in Texas after starting 20th and having issues on the pit road.
Edwards has to be smiling about going to Kansas this weekend. He finished fifth in both races at Kansas Speedway last season. He also has seven top-10 finishes in nine career starts in Kansas.
Edwards is the third-best currently in the Roush Fenway Racing stable, but don't count him out this weekend in the STP 400.
3. Jimmie Johnson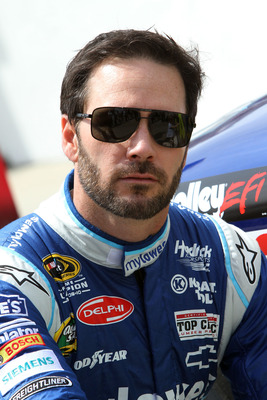 Jerry Markland/Getty Images
I would be crazy if Jimmie Johnson was not on this list.
Johnson has done very well at Kansas Speedway. He won the fall race last season and has nine top-10 finishes in 11 career races in Kansas.
While Johnson is a favorite to win this weekend, I see him just getting a top-10 finish.
Johnson shows strength, but last weekend in Texas he couldn't hold off Greg Biffle for the win. While Johnson has had some good runs, he has not shown the ability to dominate like he did during his championship run.
I believe Johnson will run well and finish in the top 10 this weekend.
2. Greg Biffle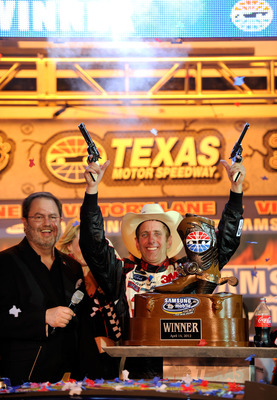 John Harrelson/Getty Images
Greg Biffle will be going into the STP 400 looking for back-to-back wins. Biffle just won last weekend in Texas and is the current points leader in the Sprint Cup Series.
Along with his win at Texas, Biffle has four top-five and five top-10 finishes this season.
The No. 16 Ford is leading the charge from the Roush Fenway Racing team, and Biffle is certain to keep the momentum going into Kansas.
Biffle finished 10th in last year's summer race. Biffle also has two wins in Kansas and six top-five finishes in Kansas since 2004.
Biffle has been one of the best drivers at Kansas over the last few years and is looking to add to his points lead this weekend.
1. Jeff Gordon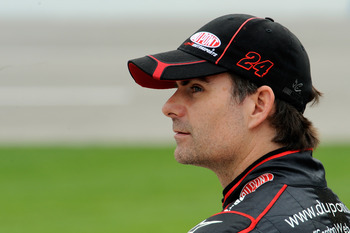 John Harrelson/Getty Images
While Greg Biffle has six top-fives, Jeff Gordon has eight top-five finishes to go along with his two wins at Kansas Speedway.
Gordon won the first Sprint Cup Series race ever at Kansas Speedway and will be looking to win the last race before the track gets repaved.
Gordon has had an up-and-down season with lots of bad luck and plenty of strong runs. Just last week in Texas, Gordon marched from his 34th starting position to a fourth-place finish with mostly green flag runs.
While Gordon is looking to dig himself out of a hole in points, this is one of his best chances to get into victory lane.
He finished fourth in last year's summer race and will be fighting to get into victory lane this weekend.
Keep Reading