Brian Wilson Injury: Why It Will Not Matter to the San Francisco Giants
April 16, 2012

Doug Pensinger/Getty Images
Brian Wilson's season may have come to an abrupt end this weekend with the announcement that he will likely have to undergo Tommy John surgery to repair a damaged elbow.
Wilson was quite upbeat during the interview and remains confident that he will be back next year and that the San Francisco Giants will still win their division without him.
While I can't speak to Wilson's first prediction, his belief that the Giants will not be negatively impacted by his absence is absolutely correct.
The closer's role is unequivocally the most overrated position in baseball, and possibly in all of professional sports.
As I pointed out in an article during the offseason, teams that hold the lead after eight innings win 95 percent of the time. This is true throughout baseball history and the "Age of Closers" has not changed that even remotely.
Evidence as compiled by David Smith, among others, clearly indicates that teams with the lead usually win and that the odds of winning increase as games wear on.
In fact, Smith's numbers indicate that the worst team record for blowing leads in the ninth was the dismal 1978 Seattle Mariners, who still managed to seal the deal 80.4 percent of the time.
The fact of the matter is that San Francisco's bullpen, even without Wilson, is pretty solid. Guys like Jeremy Affeldt, Clay Hensley, Santiago Casilla, Guillermo Mota and Javier Lopez are all capable of chewing up innings and hanging on to leads.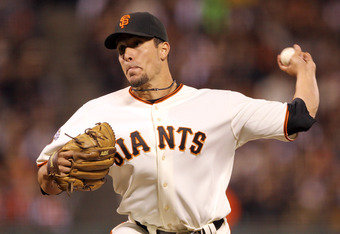 Ezra Shaw/Getty Images
This is not the 1978 Mariners' bullpen.
The only place where the team might feel Wilson's absence is in the clubhouse. His personality and leadership are difficult to replace. But I have a feeling he won't just disappear—he seems the type who won't be able to stay away from his team for any length of time.
At the end of the day, though, this is a solid club top to bottom and, when all is said and done, Wilson's ability to close out games just doesn't matter in the grand scheme of things.
Someone—or several someones—will handle the role just fine.