2012 NFL Mock Draft: Madden Rating Predictions for Every 1st-Round Rookie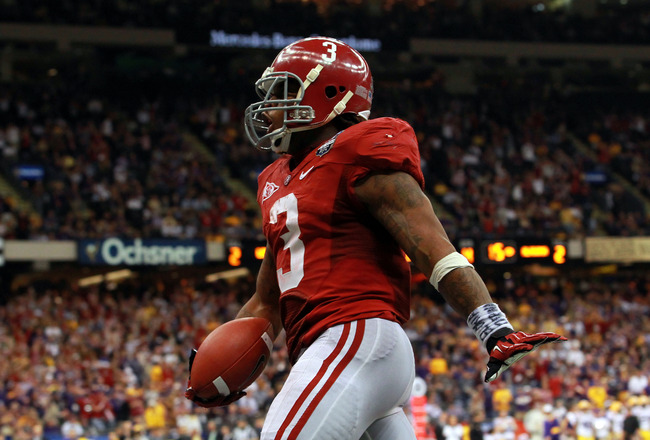 Ronald Martinez/Getty Images
There are mock drafts, and then there are mock drafts...with Madden.
Right now, the 2012 NFL Draft is everyone's focus. Soon after the draft is over, though, gamers will shift their attention to Madden and, more importantly, Madden ratings.
Every year, Madden rookie ratings are highly anticipated, and ESPN actually announced them last year.
So here's a look at not only whom your team will draft, but how dominant he's going to be for you in "franchise mode" next year.
1. Indianapolis Colts: Andrew Luck, QB, Stanford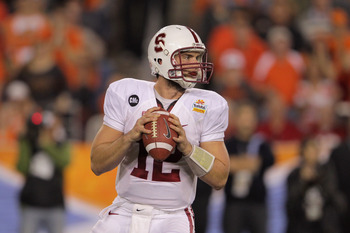 Doug Pensinger/Getty Images
Projected Rating: 79
Last year's No. 1 overall pick, Cam Newton, was rated 77. Andrew Luck is a more well-regarded prospect, so he gets a couple more points.
Luck's pocket awareness gives him the push above Newton. Newton's physical abilities give him something over Luck, though.
2. Washington Redskins (from St. Louis): Robert Griffin III, QB, Baylor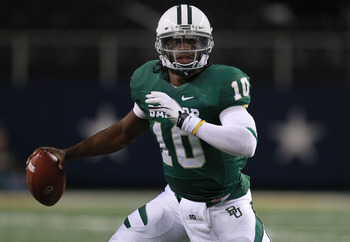 Ronald Martinez/Getty Images
Projected Rating: 77
Unlike Andrew Luck, Robert Griffin is comparable to Cam Newton. Griffin won't go No. 1 like Newton did, but he's just as good of a prospect.
Griffin's physical tools won't be as dominant as Newton's—though he may be a bit faster—but his passing skills will be more developed.
3. Minnesota Vikings: Matt Kalil, OT, USC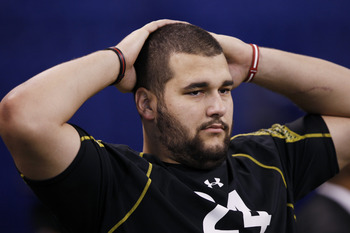 Joe Robbins/Getty Images
Projected Rating: 79
Matt Kalil doesn't play quarterback like the first two picks, so he could be rated higher than both of them. Kalil is better than Tyron Smith, who was rated 77 overall last year.
The USC tackle will jump in and immediately play at a high level, so his rating should be pretty high.
4. Cleveland Browns: Trent Richardson, RB, Alabama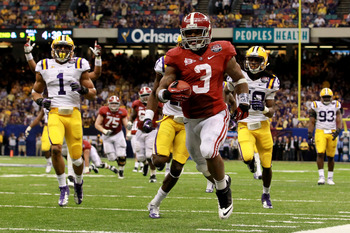 Ronald Martinez/Getty Images
Projected Rating: 81
Running backs transition to the NFL game quicker than any other position. Trent Richardson happens to be an incredibly good running back, so he gets even more points.
Richardson will make a smooth transition and immediately be an elite running back. He can catch, he can block and, most importantly, he can run.
5. Tampa Bay Buccaneers: Morris Claiborne, CB, LSU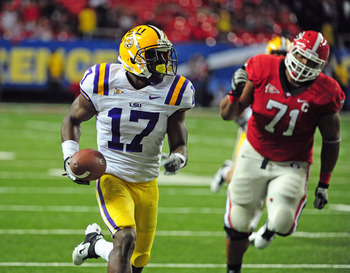 Scott Cunningham/Getty Images
Projected Rating: 82
Morris Claiborne's former teammate, Patrick Peterson, was rated 82 last year, so Claiborne should get the same rating. Claiborne isn't as freakishly athletic, but he is a better cover corner.
Last year, Prince Amukamara was rated 81, so Claiborne almost has to be rated higher than that.
6. St. Louis Rams (from Washington): Justin Blackmon, WR, Oklahoma State
Joe Robbins/Getty Images
Projected Rating: 78
Julio Jones went No. 6 last year and he was rated 78. So, it only makes sense that two guys at the same position and draft slot would have the same rating.
Justin Blackmon isn't as big or fast as Jones, but he'll get credit for route-running and yards-after-the-catch ability.
7. Jacksonville Jaguars: Melvin Ingram, DE, South Carolina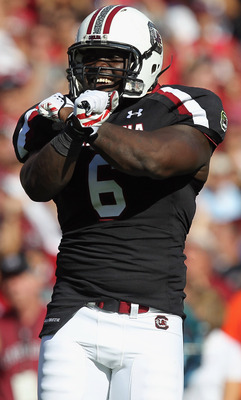 Streeter Lecka/Getty Images
Projected Rating: 77
There isn't much of a comparison for this one. The people at Madden who do the ratings tend to balance draft slot and analysts' views on a prospect, so Melvin Ingram gets a middle-of-the-road grade.
Ingram isn't a bad prospect by any means, but not many would label him a Top 10 player. Aldon Smith was rated 76 last year, and Ingram gets a slightly better grade.
8. Miami Dolphins: Ryan Tannehill, QB, Texas A&M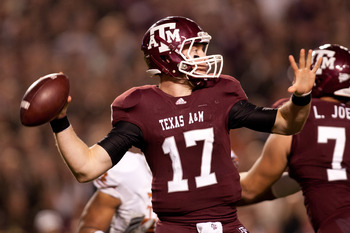 Darren Carroll/Getty Images
Projected Rating: 75
Jake Locker was a physically talented but raw quarterback last year, and he also was picked No. 8. Locker got a 74 rating.
Ryan Tannehill is more deserving of a Top 10 selection, so he gets a point more than Locker did. Neither of these quarterbacks is perfect, but they are similar.
9. Carolina Panthers: Quinton Coples, DE, North Carolina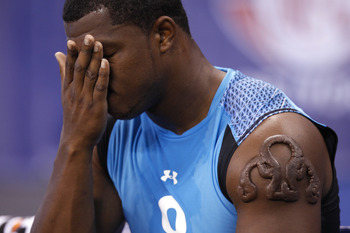 Joe Robbins/Getty Images
Projected Rating: 78
Madden loves players like Quinton Coples. The North Carolina defensive end is talented and widely recognized, but he isn't a great player.
Robert Quinn was rated 78 in 2012's version, and Coples will be drafted a bit higher. Quinn was seen as a better prospect, though, and the two factors balance out.
10. Buffalo Bills: Riley Reiff, OT, Iowa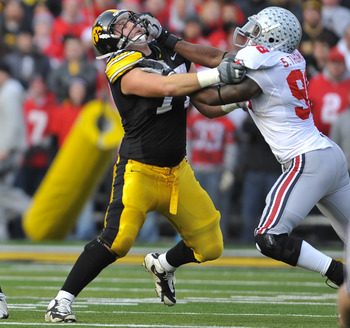 David Purdy/Getty Images
Projected Rating: 76
Tyron Smith was the No. 8 pick in 2011, but he was a better prospect than Riley Reiff is. Reiff isn't as athletic, so he gets a slightly worse grade.
In the NFL, Reiff could step in immediately at right tackle, but he may play left tackle for the Bills. Either way, he won't get quite as high of a rating as Smith did.
11. Kansas City Chiefs: Dontari Poe, DT, Memphis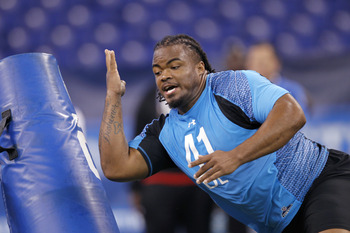 Joe Robbins/Getty Images
Projected Rating: 74
Madden will give Dontari Poe a ton of potential, but he probably won't be rated too highly at first. Poe is unproven but incredibly talented.
A great athlete, Poe could be one of the NFL's best in due time. At the start of his career, however, Poe could struggle a bit.
12. Seattle Seahawks: Luke Kuechly, LB, Boston College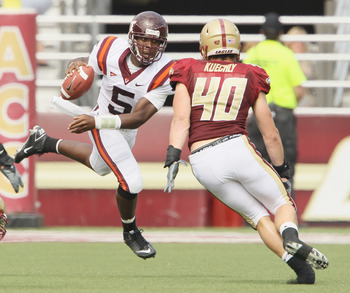 Elsa/Getty Images
Projected Rating: 81
Luke Kuechly is ready for the NFL. Few linebackers are smarter or more instinctive, and Kuechly is a leader on the field.
The Boston College linebacker racked up tackles in college, and he will do so in the NFL. His awareness and coverage abilities will be extremely high for a rookie linebacker.
13. Arizona Cardinals: Cordy Glenn, OT, Georgia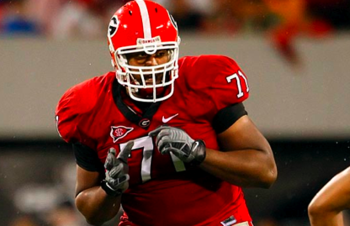 Projected Rating: 75
Cordy Glenn is usually projected as a right tackle or guard, but the Cardinals might play him on the left side. This perceived inability to handle speed will hurt Glenn's rating, though.
Glenn will get plenty of points for athleticism and strength, but his pass-blocking ability might be brutal. His potential will be high, though.
14. Dallas Cowboys: Mark Barron, S, Alabama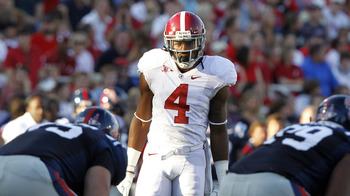 Butch Dill/Getty Images
Projected Rating: 76
Mark Barron is the draft's best safety, but it's hard to say just how early he will be drafted. It could be as high as No. 14 or as low as the second round.
If he goes at No. 14, though, 76 is a reasonable rating. Barron is a good run-defender with some coverage ability, so he won't have any glaring weaknesses.
15. Philadelphia Eagles: Fletcher Cox, DT, Mississippi State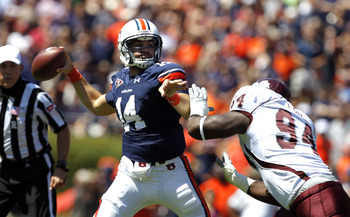 Butch Dill/Getty Images
Projected Rating: 76
In 2012's Madden, Nick Fairley was rated 77 after being drafted at No. 13. Fletcher Cox isn't as highly regarded as Fairley was, and he's going two picks later as a result.
Cox will get points for athleticism and pass-rushing ability, but his strength will be on the low side.
16. New York Jets: Michael Floyd, WR, Notre Dame
Al Messerschmidt/Getty Images
Projected Rating: 75
Michael Floyd is falling this far only because of injuries and off-the-field issues, and Madden will acknowledge that by giving him a good rating for the draft slot.
Floyd won't have great speed, but his catching and route-running abilities will be advanced for a rookie.
17. Cincinnati Bengals (from Oakland): David DeCastro, OG, Stanford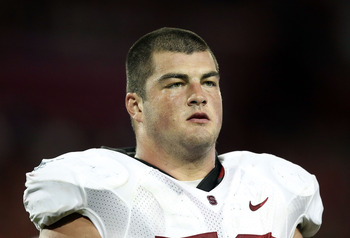 Christian Petersen/Getty Images
Projected Rating: 81
Last year, fellow interior lineman Maurkice Pouncey was rated 79 after going with the No. 15 pick. David DeCastro is a better prospect, and he plays a position easier to adapt to.
DeCastro will get solid marks in every category, but he will be held back in the typical rookie areas—awareness and technique.
18. San Diego Chargers: Michael Brockers, DE, LSU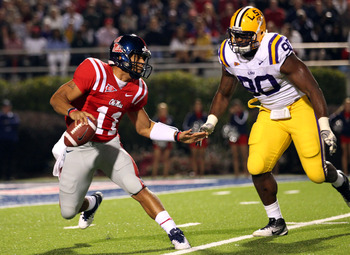 Joe Murphy/Getty Images
Projected Rating: 76
The Chargers coincidentally drafted another defensive end with the No. 18 pick last year in Corey Liuget. Liuget got a 75 rating, but Michael Brockers is a slightly better player.
Brockers will get good marks in strength and speed, with below-average ratings in awareness and acceleration. The LSU product will have tons of potential, though.
19. Chicago Bears: Coby Fleener, TE, Stanford
Ezra Shaw/Getty Images
Projected Rating: 74
Many analysts will see this as a reach, so Coby Fleener won't get too high of a rating. However, Fleener is a first-round talent with tons of receiving skill.
The Stanford tight end will receive solid ratings in speed, jumping ability and catching ability. His blocking ability, on the other hand, will be poor.
20. Tennessee Titans: Courtney Upshaw, DE, Alabama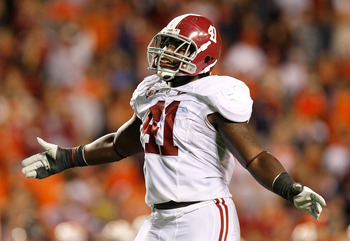 Kevin C. Cox/Getty Images
Projected Rating: 76
Courtney Upshaw could easily be gone by this point in the draft, so he'll get a pretty good rating. Defensive end isn't an easy position to transition to, however, so he loses some points there.
Upshaw is a big defensive end with plenty of run-stopping ability. His lack of speed and burst is what will really hurt his rating.
21. Cincinnati Bengals: Kendall Wright, WR, Baylor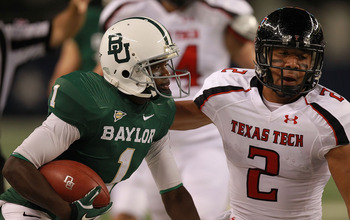 Ronald Martinez/Getty Images
Projected Rating: 74
Kendall Wright is a complete player, but he's still just a mid-first-round wide receiver, so he won't get much higher of a rating than this.
Wright's acceleration and speed should both be high, but his catching ability and awareness won't be great.
22. Cleveland Browns (from Atlanta): Stephen Hill, WR, Georgia Tech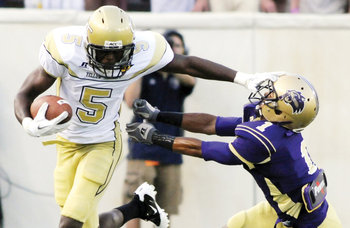 Projected Rating: 71
Last year, Jonathan Baldwin was rated 71, and he was a project similar to Stephen Hill. Hill is a freakish athlete with incredible size, speed and jumping ability.
However, Hill's route-running ability is unproven at best, and he's had issues with drops. Those will both seriously hinder his initial rating.
23. Detroit Lions: Dre Kirkpatrick, CB, Alabama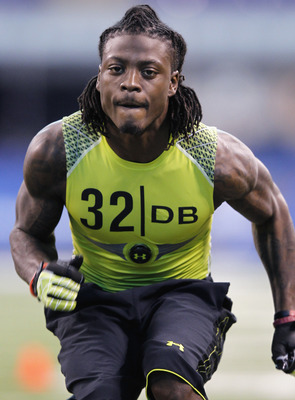 Joe Robbins/Getty Images
Projected Rating: 77
Dre Kirkpatrick isn't Morris Claiborne, but he is a legitimate cornerback prospect who should be gone by this stage. Kirkpatrick will get points for athleticism and press ability.
Kirkpatrick's awareness will be weak, though, and his actual man- and zone-coverage abilities will be a little rough.
24. Pittsburgh Steelers: Dont'a Hightower, LB, Alabama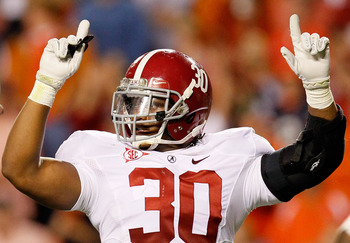 Kevin C. Cox/Getty Images
Projected Rating: 73
Dont'a Hightower's speed and coverage abilities will suffer, but his strength, pass-rushing ability and awareness will be solid.
Like many Steeler rookies, Hightower isn't a finished product, but he has potential. This will show in his Madden rating.
25. Denver Broncos: Devon Still, DT, Penn State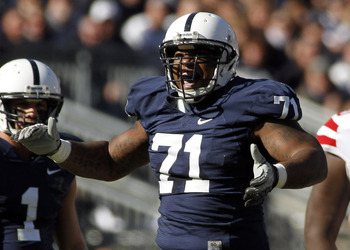 Justin K. Aller/Getty Images
Projected Rating: 73
A former prized recruit, Devon Still has plenty of upside, but he is incredibly inconsistent. Expect Still's athleticism and awareness ratings to reflect this.
Still will be given good strength and decent speed ratings, but they won't be anything insane. He isn't special enough to have a higher rating.
26. Houston Texans: Rueben Randle, WR, LSU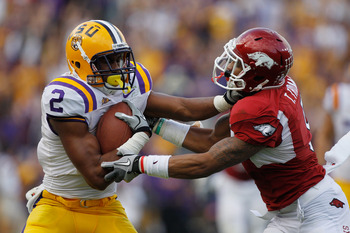 Chris Graythen/Getty Images
Projected Rating: 71
Like Stephen Hill, Rueben Randle is a bit of a project. However, Randle is more developed, but lacks the freakish ability of Hill.
The two cancel each other out, and Randle gets the same rating as Hill. Hill definitely has more potential in the game, though.
27. New England Patriots (from New Orleans): Peter Konz, C, Wisconsin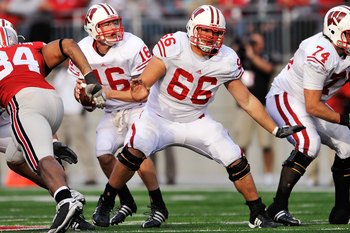 Jamie Sabau/Getty Images
Projected Rating: 77
Peter Konz isn't Mike Pouncey, as his draft selection indicates, but he is an immediate starter. Konz has good awareness and run-blocking ability.
The Wisconsin center won't get any extra points for athleticism or pass-blocking ability, though. His injury history could also hurt him.
28. Green Bay Packers: Shea McClellin, OLB, Boise State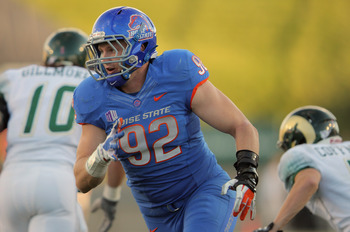 Doug Pensinger/Getty Images
Projected Rating: 72
Shea McClellin is just now starting to get hype as a first-round pick, but he's been in the discussion for a long time. The Boise State defensive end has experience at linebacker, and he's a complete player.
McClellin's physical tools won't be great, but his acceleration and coverage skills will be impressive for his position.
29. Baltimore Ravens: Mike Adams, OT, Ohio State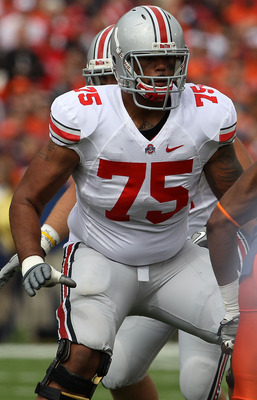 Jonathan Daniel/Getty Images
Projected Rating: 73
A terrific athlete with even better size, Mike Adams is a potential steal. His strength rating will be well below-average, but his pass-blocking rating will be good.
Adams's awareness will be low, suggesting his inconsistency. He will have great potential, though, and could end up being the second-best tackle in this draft class.
30. San Francisco 49ers: Kevin Zeitler, OG, Wisconsin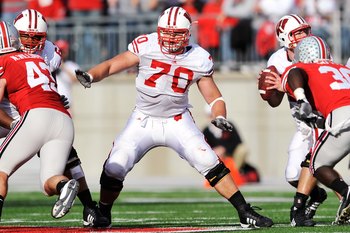 Jamie Sabau/Getty Images
Projected Rating: 75
Though he isn't David DeCastro, Kevin Zeitler is a solid guard prospect. The Wisconsin product can play immediately, and guard isn't too difficult of a position to transition to from the college game.
Zeitler will receive solid ratings across the board, but nothing will really stand out. That will hurt his potential as well.
31. New England Patriots: Stephon Gilmore, CB, South Carolina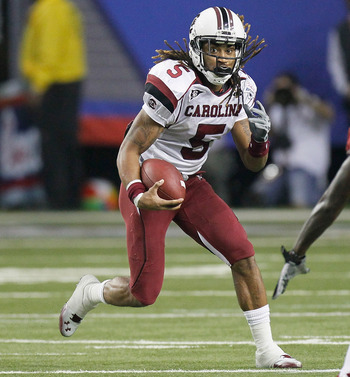 Kevin C. Cox/Getty Images
Projected Rating: 75
Rookie cornerbacks typically get high ratings on Madden, and Stephon Gilmore is highly regarded throughout the draft community.
The South Carolina product is a good athlete who plays physically. Gilmore can excel in any type of coverage, and he can make plays with the ball in his hands.
There's little not to like.
32. New York Giants: Jonathan Martin, OT, Stanford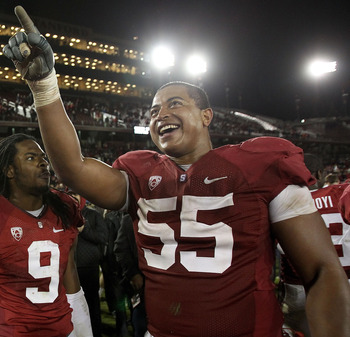 Ezra Shaw/Getty Images
Projected Rating: 73
Jonathan Martin is still considered a first-round pick, and he excels at just about everything. The problem is that he isn't elite at anything.
Martin's athleticism will get a respectable rating, and his strength won't be terrible. His technique will be decent as well, but his actual blocking abilities won't be too impressive.
Keep Reading