2012 NFL Draft: Cleveland Browns Dreamer's Mock Draft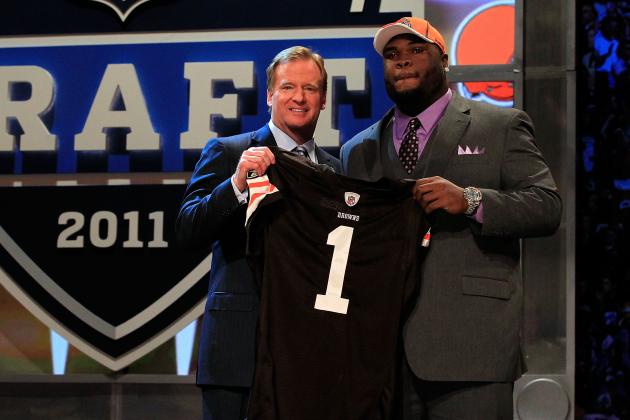 Chris Trotman/Getty Images
Browns fans are palpably excited to see Tom Heckert's next pick.
Well, Browns backers, it's here. My "How I weawwy, weawwy hope it goes" mock draft. I think there could be as many as six plug-and-play starters in this Cleveland Browns mock. See if you can guess who they are.

Considering the Browns' win-loss total in 2011 and comparing it with the two previous seasons would lead the uninitiated to believe nothing new is transpiring in Berea.

A franchise consistently losing over 10 games every season really fails to merit a closer examination. It is losing; it has been and it will be. What's to study?

In 2010, at a team average of almost 27 years old, the Browns fielded the NFL's third-oldest team to the tune of five wins.

The 2012 Browns could feature starters from the 2009-2012 draft classes at both guards, center, right tackle, both receivers, quarterback, running back, tight end, outside linebacker, both safeties, one DE and one DT.

That kind of youth augurs well for a building franchise that has made a point to save its ducats during free agency and build through the draft.

We can expect the Browns to fill their roster spots, but Tom Heckert invariably surprises even the most seasoned armchair GMs with various trade-downs and under-the-radar pickups.

While this mock won't prove to be an exact replica of the Browns' draft, as it fails to outline trade-down scenarios (we played that one to death—before it was all over the NFL Network), it will consider players in accordance to the availability of "quality," at that position and in relation to the Browns' specific need at the position—pretty straightforward.

Notes: some of these players may not fall that far...I know.

Also, as you all will undoubtedly post your own mocks—which I encourage—I only ask that you consider the prioritization of special teams after the fourth round...just a thought. Switching from the 3-4 to the 4-3 defense can take a toll on special teams, as the number of competent open-field tacklers often dwindles. So with that in mind...

You can follow me on Twitter: @StepanekButton
Begin Slideshow

»
No individual in college football during the 2011-12 season surpassed Trent Richardson's ability to dominate top-tier opponents.

Whether against an unranked but hungry Arkansas squad or top-rated LSU, Richardson's athleticism carried his team whenever it asked it of him.

In the conference featuring the level of speed closest to the NFL, Richardson ran the fastest. Against competition that could close more swiftly than any other amateur football defenders in the country, Richardson ruthlessly finished carries across the length and breadth of the gridiron.

While pundits and fans debate the merits of Ryan Tannehill or Justin Blackmon, Richardson consistently ranks as the best at his position, not only in this draft class but since Adrian Peterson.

In a division unwinnable without a dominant rushing game and stifling run defense, drafting a quarterback or wide receiver in the top 10 abjectly fails to build a competitive team, no matter how talented the recruit.

Quarterback Tannehill, WR Blackmon and OTs Matt Kalil and Riley Reiff constitute the Browns' other options at fourth overall.

While various talking heads have fallen in love with Tannehill in recent weeks, the reality remains that Tannehill failed more than once to win the Texas A&M quarterback job and has only a season and a half of starting in the Big 12 under his belt. That's the same Big 12 that the Browns' Colt McCoy set the all-time NCAA record for victories by a QB and won conference offensive player of the year honors while finishing second in Heisman voting.

Depending on the draft class, Tannehill would be a fourth-rounder. While he certainly has the tools to be a great NFL player, a project quarterback would be sent to the slaughter behind the Browns' rebuilding offensive line: McCoy was a far superior college quarterback, despite Tannehill's uncanny ability to impress NFL Network pundits while throwing against no one, and he convincingly demonstrated this past season that he has the toughness to stand behind a work-in-progress offensive line and take the hit.

With respect to Blackmon, the Oklahoma State product compiled a resume as impressive as they come: two-time consensus all-American, two-time Biletnikoff Award winner—a receiver simply could not look this good coming out of college. Which concerns me. A.J. Green and Julio Jones both measure two-to-three inches taller than Blackmon, and Jones demonstrated considerably more athleticism than the more decorated Blackmon. Green stands a full three inches taller and runs a near-identical 40-yard dash to Blackmon.

At 6'1", Blackmon's frame compares more favorably to Torrey Smith, the 2011 Baltimore Ravens second-rounder. Smith enjoyed modest success in his rookie season but ran faster and jumped higher than the astronomically more highly touted Blackmon.

Blackmon could still emerge to develop into a play-making wide receiver in the NFL, but I'll take my chances with Richardson.


Stephen Hill's size and speed (6'4", 4.30 40-yard dash) combine to make him the most desirable receiver prospect in the draft.

While Hill's career totals (49 catches) reflect the run-first nature of Georgia Tech's offense, he averaged a gaudy 29 yards a catch last season.

The Browns must emulate the run-first approaches that met with consistent success in Pittsburgh and Baltimore. Hill would provide Colt McCoy with an ideal deep threat off play-action.

Since 2009, teams have regularly stacked eight, nine or 10 defenders in the box against the Browns' nonthreatening pass attack. Imagine a Browns offense in which Hill or Greg Little could threaten for a 40-yard bomb on every play, or Trent Richardson could slip underneath for a quick screen pass.

Richardson and Hill would both stretch defenses and force commitments, which would create an unfamiliar cornucopia of offensive opportunity for the Browns.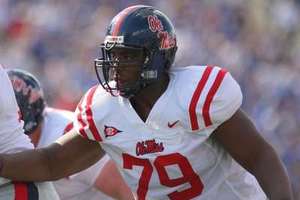 Demonstrating athleticism rare of a man of his stature (6'6", 315 pounds) Bobby Massie could be a plug-and-play right tackle, just the medicine the Browns offense needs.

This offseason, former Houston Texan Eric Winston commanded one of the highest prices in free agency, despite never reaching a Pro Bowl. That's because as a right tackle, Winston lead the way for All-Pro running back Arian Foster, and when Foster missed games due to injury, his backup, Ben Tate, averaged over five yards a carry.

Right tackle is the new left tackle in the NFL, as the Patriots, Bears, Cowboys and Packers all featured right tackles drafted in the first round last season. Even Michael Oher, the subject of Michael Lewis' "The Blind Side," switched to right tackle once drafted in the first round by the Baltimore Ravens.

Massie excels in run-blocking, and who better than all-world left tackle Joe Thomas to show Massie the ropes with respect to his lateral kick step.

The only question-marks around Massie relate to his pass-blocking ability, a much more easily coached skill than the athleticism and nastiness required on run-blocking plays.

Adding Massie to the mix would improve the Browns' offensive line, and by extension their running game, exponentially.
Whether or not the NFL enacts punitive measures on Browns OLB Scott Fujita for his participation in the Saints' bounty program, the reality is that although affable and talented, Fujita's last full season was 2006.

The 33-year-old linebacker needs a protege, if not a replacement, and Lavonte David could provide the Browns' weak side with just the athleticism it needs.

Chris Gocong excelled at the SAM position in 2011 and should remain as the Browns' run-stopping linebacker.

David displayed tremendous run-stopping instincts in college, a valuable attribute for any member of the Browns defense, whether a cornerback or lineman, but his size (233 pounds soaking wet with quarters in his pockets) may turn teams off in the early rounds.

Gocong stacked behind Frostee Rucker and David stacked behind Jabaal Sheard would constitute a terrifying combination of speed and power for opposing offensive lines.

If David falls to the third round as a result of his stature, the Browns must snatch the Cornhusker with their 67th overall selection.
Jamie Sabau/Getty Images

If you're looking for an offensive line prospect in the NFL draft and you're not sure, just take whoever Wisconsin has left.

I'm serious. Bill Nagy, a fantastic example, was a year ahead of me in my hometown of Hudson, Ohio. The Dallas Cowboys drafted Nagy at 252nd overall, and by the end of training camp he had replaced injured five-time Pro Bowler Andre Gurode.

Browns fans understand what it means to be a Badgers offensive lineman: Wisconsin offensive lineman Joe Thomas has proven the best draft pick and player of their modern-era team.

As a seventh-grader, I distinctly recall awaiting the end of our eighth-grade schoolmates' games so we could play our contest—once the pretty girls had filtered out with the taller, more-likely-to-wear-collared-shirts eighth-graders, of course.

Nagy played fullback and center, his name recognizable as the nephew of Charles Nagy of Cleveland Indians fame. At first glance, Nagy's sheer size quickly inspired "man among boys" comparisons. But his athleticism truly separated young Nagy from his peers—though the largest boy in every game, Nagy's feet invariably moved more precisely than the shiftiest cornerback or most threatening point guard.

For that reason, when Nagy switched to offensive line and his peers grew to his size, the young man continued to dominate with his strength and athleticism. While Ohio State looked elsewhere, Wisconsin recognized quality when it saw it.

Nagy started at various positions on the offensive line for the Badgers, even tight end. Despite a motorcycle accident suffered mid-career, Nagy recovered and earned a long-term contract almost immediately upon making an impression upon the Cowboys' staff. Before breaking his ankle last fall, Nagy started his first four games as a Cowboy.

Thomas similarly displayed his athleticism with the shot-put for the Badgers.

Bottom line: Injuries and concerns about quality aside, Wisconsin recruits great linemen and prepares them for the NFL better than any other program.

The Browns need a right guard, and Kevin Zeitler will undoubtedly be able to handle the job.
I present to you the Browns' next slot receiver, Florida International's T.Y. Hilton.

In the Golden Panthers' Week 2 upset of Louisville, Hilton torched the Cardinals for 74- and 83-yard TDs. Whether in the return game, downfield or from the slot, Hilton garnered nothing but the highest praise.

Alabama's Nick Saban couldn't help but take notice, even early in Hilton's career.

Hilton's blazing 4.34 speed and play-making ability make him the steal of the fourth round and a great potential Brown.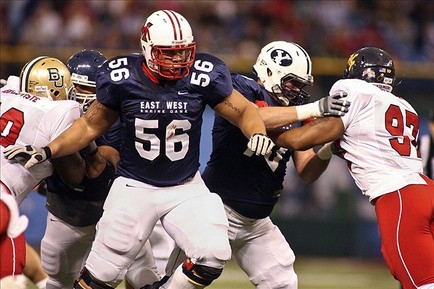 The massive (6'5", 345 pounds) in-state product has the strength (36 225-pound bench-press repetitions) and athleticism (4.98 40) to play right tackle or guard in the NFL.

As a fifth-round pick, Brooks projects to be a versatile, quality selection. Since his lights-out performance during the East-West Shrine Game week, the combine-snubbed Brooks has shot up draft boards and may not even fall this far.

Should Brooks remain available in the fifth round, the Browns could establish a very solid offensive line corps by taking the Miami (Ohio) RedHawks product with the 139th overall selection.
The Browns' divisional rivals feature suspected-murderer-turned-father-figure Ray Lewis, pose-with-guns-to-protest-my-fines James Harrison and pimpin'-ain't-easy-on-Erin-Andrews Rey Maualuga.

The very sanity of the Browns' linebacking corps in recent years has had detrimental effects on the group and Vontaze Burfict stands an ideal remedy to that issue.

Perhaps no player has generated the degree of negative attention of Burfict, who's stock has plummeted from potential first-rounder to potential un-drafted free agent.

Burfict's lethargic 4.9 40-time could bump him to the fifth round easily, where the Browns will await the pugnacious linebacker.

Even as a reserve player, Burfict figures to compete on a special teams unit which has suffered a drop in coverage quality as the defense morphed from a 3-4 to a 4-3 and shed linebackers from the roster.

It's about time the Browns featured some linebackers I'd want to have with me in a dark alley. I would walk anywhere with Vontaze Burfict behind me.
Rainey's versatility and play-making ability combine to make him a formidable candidate to make the Browns' roster in 2012.

With the potential to contribute in the rushing, passing and special teams phases, Rainey could be an ideal late-round steal for the Browns.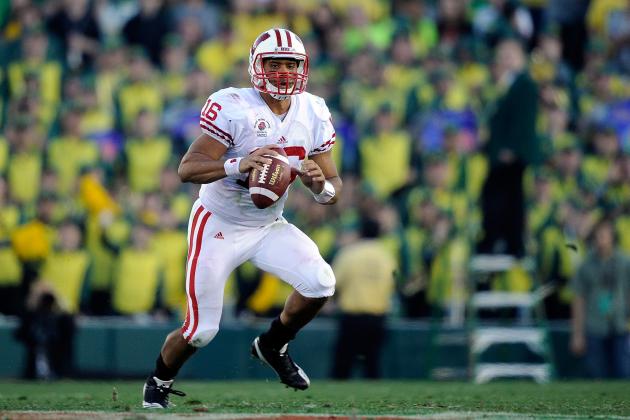 Kevork Djansezian/Getty Images

Wilson captured Browns backers' collective imagination as he lead the Wisconsin Badgers to victory in the inaugural Big Ten Championship Game in 2011, but the NC State-transfer excelled in every season before his campaign with Wisconsin.

At NC State, Wilson garnered first-team all-ACC and rookie-of-the-year honors in 2008, throwing for nearly 2,000 yards with just one interception.

Demonstrating his tremendous athleticism, Wilson played some baseball within the Colorado Rockies organization last summer.

Wilson would provide very stiff competition to Seneca Wallace in training camp, for a fraction of the price and sound-bites of the veteran back-up.

Wilson's size (5'11") could drop him to the sixth round, where the Browns can steal him up with a compensatory pick.
McCoy's 4.4 speed and returning ability make him a steal in the seventh round.

The TCU cornerback could potentially compete with Dimitri Patterson for the nickel-back spot and also could contribute to the roster on various special teams in addition to his return skills.

The Browns' pass defense may be the one established feature of the roster. McCoy's special teams potential makes him an ideal addition to an already strong unit.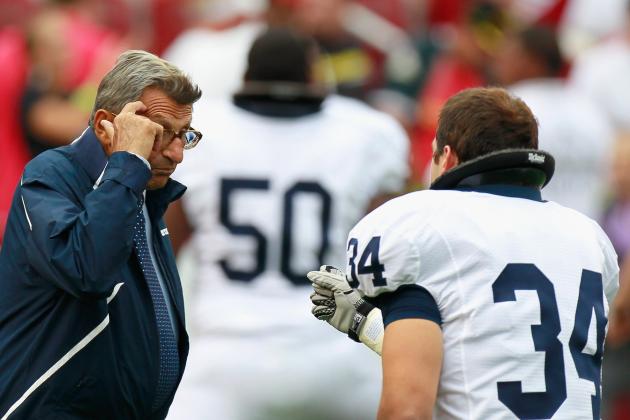 Kevin C. Cox/Getty Images

The Browns won't be able to count on Josh Cribbs to make every tackle on special teams indefinitely, and loading up on quality linebackers will help with the rush defense as well as lock down special teams coverage.

A well-coached outside linebacker with 4.7 speed, NFL-sized linemen won't scare Stupar after competing against the linemen of the Big Ten.

Additionally, Stupar's academic performance while at Penn State demonstrates a character quality that hints the linebacker possesses intelligence and work-ethic and may have yet to peak.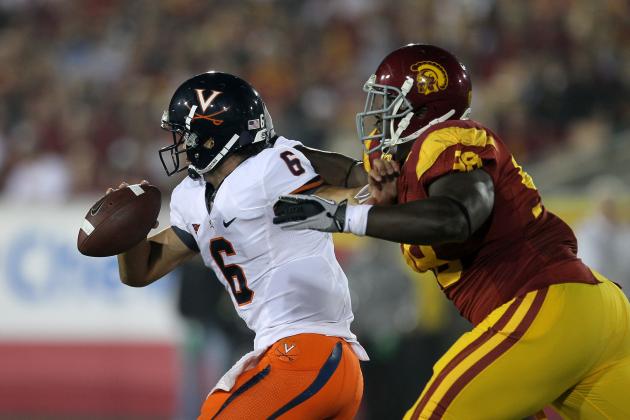 Stephen Dunn/Getty Images

A heart condition raised eyebrows at Harris' recent physical, and NFL teams may hesitate to take a risk on the USC product.

Harris' speed (4.96 40-yard dash) and the Browns' strength at defensive tackle make the Trojan a solid potential "project" pick. Harris demonstrated substantial athletic ability during his time at Southern Cal and at his pro day for a man of 305 pounds.