New York Mets 2012: R.A. Dickey Gives New York Reason to Be Excited for Baseball
March 29, 2012

Marc Serota/Getty Images
It's springtime, and New York Mets pitcher R.A. Dickey has given the New York Mets a rejuvenated sense of hope and optimism coming into the 2012 season.
Baseball season is now around the corner, and after a rainy winter, the rebirth of spring is upon us. There's a constant sense of hope that is attached to spring. Perhaps the weather will clear up. Perhaps the adventures of summer will sneak in early this year. Perhaps my baseball club will rise past its potential this season.
For the New York Mets, however, there lies negativity to a fanbase whose owner is recovering from a scandal that began with Bernie Madoff and ended with the team being too short on cash to pay its star player, Jose Reyes, only to lose him to a divisional rival. H owever, as history reminds us, the start of the season leaves every club with an undefeated record. Every player has yet to determine how his season will be remembered, and each club still has a chance to compete.
The scent of freshly cut grass on the diamond is now commonplace once more this spring, and starting rotations are being locked into solidity. In the New York Mets staff, a certain R.A. Dickey is one of those players toying with the fate of trying to be remembered. He comes off a season in which his 3.28 ERA was the 13th best in the National League, and he tastes the fruits of professional success. Last season, Dickey offered his career bests in strikeouts (134), innings pitched (208.2) and starts (32). At the age of 37, Dickey has just now grown into the role of the major league pitcher that he had always dreamed he would become.
Dickey's old age is unusual for a baseball player to begin his ascension into mainstream popularity in major league baseball, but a typical career path implies Dickey is your every day pitcher. Those fooled by the uniformity of such an assumption have become sourly mistaken as the story of R.A. Dickey has begun to unfold in front of all of our eyes.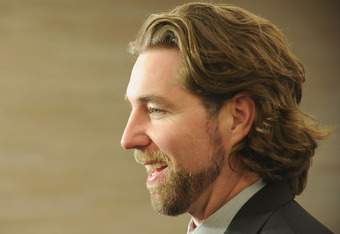 Dimitrios Kambouris/Getty Images
On the surface, Dickey is a bearded and scrappy pitcher with long, wild hair and a certain look that makes him resemble someone who could play an alternative instrument for Bon Iver about as well as he could play for the New York Mets.
The right-hander, however, stands at 6'2" and sports an athletic build of 215 pounds.
Yet behind Dickey's worn eyes include a million stories and a childhood in a southern town in Tennessee "fit for a country music song," plagued by parental divorce, poverty and unimaginable personal struggles.
All too often we forget, but Dickey is a human being with a story to tell. As a sportswriter, this is where my interest in R.A. Dickey began. As a New York Mets fan, my interest in Dickey has only skyrocketed. In recent months, Dickey has drawn a lot of attention in the media to himself. The excitement has not been entirely positive, but from a holistic perspective, there's nothing but a positive spin to put on the recent exposure to Dickey.
Let's call the story of R.A. Dickey one that is ruggedly American.
Artistically, there's a lot to muse on when it comes to the pitcher now shining in the Big Apple. Dickey studied English Literature in college at the University of Tennessee and was an Academic All-SEC and Academic All-American.
For those who share his passion of literature, it may be of note to learn he keeps Life of Pi and a collection of works by C.S. Lewis in his locker at all times, and F. Scott Fitzgerald's The Beautiful and Damned was found with his bags as recently as last week. A true literature geek, he has named his bats "Orcrist the Goblin Cleaver" (reference to The Hobbit) and "Hrunting" (reference to Beowulf) and has made dorky book nerds across the world grin ear to ear. Yet despite the perpetual divide of jocks and of nerds, that's totally okay.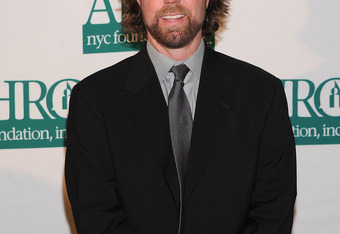 Dimitrios Kambouris/Getty Images
"As I grew older, my appreciation for literature only increased. I loved being able to unpack a metaphor and began to savor prose and the richness of language," Dickey wrote. "Consequently, I began to see literature as a true art form, and I wanted to be an artist."
Dickey has said he writes with hopes to have a voice and make an impact beyond his own life. Dickey may have become a baseball player, but that doesn't stop him from looking at life with an artistic eye.
Slowly, Dickey decided that his own story needed to be told while he still had the emotional vocabulary to put it to words. Dickey holds a deep passion for narrative and felt that he "had to write was true." At times, this was an incredibly weighty task to ask.
His process began while he was playing minor league ball in Tacoma. He was living on an air mattress and started to transform his daily journaling habit into a more narrative-driven story. Overlooking the Puget Sound and all of the romanticism of the great body of water, his hands began to pen down his unusual stories. However, for a long time this was too difficult.
Dickey, as we've recently learned, had faced trials and tribulations greater than his fans had ever realized. In his new book, Dickey writes not only of how his mother fell short to alcoholism but also of how he was a childhood victim of sexual abuse.
"I just keep my terrible secret, keep it all inside, the details of what went on, and the hurt of a little boy who is scared and ashamed and believes he has done something terribly wrong, but doesn't know what that is," Dickey said.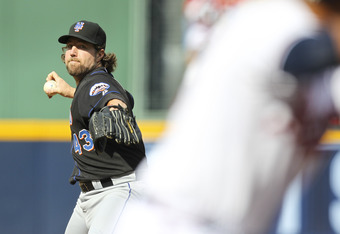 Daniel Shirey/Getty Images
The process of writing turned into a pseudo-therapeutic experience for the then struggling pitcher, whose honesty shined through throughout the prose. He's not afraid to share the truth, even if that truth is as haunting as the fate of stumbling upon a potential aid to a juicer in a baseball locker room. 
"I try hard to think the best, but whatever chemical residue is in that particular syringe, there's no denying the scope of the wreckage caused by needles around baseball, and by all the artificially fueled feats that came with them. I know two things about performance-enhancing drugs: they are pervasive, and I hate them, because they have hurt the game, and hurt me too," he wrote of a found syringe in the Rangers locker room. 
His honesty also covers how dangerously "un-family-friendly" life is for the contemporary athlete traveling on the road and how difficult it was for him to reach the level that he is at today.
Dickey was a first-round pick out of college and has a bronze medal to show for the victories that he earned after each of his two appearances in the 1996 Olympic Games.
After noticing a weird bend in his elbow when he was on the cover of Baseball America, "Doctors look at me and say I shouldn't be able to turn a doorknob without feeling pain," Dickey said. Immediately, the Texas Rangers analysis lowered his signing day bonus from $810K to $75K after discovering he did not have an ulnar collateral ligament in his right elbow.
Five years ago, Dickey gave up five home runs in three innings (a new record in baseball) and was immediately sent down to the minors, where he ultimately was forced by his manager to become a professional knuckleball pitcher.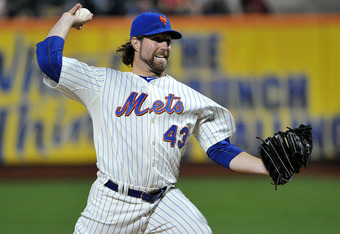 Christopher Pasatieri/Getty Images
His resilience has allowed to him to become the only active knuckleball pitcher remaining in the MLB.
You can knock R.A. Dickey down, but you can't keep him pinned. And maybe that's the kind of spark that the New York Mets need this year.
Dickey's known to be drawn to metaphors, and maybe his own story can be used as comparison for the rest of his team. The New York Mets come into this season as heavy underdogs and have little going for them. David Wright might be on the way out, and there is little stability for a club in flux. Still, there's something about them that feels like they're not quite dead yet.
If the Mets follow the leadership and example of Dickey, they can do the improbable.
Just this offseason, Dickey did exactly that. In an effort to raise awareness for sex trafficking in India, Dickey climbed Mount Kilimanjaro for the Bombay Teen Challenge. By doing so, he and his crew raised more than $100,000 despite the fact that Dickey risked voiding his $4.25 million salary (equal to his entire baseball earnings to date) if anything went wrong. With very little surprise, Dickey cites the adventurist desire to climb this mountain stemming from an Ernest Hemingway novel, The Snows of Kilimanjaro. His selflessness and physical abilities shined through, and his passion for doing the right thing emanates once more.
"It tacks in inexplicable and unpredictable ways. It sometimes resists the desired path, no matter how much control you try to exert. When you think you've solved the mystery and discerned the secrets, it confounds you anew. When hope diminishes, it has a way of cooperating and breaking right," L. Jon Wertheim wrote on how the knuckleball resembles R.A. Dickey and all of our own lives.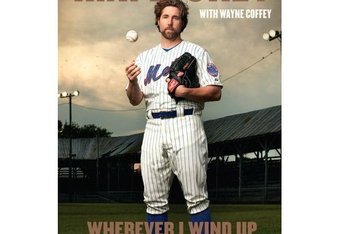 If nothing else, R.A. Dickey's story gives the New York Mets something to believe in. There is always hope in sports, and that's why Mets fans will tune in this season anyway.
"Not much in this world has more endurance than a well-told story," Dickey wrote. "Ultimately, I believe the most fantastic aspect of writing is the realization that we are creating our own stories daily." Dickey writes and reminds us that the whole human world, even baseball, is one long story. That, in my most honest opinion, might be the most overlooked thing in contemporary society.
Baseball is about more than wins and losses and is about more than meaningless statistics floating around on the Internet. There are stories behind everyone, and Dickey gives the Mets something to rally behind at a time that we could use something something stable and inspirational. As a clubhouse leader, his well-liked nature can carry over to a more successful season in 2012.
For those interested in staying up-to-date with all of Dickey's adventures, he has an incredible Twitter account (found here) that delivers a heap of wonderful tweets. His Twitter bio calls him a "Father, Husband, Christian, Pitcher, Author, Adventurer, Star Wars Nerd, Reader, Ninja in Training and Cyclist."
His memoir, Whenever I Wind Up: My Quest for Truth, Authenticity and the Perfect Knuckleball, is out today, March 29, and offers a genuine redemption story, as uniquely American as baseball itself. 
Click here to Follow @BryanKalbrosky