NFL Free Agency: Should the Chicago Bears Have Interest in Marcus McNeill?
April 3, 2012
Stephen Dunn/Getty Images
If I told you there was a 28-year-old, two-time Pro Bowl left tackle still on the free-agent market, is that something you'd be interested in?
Marcus McNeill was released by the San Diego Chargers after the start of free agency and was not immediately picked up by any team.
It was a surprise move for the Chargers, who already lost Vincent Jackson in free agency and guard Chris Dielman to retirement.
This comes after McNeill just finished the first year of his five-year contract extension that he signed in September of 2010.
McNeill ended the season on IR after suffering a neck injury against the Raiders in early November. 
During his first four seasons in the league, he was a model of health, missing only two games. His injury last season cost him seven games.
At just 28 years of age, it would seem that McNeill still has the best years of his career ahead of him and as a two-time Pro Bowler, would be a perfect fit to protect the blind side of Chicago Bears QB Jay Cutler.
That is, if he is truly healthy.
McNeill has spinal stenosis, which is a narrowing of the spine. He also had a surgery on his neck in 2009, so his neck is very much a red flag.
You have to wonder if this is just like the Peyton Manning situation with the Colts.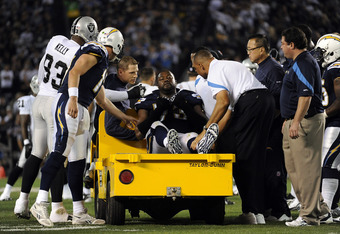 Harry How/Getty Images
I, personally, am not happy with the Chicago Bears offensive line. I think there is some talent there, but the Bears don't have a lot of depth when it comes to the tackles.
J'Marcus Webb struggled in his first season at left tackle, and Gabe Carimi has his own injury concerns on the right side. The only other tackle on the team is Levi Horn, and I'm not sure if drafting another tackle is the answer.
Picking up McNeill helps strengthen the position.
If he is healthy, then the Bears have a Pro Bowl left tackle. If he isn't back to 100 percent, they still have someone with starting experience that they can feel comfortable inserting in the lineup.
That is, if he doesn't beat out Webb for the left tackle spot.
While McNeill was actually born in Chicago, he grew up in Georgia, but I bet he still remembers those early days when Mike Ditka was coaching the Bears to the Super Bowl.
At this point in free agency, he might be willing to accept an incentive-laden deal, which wouldn't hurt the Bears salary cap too badly.
General manager Phil Emery has done a good job shoring up the wide receiver, running back and quarterback positions this offseason. Now, it's time to help shore up the offensive line, and McNeill might be just the guy to do it.
Make sure to follow me on Twitter @dachicagofan, and check out my weekly Bears podcast every Monday on my site The MG Experience.