Fabrice Muamba: Liam Stacey Jailed for Abusive Twitter Comments
March 27, 2012

Friends don't let friends Tweet drunk.
Remember, kiddies, if you get yourself faded—even if it's on St. Patrick's Day—and then Tweet nasty, ugly things about a footballer who is fighting for his life, you will go to jail.
And, if we're all being honest with ourselves, you would deserve it.
From ESPN Soccernet:
A student who mocked Bolton midfielder Fabrice Muamba on Twitter after he collapsed at White Hart Lane was jailed on Tuesday for inciting racial hatred.

Liam Stacey, 21, provoked revulsion with comments made while Muamba still lay on the pitch after suffering a cardiac arrest during Bolton's FA Cup quarter-final with Tottenham on March 17.

Police were inundated with complaints as members of the public reported the student's comments. Stacey, a Swansea University biology undergraduate, was quickly tracked down and arrested.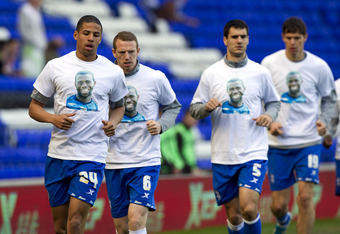 Ben Hoskins/Getty Images
Oh my. What an idiot. Now Liam Stacey is going to jail for 56 days.
So what did he say? If you really, really want to know, click here. If not, well, you aren't missing anything.
Now that the shock has passed, it may be time to start asking some tough questions. As the fellas over at Who Ate All the Pies suggest, there could be some sticky freedom-of-speech issues lurking here.
That's not to say that racially abusive speech is protected (is it in England? I'm not sure about America). It's only to say that society hasn't quite worked out all the moral, ethical and legal issues of social media yet.
Could Twitter trials become the last frontier of jurisprudence?