2012 NFL Draft: Why Matt Kalil Is Minnesota Vikings' Only Option
March 26, 2012

Joe Robbins/Getty Images
The only player the Minnesota Vikings should draft with their third pick in the 2012 NFL Draft is Matt Kalil. 
With the first and second pick in the 2012 draft already determined, the Vikings have their choice between three great talents who would fill their three desperate needs. Minnesota is in need of a left tackle to replace Charlie Johnson, who played like an invisible wall for 16 games, a  lock down cornerback to help improve their 26th-ranked pass defense and a No. 1 option at wide receiver. 
Although all three of these needs carry the same weight, a left tackle means more than anything to a rebuilding team, especially when a team has a second-year quarterback looking to find his groove. 
Successful franchises know this, so there should be no reason why people should believe what GM Rick Spielman has signaled about drafting Morris Claiborne. Bob Sansevere of the Pioneer Press reflected on what the Spielman suggested to him about elite left tackles in a recent report. 
Last time I ran into Vikings general manager Rick Spielman, he quizzed me. He asked if I knew the starting left tackles for the Green Bay Packers and New York Giants. I shrugged. He wanted to make the point that a left tackle doesn't have to be an All-Pro or even well-known for a team to be successful.
Spielman may have a point here because like Aaron Rodgers and Eli Manning, Christian Ponder is an elusive quarterback who might not need as much protection as a normal pocket passer would need. The problem is the Vikings do not have time to bring in a tackle who they need to groom for a couple years because Ponder is still in the early stages of his development process. 
On the other hand, Kalil is ready to play and will not need much time to develop.At USC, he did a superb job in protecting future first round pick Matt Barkley—Kalil  knows how to protect a quarterback. In fact, Kalil did not allow one sack his entire junior year. 
This is ideal for the Vikings because they need to ensure that Ponder progresses this year. The fans in Minnesota will become weary with the team and their starting quarterback if he does not grow, especially with the crop of quarterbacks coming out in the 2013 draft. 
If the Vikings decide to go with Claiborne or Blackmon, they will be making a huge mistake. This year's draft is very deep in both the receiver and cornerback department.
The Vikings could select a talented pass catcher or defender in the second round who is not as far away from Claiborne and Blackmon as another left tackle would be from Kalil. 
Even though it is necessary that the team shores up its secondary, Minnesota should not do so in the first round. All the Vikings need to do is find some players who could fit their Cover-2 scheme, and the middle rounds are full of that talent.
The team will also bring back their budding star Chris Cook now that his legal troubles are solved. Also, with the reports of the Vikings signing former Chicago Bear Zack Bowman, the team has found another player to fit their Cover-2 scheme. The Bears and Vikings have a similar scheme so there won't be much of a learning curve for Bowman who may easily transition into a starter. It would not make much sense to bring in Claiborne at this point because the team can just plug in free agents who know the scheme like Bowman, or bring in mid level talent from the draft and hope they can develop into great system players.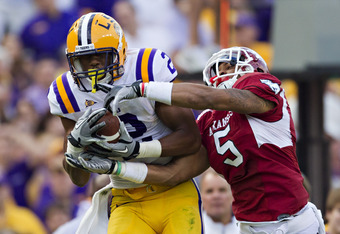 Wesley Hitt/Getty Images
The problems in the secondary will not be completely solved, but there is no reason to believe everything will be fixed in one year for a rebuilding team.
The Vikings also need a No. 1 option at wide receiver to give CP7 another option and to help move Percy Harvin to the slot position, but they do not need it to be Blackmon.
The team will find similar talent in the second round, especially if either Rueben Randle or Alshon Jeffery falls in its lap. These two are not so far off from Blackmon, and they could be that big target that Ponder desperately needs. 
If the Vikings do not select Kalil, they will forever remember how big of a mistake they made. A young, elite left tackle is exactly what a team needs when trying to rebuild the offense and the whole team. Kalil will take that honor in gusto and protect young quarterback Ponder on his journey to bring a Super Bowl to Minnesota. 
Follow me on Twitter for everything NFL/NBA/WWE @ThaFreakness_BR.