San Francisco 49ers Draft: Coby Fleener or Stephen Hill?
March 23, 2012

Alex Smith has re-signed with the San Francisco 49ers, and now San Francisco is continuing to build around him. The defense is set and could be even better in 2012. The offensive line position needs to be addressed, particularly at right guard. But what the 49ers really need is weapons.
Mario Manningham signed only a two-year deal, and Randy Moss only a one-year deal. While they may be good in the short term, they might not be around for long, especially Moss. In the upcoming NFL draft, two dynamic players projected to the first round could be available for the 49ers at No. 30: Stanford's Coby Fleener and Georgia Tech's Stephen Hill.
Both of these players have been linked to the 49ers in articles, mock drafts and other media outlets like Twitter trends. Each has quite a fan base already that would like to see one or the other in red and gold next year and beyond. But who do the fans really want, and who do the 49ers really need if both are available to San Francisco in the first round?
Coby Fleener
Fleener is a 6'6" beast with 4.4 speed—a rare combination when you've got the bulldozing size to go back it up. Most critics will say, "Well, Fleener is just a tight end." No he's not. Just like Dwight Clark wasn't just a tight end. This guy is as versatile as they come, and those are the kinds of guys the 49ers love.
Fleener has experience lining up wide, as he did so on more than a few occasions at Stanford. Fleener could be an impact guy right away with guys like Randy Moss, Mario Manningham, Michael Crabtree and Vernon Davis taking pressure off him. He's also familiar with the 49ers system.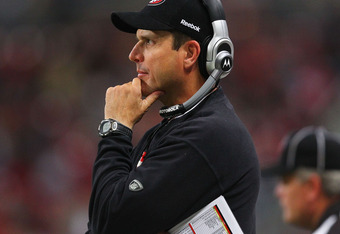 Dilip Vishwanat/Getty Images
With the red zone and third-down woes the 49ers faced in 2011, adding Fleener would alleviate most of those issues, perhaps instantly.
Stephen Hill
The Georgia Tech receiver doesn't have the season stats to encourage a first-round projection, but he's got the size, speed and physical stature. He's got potential to be the next great receiver in this league, and the 49ers would look like geniuses if they capitalized on that. Georgia Tech has recently produced two very capable receivers in Calvin Johnson and Demaryius Thomas.
Hill also displayed a certain "wow" factor with some spectacular catches at Georgia Tech. It's clear he knows how to use his 6'5" frame and leaping ability to always have a chance of coming down with the ball. San Francisco could really use a guy like that—not to mention he's a speed demon.
At the NFL Combine, Hill ran the fastest 40-yard dash time among the 2012 receiving group. Learning the game behind Randy Moss for a year could yield astronomical results going forward. They play the game the same, since they have similar frames and style. 
At this point, it's unclear who the 49ers would choose if both were available at the end of the first round. But one thing is certain, San Francisco could not go wrong by choosing either one of these players. They are offensive difference-makers as pass catchers, and that's what the Niners need.
Follow me on Twitter: @DeSimone80