NFL Free Agency: Chicago Bears Sign Michael Bush to 4-Year Deal
March 22, 2012

Ezra Shaw/Getty Images
According to several sources, the Chicago Bears have found a new backup to Matt Forte. Or could he be an eventual replacement?
#Bears have agreed to terms with RB Michael Bush on a 4-year contract. Total value $14 million. Deal includes $7 million guaranteed.

— Brad Biggs (@BradBiggs) March 22, 2012
Michael Bush is the third different running back in as many years the Bears have brought in to back up Forte.
The first was Chester Taylor, who failed to live up to expectations and only lasted one season. It looks like the same is about to happen to Marion Barber III who, with the signing off Bush, looks like he is also on his way out.
While Barber wasn't a complete disappointment, like Taylor, his inability to be anything more than a back who runs between the tackles hurts him. Remember that offside penalty against Kansas City?
For the Bears, this is a great signing. Bush was thought to be the top running back on the free-agent market and they signed him to a pretty good deal.
Bush has been a very good backup in Oakland, and did a very good job filling in for Darren McFadden when he was out of the lineup. For his career, he has carried the ball 632 times for 2,642 yards with 21 touchdowns.
At 6'1" and 245 lbs, he is built to run between the tackles, but is also versatile enough to catch the ball out of the backfield. He has 91 catches for 879 yards for his career with 9.7 yards per catch average.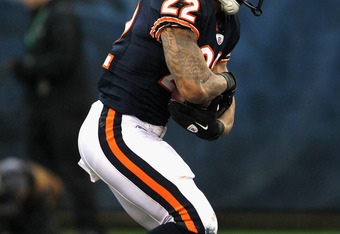 Jonathan Daniel/Getty Images
So does this signing mean the end of the Forte era?
No. Forte will be in a Bears' uniform next season regardless. The team used the franchise tag on him, and the NFL doesn't allow sign and trade deals like the NBA. What that means is the Bears can't sign him to a deal and trade him immediately.
Does it mean that Forte will be running the ball for the Bears in 2013?
Now, that is the question. With signing Bush, GM Phil Emery has given the Bears an insurance policy in case they are unable to sign Forte to a long-term deal.
Personally, I think it is a great move and, as I have said before, I wanted the Bears to draft Bush in 2007 out of Louisville. Instead, former GM Jerry Angelo draft Garrett Wolfe in the third round while Bush went to Oakland in the fourth.
A fun fact about the Bears' 2007 draft is that Corey Graham was the only member of that draft class on the team last season. If Graham leaves during free agency, as expected, the Bears will have no-one left from that draft.
So, what do you think Bears fan? Is this money well spent, or could it have been spent wisely elsewhere? Sound off below.
Make sure to follow me on Twitter @dachicagofan, and check out my weekly Bears podcast every Monday on my site The MG Experience.