Alex Smith Returns to the 49ers, This Time with More Firepower
March 21, 2012

Ezra Shaw/Getty Images
According to numerous reports, the 49ers and quarterback Alex Smith have agreed to a three-year deal.
Despite all the overblown drama, Smith will return as the starter in San Francisco. After his first legitimate campaign as a passer in 2011, Smith led the 49ers to the NFC Championship Game—after a stellar divisional-round performance against New Orleans.
The 49ers were within a play or two of the Super Bowl in Smith's first year with Jim Harbaugh, but San Francisco's receiving corps was just so depleted. After losing Braylon Edwards, Josh Morgan and Ted Ginn Jr., the Niners were dependent on guys like Brett Swain and Kyle Williams to contribute.
Amongst all the free-agent activity, much including Peyton Manning, the 49ers have acquired two new pass catchers in future Hall of Famer Randy Moss and Super Bowl winner Mario Manningham.
With a new deal completed, Smith needs to become more acquainted with his new receivers, as the passing game needs to take a step forward for the 49ers to get over that hump. If the aerial attack improves, the Niners can become downright deadly.
In addition to Moss and Manningham, the 49ers have Michael Crabtree and Kyle Williams returning. Also returning, of course, is Pro Bowl tight end Vernon Davis. Given the shortened offseason program they had to work with last year, a logical presumption would be that they make a quantum leap next season.
Timing, scheme and chemistry are all things that are going to play into the possible success this group could have together—but they need to be as committed, if not more, than last year.
A rapport with Moss is critical because of his notorious shutdowns, so keeping him happy is a must. Smith is going to need to trust Moss, and trust him right away. Manningham embodies the more blue-collar mentality San Francisco already has—having been a No. 3 receiver with the New York Giants.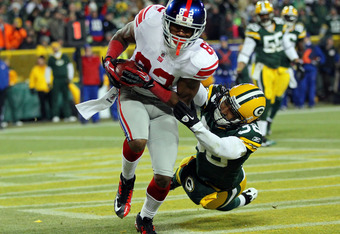 Jonathan Daniel/Getty Images
Manningham will be eager for every opportunity, especially the opportunity to start. He brings playmaking ability all over the field, similar to his former teammate, Victor Cruz.
With these new weapons, and continued chemistry with the returning ones, the passing game should take a major leap forward. Whether fans are upset or not about Smith's return, he could yield stronger results in 2012. I already look forward to the regular season, and San Francisco hasn't even had the draft yet.
In 2012, look for the San Francisco offense to improve on third-down conversions, long plays and in the red zone.
Follow me on Twitter: @DeSimone80