2012 NFL Free Agency: What Are the New York Jets' Options at Safety?
March 19, 2012

Patrick McDermott/Getty Images
With Reggie Nelson headed back to Cincinnati, the New York Jets find themselves in quite a bind in regards to finding quality players to play safety for them next year. 
With time running out, the Jets have a few options at their disposal in order to solve their glaring need at safety. 
Option 1: Sign LaRon Landry, O.J Atogwe
If I am the Jets, this is my first move. Not only does this give the Jets a pair of safeties with complementary playing styles, but they were partners at the back end of the Washington Redskins defense last year. Having some familiarity with each other will make a transition into a new, more complicated system much easier. 
Both players had major injury issues last year in Washington, which is why they are on the market in the first place. But they can turn out to be bargains if they can stay on the field. 
Option 2: Sign LaRon Landry, Jim Leonhard
Both of these guys have characteristics that are ideally found in strong safeties, but at least Landry has experience as a free safety after being moved all over place during his time in Washington. 
Of course, Leonhard has to prove he can still play at a high level before he gets an offer from any team.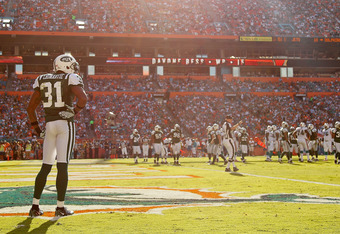 Mike Ehrmann/Getty Images
Option 3: Move Cromartie to Free Safety, Wilson to starting CB, Sign Landry/Leonhard
This is by far the most intriguing situation I have seen brought up, by none other than Antonio Cromartie himself. 
Cromartie has actually lined up as a safety a lot this past season, particularly on early downs. I noticed it at times watching the game, but did not think much of it—until now.
Cromartie has the speed and ball skills to cover a lot of ground in a hurry, but he needs to prove that he can tackle and change direction quickly enough. 
Meanwhile, Wilson can move to his more natural spot as a sideline corner. From there, the Jets can decide if they want to roll the dice on either Landry or Leonhard, who may not even be ready for the start of camp.
No matter what position they are listed as on the depth chart, Rex Ryan's defense is changing so constantly that Cromartie will line up at both corner and safety spots regardless.