NBA 2012: The Problem with the Los Angeles Clippers–Vinnie Del Negro
March 14, 2012

Chris Chambers/Getty Images
Sometimes, your favorite team can make moves to their roster that make general managers seem like geniuses. Other times, you just scratch your head trying to figure out what the heck were they thinking when they made THAT move.
This season, the Los Angeles Clippers seemingly made all the right trades and free agent acquisitions to contend for a title. Even now that they have suffered a major blow in losing Chauncey Billups, they still have enough talent to remain at the top of the Western Conference. So, why aren't they?
In the past month, the answer has become overwhelmingly simple:  they are lacking in the coaching department.
Some may argue that coaches can only do so much, and ultimately, the players are responsible. That statement is tue, but it's up to the coach to put the players in a position to effectively utilize their talents.
It's also up to a coach to teach younger players how to maximize their skills and become better players. Del Negro has lacked tremendously in both areas.
Clippers on Offense
The Clippers' offense is simple. Too simple, actually. The offense consists of pick-and-rolls (too many), weak side post-up (with Blake Griffin), too many three-point shots, and whatever else Chris Paul can create for them.
When watching them, you'll never catch yourself saying, "what a great screen that was" or "that was a great set they ran."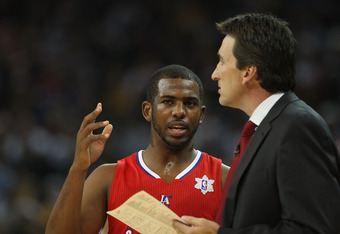 Jed Jacobsohn/Getty Images
Chris Paul has the ability to break down his man and create a shot for someone else, but when that isn't particularly working, the offense sputters.
The absence of Chauncey Billups makes it even harder for Paul as he is now the only one on the team that can break down his defender.
Blake's post skills are steadily improving, but in the clutch, he is more often deferring to Chris Paul and hoping he pulls off a miracle as he has done a few time this year.
Griffin needs to become a go-to-guy and have the ability to impose his will in the post. He has shown this on a consistent basis, but never at the end of games.
Vinnie Del Negro needs to build that confidence in him and go to him to take the shots in those situations.
When Griffin succeeds in plays that are designed to put him in prime locations, he gains confidence and begins to perform in the clutch on his own.
That is how you lead and teach a player with star talent to use it properly and become a team's star clutch player.
Clippers on Defense
A great defense has a philosophy that they try to impose on the opposing team. If you have a shot blocker, like DeAndre Jordan, you usually funnel the defense to the middle.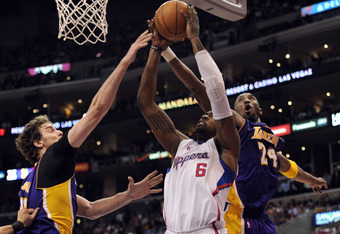 Harry How/Getty Images
If you don't really have a shot blocker on the floor, such as when Jordan is out of the game, you force the offense to the baseline and cut off his drive by using it as another defender.
Some teams are known to automatically trap on-ball screens, like the Spurs have done in the past. Others, like the Heat, are known for their hard ball pressure and overplaying the passing lanes, forcing turnovers leading to fast breaks.
The Clippers don't appear to have such a philosophy. They don't impose anything on anyone. They have played different types of defenses, seemingly trying to figure out what works best.
But, a coach's job is to employ a defense that best fits his team, then have them continually work at it, so that by playoff time, they can play it effectively. In the fourth quarters, they have used multiple lineups, and lately, none of those lineups have included their shot blocker, DeAndre Jordan.
That would seem odd to the average fan, and in fact, it is odd. Del Negro is on record as saying that Jordan needs to play better and with more energy.  Instead of not playing your young center that you have invested 40 million dollars in, teach him and guide him.
Not playing him is not producing wins.
Personnel Moves
A coach's job is to play players who are performing the best and give your team the best chance to win. Caron Butler started off the year as hot as any small forward in the league. 
When Chauncey Billups went out for the season, Butler's production dropped tremendously. Since Billups's injury, Butler is only shooting a layman's 32 percent from the floor and 17 percent from the three-point line.
One reason for this is now that Billups is out, teams can concentrate more on Butler, and because of Butler's bad knees he is unable to drive pass defenders like he once could. He can also no longer effectively guard other athletic small forwards. This causes a ripple effect and always leaves a man open.
This fact is exploited every time the Clippers play against the Timberwolves. He is repeatedly exposed by Micheal Beasley and Derrick Williams.
When Paul and Billups were on the court together, Butler was the third option and was often left wide open. No more.
Del Negro still plays Butler in major minutes and in the clutch.  If he isn't producing, it's time to look for other answers.
If the team doesn't have many other options, then a coach's hands may be tied.  That's not the case here, however, since the Clippers have acquired Bobby Simmons who is playing well.  Instead of playing Simmons at the power forward position along side Butler in the fourth quarter, Del Negro could slide Simmons to the small forward position.
That would allow Griffin to not play out of position at center and go back to power forward and allow Jordan or Kenyon Martin to defend at the center position.
They also have a young player in Trey Tompkins. Tompkins is a 6'10" forward who can play the small or power forward, as well as shoot from the perimeter. 
Every time he gets in the game he has positive plays. Why not go with someone who may bring a spark than to keep someone who is constantly performing poorly and can't defend like he used to?
The Clippers have the talent to contend for a title. But, they are not being lead in the right direction.
The games they are winning are because they are talented. It's time for their talent to be fused with good, sound coaching. Del Negro was a one-dimensional player; he was a good shooter.
He also played with a lot of energy. His coaching is much of the same. His offense is one-dimensional. The Clippers play hard for most of the game. Its time for someone who is multidimensional to come to LA and make the Clippers the team they are destined to be.