Chicago Bears Acquire WR Brandon Marshall from Miami Doplhins
March 13, 2012

Jim Rogash/Getty Images
Phil Emery made a huge impression in his first big move as the Chicago Bears general manager.
According to Adam Schefter of ESPN, the Bears acquired Brandon Marshall for a pair of third-round picks, one in 2012 and another in 2013.
 

Filed to ESPN: Dolphins trade WR Brandon Marshall to Bears for 3rd-round pick in 2012 and 3rd-round pick in 2013. Marshall rejoins Cutler.

— Adam Schefter (@AdamSchefter) March 13, 2012

 
With the move, the Bears reunite Marshall with his former quarterback Jay Cutler.
During their final season together in 2008, both Cutler and Marshall made the Pro Bowl, and interestingly enough, Jeremy Bates was calling the plays for the Broncos back then. In case you have forgotten, Bates is the Bears' current QB coach.
The Bears acquired Marshall for a bit less than it took for Miami to acquire him from Denver. Back in 2010, it took Miami sending two-second round picks to acquire the All-Pro receiver.
In Marshall, the Bears finally get that big, go-up-and-get-it receiver that they haven't had since Marcus Robinson had his record-setting season.
Marshall, who will turn 28 this month, is 6'4", 230 lbs and has three years remaining on a four-year extension he signed when he was traded to Miami.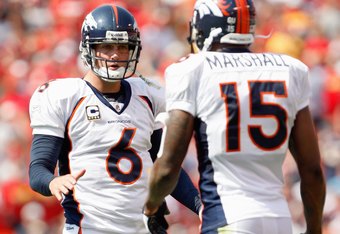 Jamie Squire/Getty Images
Over his six-year career he has racked up 494 catches for over 6,000 yards and 34 touchdowns.
What this means for the Bears offense is that every member of the receiving group moves down a spot. Earl Bennett can now be that second receiver or operate in the slot in Johnny Knox is able to return healthy. It also push Devin Hester down to being third or fourth on the depth chart.
It also probably brings an end to the Roy Williams era in Chicago.
So, rejoice Bears fans. Our franchise quarterback finally has a franchise wide receiver. I can't wait to see what other moves Emery makes now that free agency has begun.
Make sure to follow me on Twitter @dachicagofan, and check out my weekly Bears podcast every Monday on my site The MG Experience.