Brandon Marshall to Bears Trade: Deal Analysis, Grade and Twitter Reaction
March 13, 2012

Mike Ehrmann/Getty Images
The Miami Dolphins shipped talented but troubled wide receiver Brandon Marshall to the Chicago Bears today in exchange for a third-round pick in the 2012 NFL draft and an additional third-rounder in the 2013 draft. The move reunites Marshall with Jay Culter, who was his quarterback for three years with the Denver Broncos. 
Marshall is a three-time Pro Bowler who has the talent to be one of the NFL's best wideouts, but personality problems have made him a wild card and he is perceived as a loose cannon and potential locker room cancer by many. 
Back in early February Marshall mentioned that he would love a reunion with Cutler and it appears he finally got his wish. 
By acquiring the 27-year-old receiver, the Bears have finally gotten the talented wideout they have been searching for. The problem is, Marshall carries a considerable risk. If he is unfocused or is upset by something it could cause a disaster in Chicago.
Cutler himself isn't above sulking, so the combination of those two guys could be dangerous for the Bears.
The Chicago Tribune's Brad Biggs best summed up my feelings with the following tweet: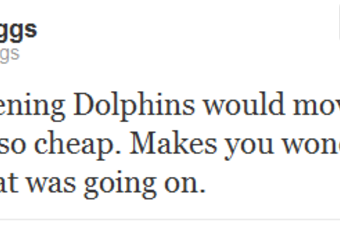 This deal was incredibly risky for both sides as the Dolphins gave up one of their most talented players and by far their best receiver, while the Bears are taking on one of the most enigmatic talents in all of football. 
Miami may have made the deal as a way to entice Peyton Manning to come to town, but that's really a desperate move if true. The Dolphins now will have to go out and find a receiver in free agency and this all but takes the Bears out of the Vincent Jackson sweepstakes. 
Again, it's a risky move by both teams, but if Marshall behaves himself, the Bears get a very talented player without giving up much. Meanwhile, the Dolphins may have improved their locker room chemistry by ousting him.
Bears Grade: B
Dolphins Grade: C+